Ever tried butternut squash soup? I feared the squash. The kind of fear that you have of the unknown. This was unchartered culinary territory for me. You see, growing up in Pakistan, the closest I came to eating, never mind cooking, this fruit was the Lauki or gourd. They all come from the same Cucurbitaceae family. Members include the pumpkin, squash, zucchini,watermelon and various melons. Even good old cucumber is related!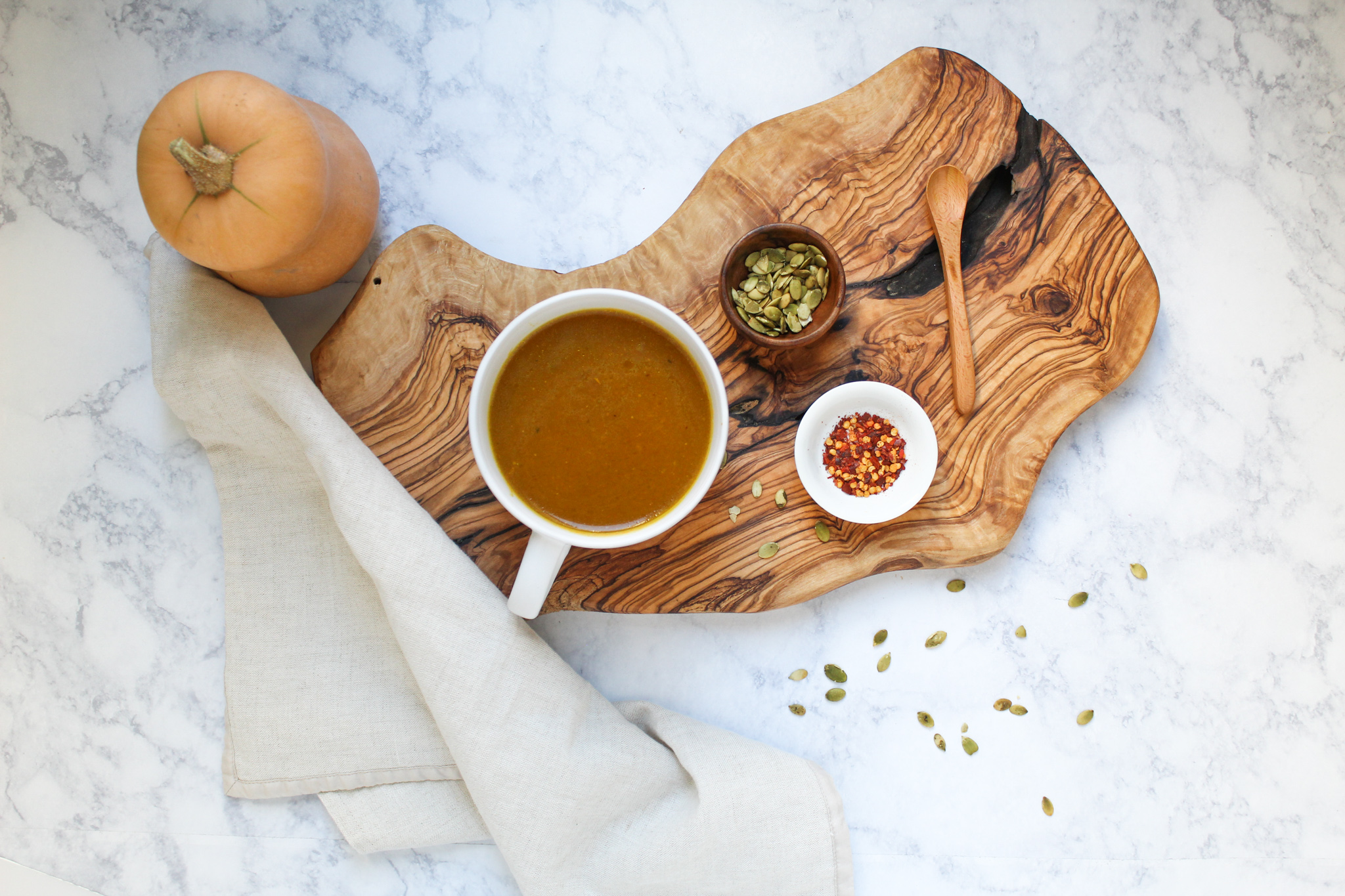 As I became more conscious of what I put inside my body, the list of fruits and vegetables I consumed grew. There was no way I could ignore the squash any longer. It is such a big part of life here in the U.S!
Of course the benefits of this amazing fruit were not lost on me.
Benefits of squash
Potassium
This nutrient is extremely important in maintaining a healthy blood pressure.
Vitamin A
Vitamin A is responsible for the growth of bodily tissues. This includes the skin and hair.
Fiber
Studies have shown that high fiber foods boost ones immune system as well as decrease inflammation.
Eating squash then, is great for your hair and complexion and helps prevent inflammation-related conditions such as cardiovascular diseases, diabetes, obesity and even cancer!
How to make butternut squash soup
You will start by roasting a butternut squash. Instructions in recipe card down below. This recipe is my version of pumpkin soup that I had in my dad's home in Karachi on a visit so the ingredients are pretty basic. Unlike the other Butternut squash soup recipes out there, this one doesn't include heavy cream or fancy spices, but basic homemade yakhni or bone broth and spices like cinnamon, cloves and black peppercorns.
What adds to the flavor is roasting the butternut squash.
I had fun getting to know this fruit. My next adventure? Pumpkin pie:)
Update:
I made Pumpkin Pie! Check it out!
If you make this or any other of my recipes be sure to let me know here how it went or tag me @eatdrinkpure in your pics on Instagram! I'd love to see your creations!
Roasted Butternut Squash Soup
Growing up in Pakistan, I had never had the butternut squash before I moved to the US. Today, as I try and eat the rainbow, squash is one such food on my list. This simple, no fuss butternut squash soup is adapted from pumpkin soup I tried in Karachi at my father's home.
Ingredients
1

Butternut squash

roasted

1

tablespoon

olive oil

for brushing butternut squash

1

large

white onion

roughly chopped

1

package

vegetable stock or 4 cups homemade bone broth

I use Pacific Organic

4

cloves

garlic

minced

1/2

knob

ginger

peeled

1

cinnamon stick

3

peppercorns

1

clove

1

teaspoon

salt

or to taste

1

cup

water
Instructions
Preheat the oven to 400 degree.

Cut the squash down the middle and remove the seeds with a spoon.

Coat the cut side with olive oil and lay flat side down on a cookie sheet.

Roast the squash for 40 minutes till the skin is browned.

Let the squash cool, scoop out the buttery flesh and throw away the skin. Set the squash aside.

Chop the onion and set aside.

Heat the oil in a pot on medium high heat.

Once the oil is hot, add the chopped onions and saute till translucent.

Add the garlic and ginger and saute some more, about 30 seconds.

Next add the rest of the spices and saute to allow the spices to bloom.

Add the roasted squash. Stir and break up the squash so as to combine everything together.

Add the water or chicken stock and let it come to a boil.

Transfer batches of the soup into a regular blender or use an immersion blender to blend everything together.

The soup is now ready. Adjust consistency and salt to your liking. If you like a thinner soup, add more water/stock.

Garnish with pumpkin seeds, some red pepper flakes and enjoy!
Video
Notes
You can use pumpkin spice in place of the whole spices if you wish. Just substitute with 1 tablespoon pumpkin spice.