This Roasted Butternut Squash Soup is low carb, Paleo, Whole 30 and AIP approved. It is the perfect fusion recipe for you if you have never had squash soup. Immune boosting with chicken stock as the base and anti inflammatory spices like turmeric and ginger pack a powerful punch! You will want to have this soup in your tool kit this upcoming cold season!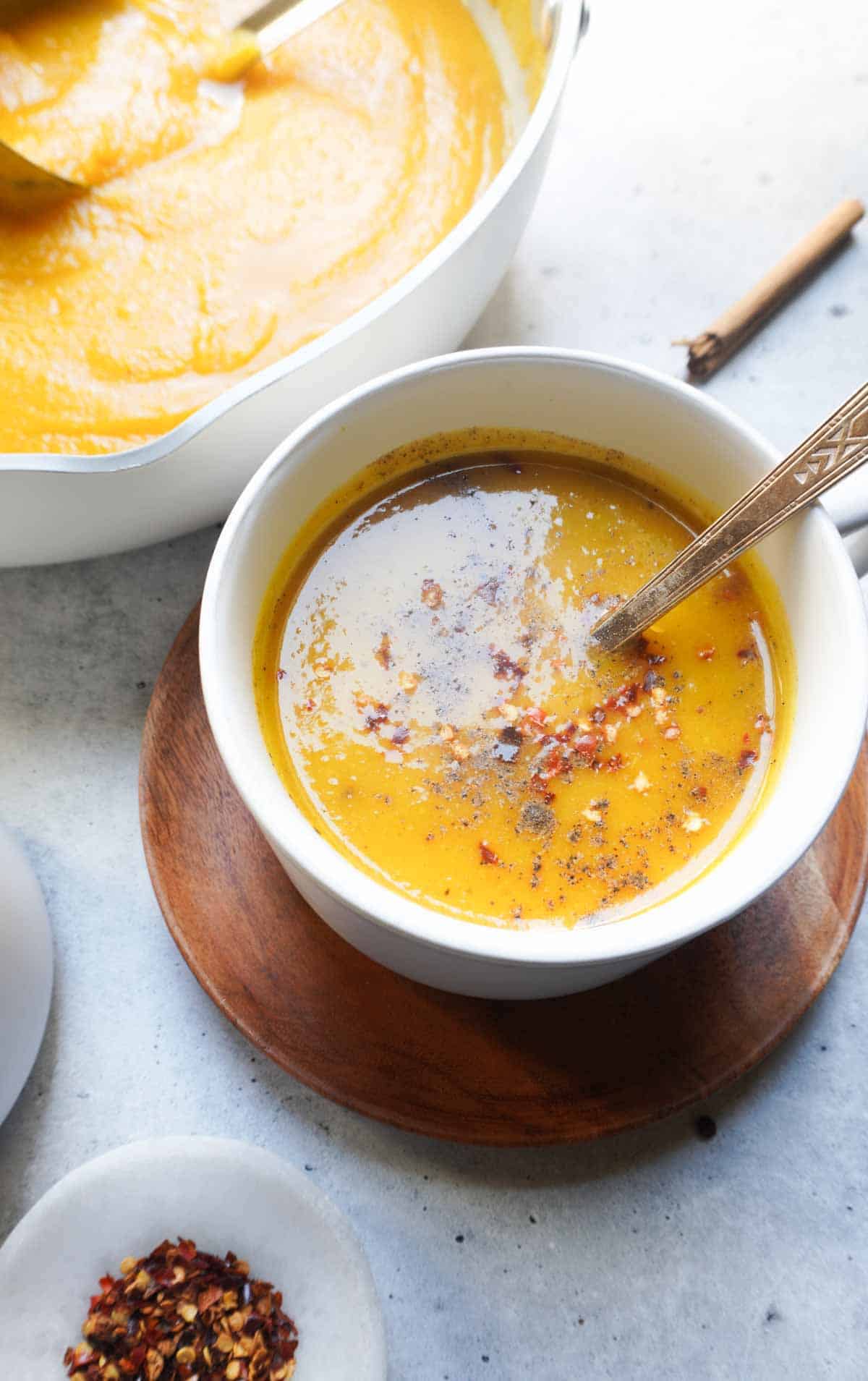 What is butternut squash?
Butternut squash is an orange fleshed winter squash. It has a sweet flavor much like the sweet potato.
I feared the squash. The kind of fear that you have of the unknown. This was unchartered culinary territory for me. You see, growing up in Pakistan, the closest I came to eating, never mind cooking, this fruit was the Lauki or gourd. They all come from the same cucurbit family. Members include the pumpkin, squash, zucchini and watermelon. Even good old cucumber is related!
As I became more conscious of what I put inside my body, the list of fruits and vegetables I consumed grew. There was no way I could ignore the squash any longer. It is such a big part of life here in the United States, especially during fall! Of course the benefits of this amazing fruit were not lost on me.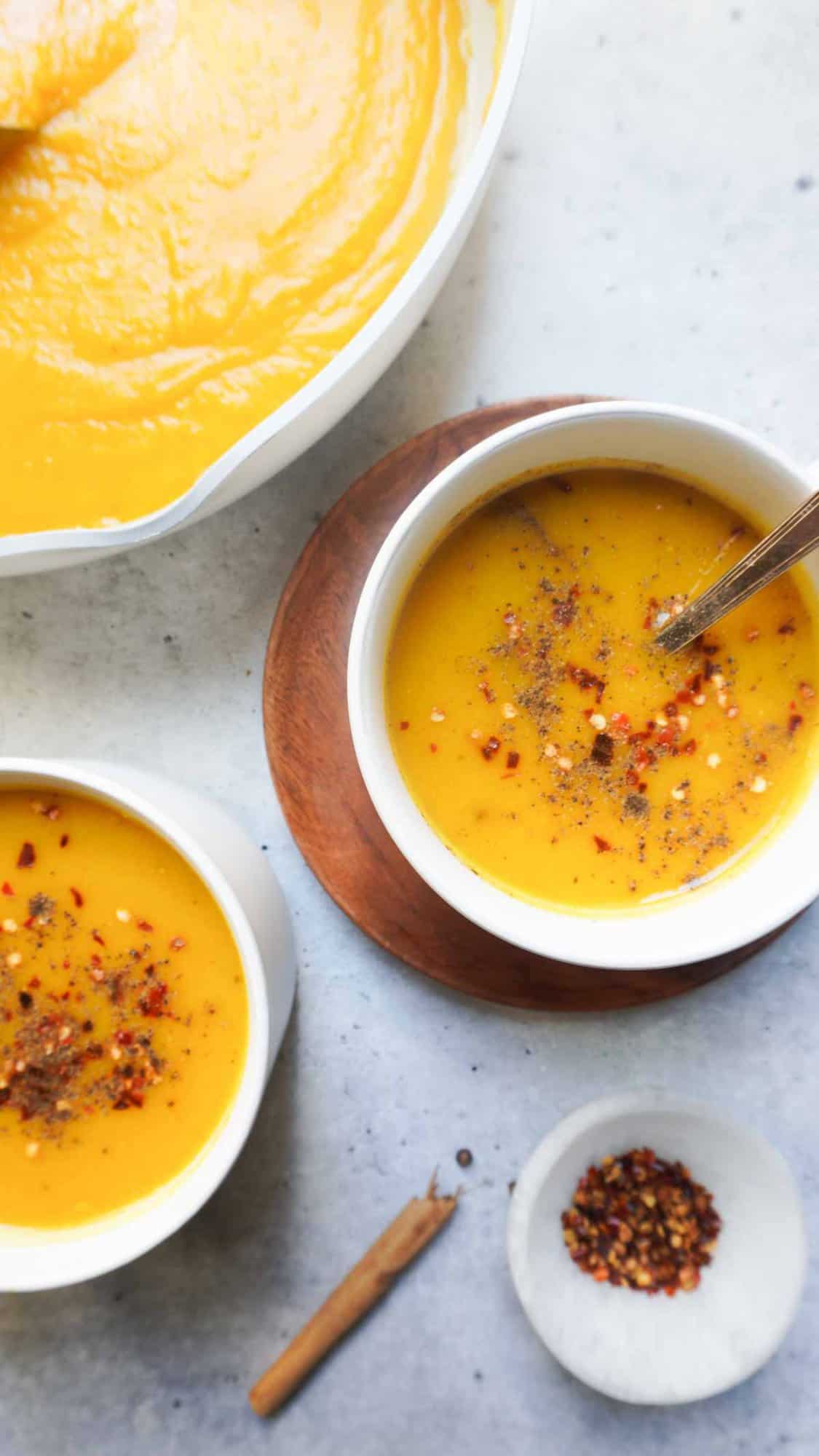 Why you should make this soup
In just one cup of butternut squash soup, you basically have all the antioxidants and nutrients that are needed to support optimal functioning of the body during the winter season. It is especially high in:
vitamin A which is responsible for the growth of bodily tissues and essential for immune function.
vitamin C which supports the immune system to ward off colds and infections.
magnesium, potassium and manganese which all support bone health.
Fiber. Studies have shown that high fiber foods boost ones immune system as well as decreases inflammation. Eating squash then, is great for your hair and complexion and helps prevent inflammation-related conditions such as cardiovascular diseases, diabetes, obesity and even cancer!
This soup is also meal prep and freezer friendly! Win win!
Butternut Squash Soup ingredients
Butternut squash – You can also use pumpkin or any other winter squash available in your area.
Onion – Roughly chopped
Minced garlic –
Ginger – either minced or a one inch knob.
Bone Broth – Or store bought vegetable stock.
Spices – Cinnamon, black pepper, clove, turmeric and salt.
How to make it
I know this soup is a little labor intensive but once ready, it can be frozen and stored for future meals! Pretty awesome right?
Unlike the other butternut squash soup recipes out there, this one doesn't include heavy cream or fancy spices, but basic homemade yakhni or bone broth and minimal spices like cinnamon, cloves and black peppercorns that are widely available globally.
You will start by roasting a butternut squash. While the squash is roasting, you will saute the onions till translucent. Next add the garlic, saute till aromatic and then add all the whole spices, turmeric and salt. Make sure to taste test as the broth will have salt in it as well.
Once the squash has roasted, let cool, scoop out the flesh and add to a high speed blender. Add the sauted onion mixture and ginger and blend till everything has fully incorporated and is nice and creamy. Check seasoning and consistency and add salt as needed. If too thick, add more water or stock. Serve with a garnish of red pepper flakes and pepper if desired.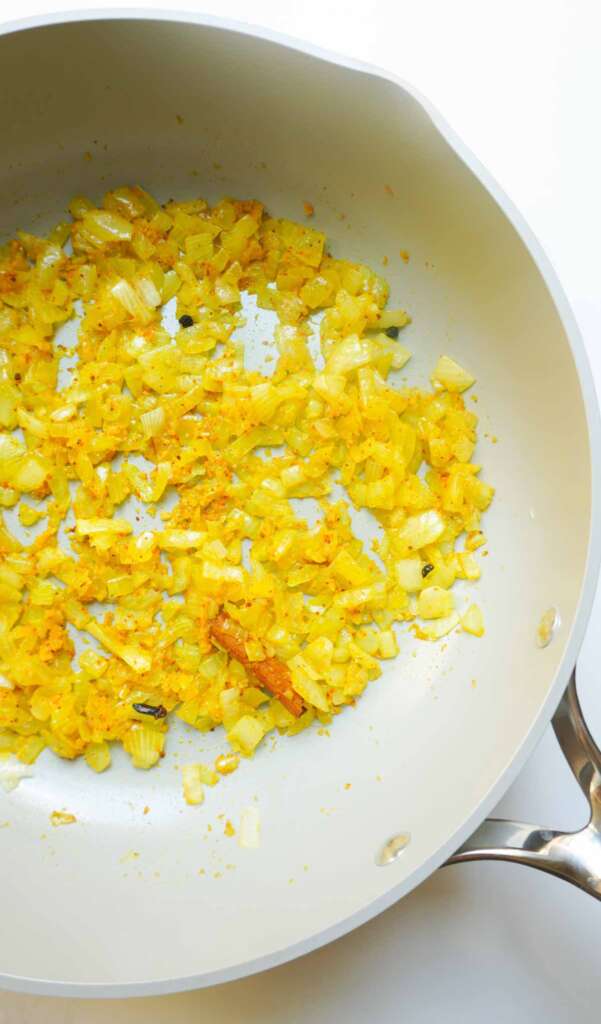 What to serve with butternut squash soup
You can make it a soup and sandwich meal! This soup will pair well with my Club Sandwiches or make a tuna sandwich or salad with my Tuna Spread Recipe.
As an alternative, you can also serve this soup as an appetizer and follow it up with some Sumac Chicken or Coconut Shrimp Curry.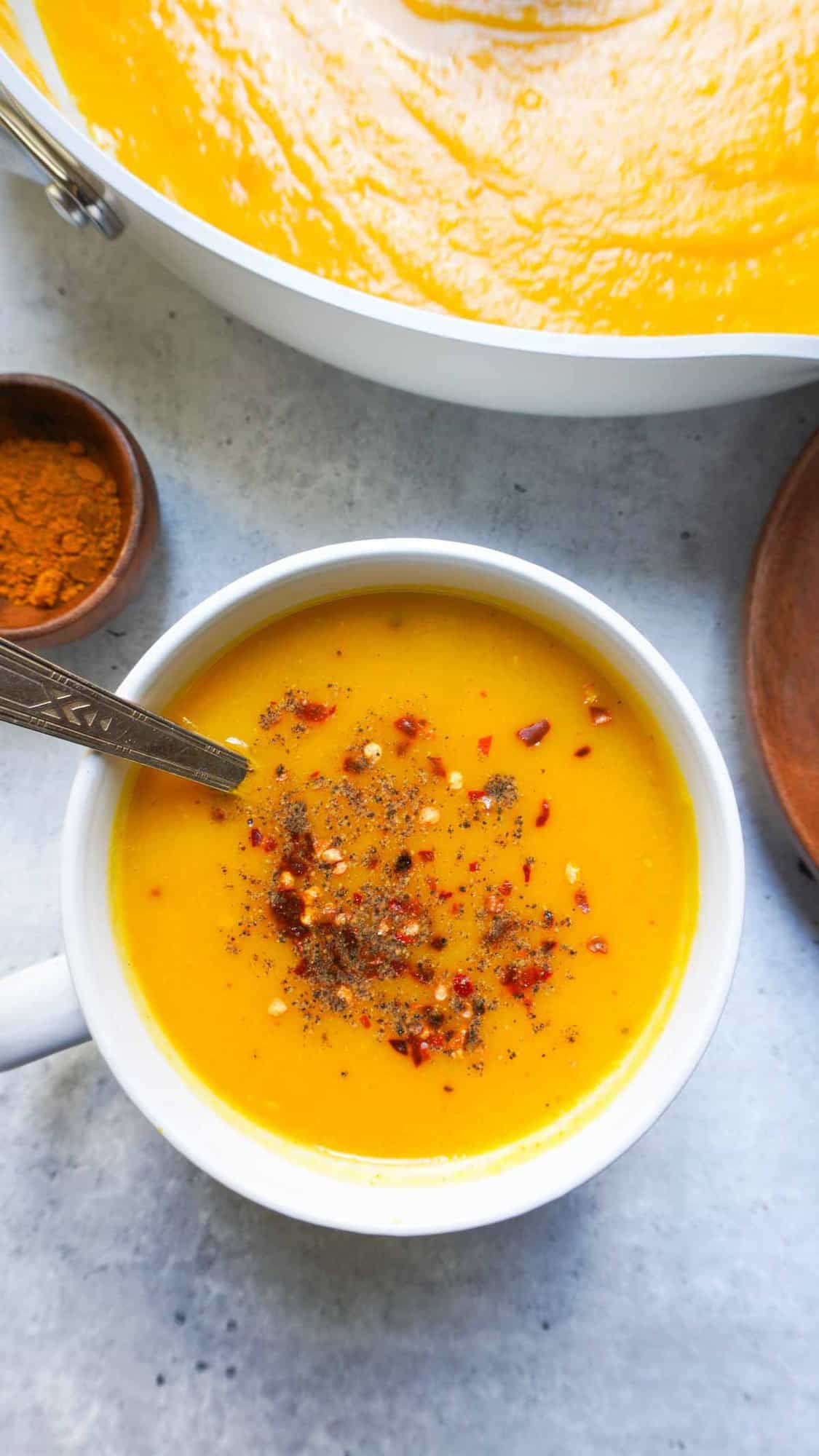 Frequently Asked Questions
How healthy is butternut squash soup?
Butternut squash is full of nutrients but surprisingly low in calories. It is rich in fiber, vitamins A and C. So as you can see, it's pretty healthy!
Can you freeze butternut squash soup?
Absolutely. Allow the soup to cool completely and then store in air tight bags, containers or 1 cup portioned freezer trays as shown in picture below.
Is butternut squash soup low carb? How many calories are in butternut squash soup?
Butternut squash is higher in complex carbohydrates but it is also fiber rich which makes it Keto friendly and low carb. There are approximately 90 calories in one cup of homemade soup.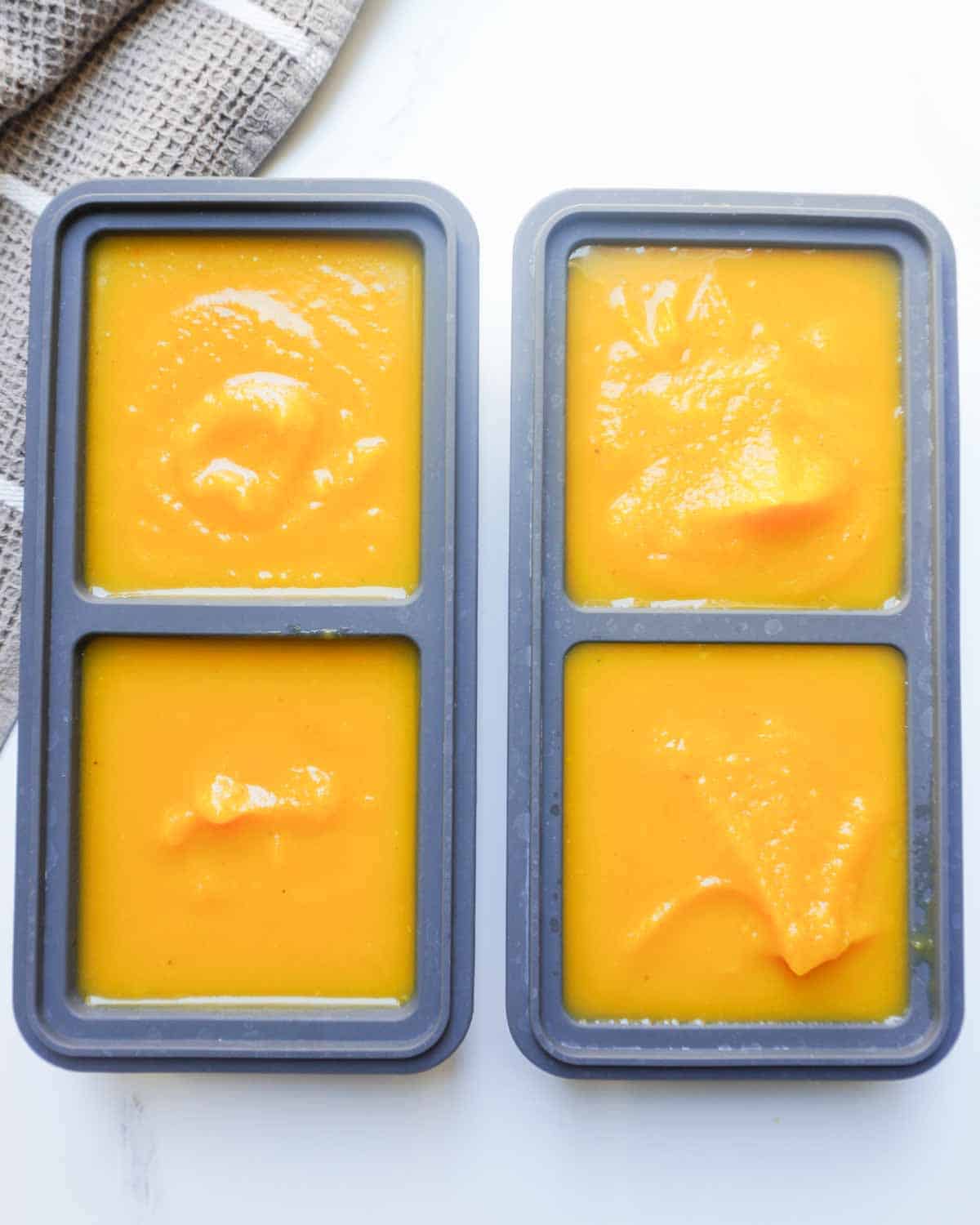 If you want to try more squash recipes, check these out:
If you try this recipe, I'd appreciate it so much if you would rate it! And let me know in the comments how it worked out for you. If you are on social media, share your pics with me on Instagram by tagging me @eatdrinkpure so I can see and repost it on my stories!
Roasted Butternut Squash Soup
This Butternut Squash Soup is the perfect fusion of East meets West. It has minimal spices and no cream. It is dairy free and low carb.
Ingredients
1

butternut squash

about 1 – 1 1/2 pound

1

tablespoon

olive oil

for brushing butternut squash

1

large

white onion

roughly chopped

4

cups

homemade bone broth

or vegetable stock. I use Pacific Organic.

2

teaspoons

minced garlic

1/2

teaspoon

minced ginger

or 1 inch knob whole

1

cinnamon stick

Ceylon Cinnamon is best

3

peppercorns

1

clove

1

teaspoon

salt

or to taste

1/2

teaspoon

turmeric
Instructions
Preheat the oven to 425 (218) degrees.

Cut the squash down the middle and remove the seeds with a spoon. Coat the cut sides with olive oil and lay flat side down on a cookie sheet. Roast the squash for 40 minutes till the skin is browned and the flesh is fork tender.

Meanwhile chop the onion and set aside. Heat a medium sized saute pan on medium heat. Once it is hot, add the oil and add the chopped onion and saute till translucent. This should take about 5 -7 minutes.

Add the garlic and saute some more, about 30 seconds. Next add the rest of the spices and saute to allow the spices to bloom, about 30 seconds.

Once the squash is ready, let it cool for a few minutes and then scoop out the buttery flesh and throw away the skin.

In a high speed blender, add the squash, onion mixture and the stock. Blend till fully incorporated.

The soup is now ready. Adjust consistency and salt to your liking. If you like a thinner soup, add more water/stock. You can serve as is or pour the soup back into the pan and heat it up some more.

Garnish with pumpkin seeds, some red pepper flakes and enjoy!
Notes
You can use pumpkin spice in place of the whole spices if you wish. Just substitute with 1 tablespoon pumpkin spice.