I just happened to make this coconut shrimp curry the other day and it turned out so good that I thought I'd share it with you guys. I mean we can all use some inspiration for week night dinners and this recipe totally works because it comes together in under 30 minutes! And bonus points because it's nutritious too!
The makings of the shrimp curry
The creaminess of coconut milk is always a winner in my opinion but guess what else I sneaked in? Spinach! The kids didn't seem to mind one bit! Plus I added some chickpeas/ garbanzos to bulk it up so that it could be eaten on its own if you want to skip the rice and keep it low carb. Sort of like a chunky soup.
There are so many things I love about this curry but most of all, I don't have to sauté onions to form the base of the curry. That is a must in most Pakistani curries but here, the coconut milk does the job to make it saucy and gravy like. Dinner is done!
Like this recipe? Check out my other curries!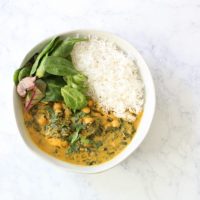 Coconut Shrimp Curry
This Coconut Shrimp Curry is the perfect weeknight meal. It comes together in under 30 minutes and is packed with nutrition.
Ingredients
2

tablespoons

coconut oil

1

pinch

fenugreek seeds

1

sprig curry leaves

1

teaspoon

minced garlic

1/2

teaspoon

red chili powder

1

teaspoon

cumin powder

1

teaspoon

coriander powder

1/4

teaspoon

turmeric powder

1

teaspoon

salt or to taste

2

cups

of fresh spinach or 1

9 ounces pack of frozen spinach, chopped

1

15.5 ounces canned chickpeas

1

13.5 fluid ounces canned coconut milk

Cilantro to garnish
Instructions
In a large pan on medium heat, add the oil.

Once the oil is heated, add the fenugreek seeds and curry leaves and saute about 30 seconds.

Add the minced garlic and saute until fragrant, about 30 seconds.

Add all the spices and saute for another 30 seconds.

Add the chickpeas and stir to combine. Add the coconut milk and let simmer for a minute, covered.

Add the chopped spinach and the shrimp and let simmer uncovered for about 4 minutes till the shrimp turn pink and just cooked through. Don't overcook them or they'll become rubbery.

Garnish with cilantro and serve with white or brown rice!
Notes
You can just as easily make this with chicken or go all vegan and use cauliflower and peas instead!
Make it Whole30 compatible by omitting the chickpeas.