It's cold outside and I have been craving soup! My mother used to make a lovely Hot and Sour Soup while I was growing up that I have been able to replicate while keeping it Whole 30 compliant. If you are following my journey on my Instagram stories, you may be aware that I am following the Whole 30 protocol in the New Year.
Now I know there may be more authentic versions of hot and sour soups out there but if you are from the Sub Continent, you are probably familiar with Indo Chinese cuisine. So if you're like me, I can guarantee you that you'll love this recipe and I can't wait for you to try it!
Although this particular recipe has Whole 30 specific ingredient swaps, I have given variations if you are not following the protocol. Also, soy sauce and corn starch are available globally and so this recipe should definitely be on your to try list before the winter is over!
How to make this Hot and Sour soup picky eater approved
Make the veggies smaller Instead of cutting them into match sticks / slices, I use a box grater to grate the cabbage and carrot to make them more palatable for young ones.
Make it milder If your kids don't have tolerance for spices, cut the amount in half or simply leave out the green chili.
Shortcuts and variations
Cut the cooking time in half by using pre made bone broth. I usually have some meal prepped in my freezer. I've also recently tried it out with store bought vegetable broth and it turned out pretty decent if you're in a pinch. You will need to adjust the seasoning a slight bit. I like to add some more salt, pepper and a touch of coconut aminos before finishing off with the arrowroot/cornflour.
I have also found that using tomato sauce tends to give the soup a ketchup-y taste when using store bought vegetable stock so you may want to half the amount or leave it out altogether.
Feel free to swap out the vegetables I use cabbage and carrots because that's what my mother used but I've seen many variations with bell peppers, mushrooms and bakchoy.
Make it grain free by using arrowroot or tapioca flour to thicken the soup. The result will be the same. Just a word of caution when using the grain less flours, they tend to break up in high heat so turn off the heat once fully incorporated.
I hope you give this recipe a try, if you do, please consider leaving a review. I love hearing feedback and it helps other readers who want to try the recipe too!
Other cozy recipes to try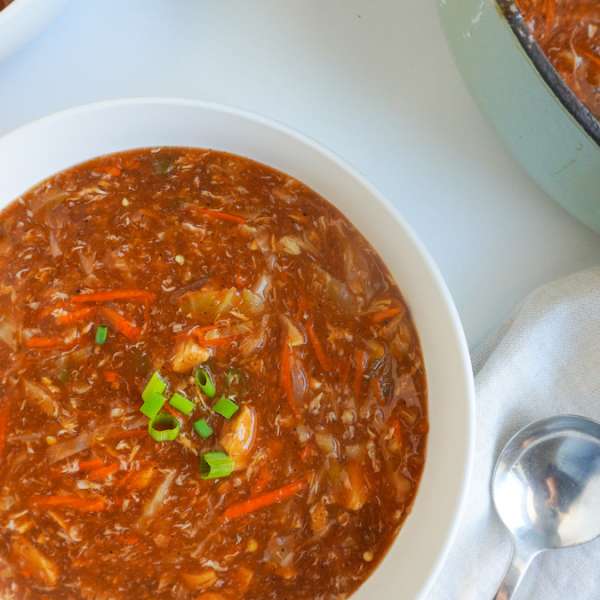 Hot and Sour Soup
This soup is perfect for any time of the year but especially when it is cold outside. My version of a childhood favorite.
Ingredients
1

2.5 lbs.

whole chicken, cut up

5

cups

filtered water

3

teaspoons

salt

1

teaspoon

pepper

1

Roma tomato

diced

4

tablespoons

rice vinegar

4

tablespoons

coconut aminos / soy sauce

1

8 ounce can tomato sauce

2

teaspoons

sugar

optional

1/2

teaspoon

red chili powder

1

green chili

chopped

1

medium carrot

grated or match sticks

1/4

cabbage

grated or sliced thin

5

tablespoon

arrowroot powder/ tapioca flour + 1/2 cup water

enough to make slurry

1

egg

whipped
Garnish
green onions/scallions

sliced
Instructions
In a dutch oven or pot add the chicken and fill it with the filtered water so as to fully dredge the chicken pieces.

Add the chopped tomato and season with the salt and pepper.

Cover and cook on medium heat.

Once the chicken is cooked, about 30 minutes, take out the pieces and set aside for later.

You now have a quick chicken stock which should amount to about 5 cups.

If there is less, increase the amount so that it equals 5 cups by adding water and seasoning with additional salt and pepper to taste.

Add the rice vinegar, coconut aminos, tomato sauce, red chili powder, green chili and sugar.

Let it come to a boil on medium high heat.

Take 4-5 chicken pieces reserved at the beginning, pick the meat from the bones and chop up. The rest of the meat can be saved for later for sandwiches etc.

Add the carrot, cabbage and chicken.

Let cook covered on medium low heat for about 5-10 minutes until the cabbage and carrot soften up.

Make the arrowroot slurry by combining the arrowroot powder with water.

Increase the heat to medium high.

Add the slurry to the soup but turn off heat as soon as it thickens up or the arrowroot will breakdown.

Gently add the whipped egg and stir to combine. The egg will cook up in the hot soup and form ribbons familiar in Chinese soups.

Garnish with scallions and enjoy!
Notes
You can cut down cooking time on this soup by using pre made or store bought stock. You can add boiled chicken or even leave it out.
You will need more water if you make the slurry with cornflour. About 10 tablespoons.
When using store bought vegetable stock, check to see if it has tomatoes in it. I have found the addition of tomato sauce in this case to have a ketchup-y flavor and so in that case you may want to half the amount or leave it out altogether.
Whole 30 Compliance
I used arrowroot powder instead of cornstarch but you can easily swap it out if you are not following the Whole 30.
Soy sauce can be used instead of coconut aminos if you are not following the Whole 30 and or are not avoiding gluten.
Leave the sugar out if you are following the Whole 30.