This bone broth or yakhni recipe is super easy to make. You can make it on stove top as shown in this recipe or slow cook it overnight. Yakhni was a staple at my grand parents' home in Pakistan and growing up I remember my grandfather (nana) insisting we drink it daily. Little did we know how great this magic concoction is for our gut! Today, bone broth is the talk of wellness circles and prescribed by functional doctors as a gut repairing superfood.
WHAT IS BONE BROTH (YAKHNI)
Bone broth/stock or Yakhni, as it is known in Pakistan, is basically a clear soup that is achieved after simmering animal bones in water along with vegetables and aromatics. With collagen from the bones and powerful compounds like Gingerol from ginger and Allicin from garlic, you can't find a more potent and nutrient dense beverage!
HOW TO MAKE CHICKEN BROTH
In this particular recipe I am killing two birds with one stone and getting a start on some meal prep for lunches through out the week. This recipe calls for boiling a whole chicken (either the full bird or cut up into 12 pieces) and then using the boiled meat in other recipes like my Club Sandwiches.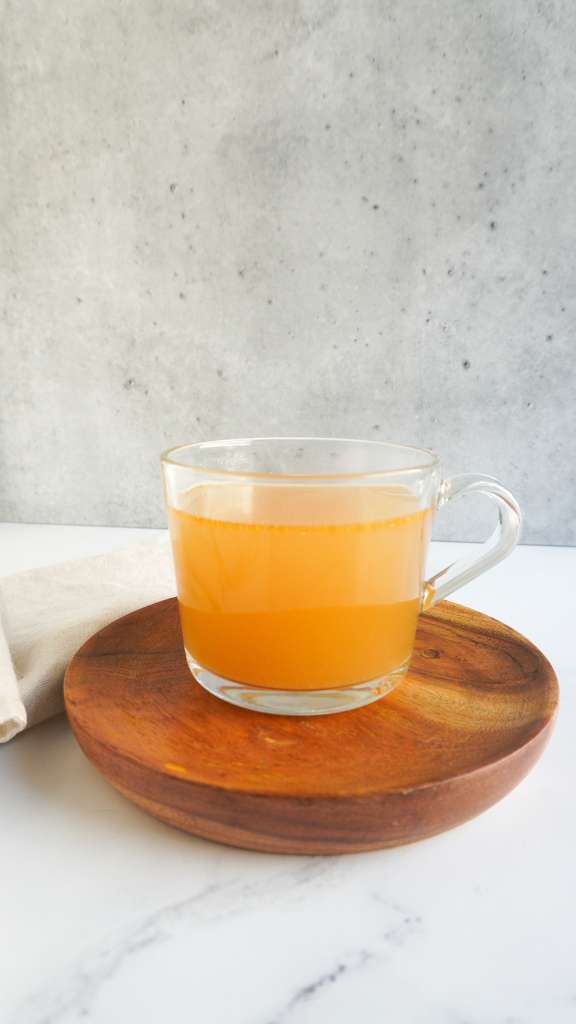 TIPS TO MAKE AND STORE YAKHNI
I have found that the addition of coconut aminos really up levels this broth and makes it more enjoyable. You can use soy sauce if you don't have trouble with gluten.
I tend to mash the veggies with the back of a wooden spoon against the sieve when straining the broth. I find that this adds to the flavor and structure of the broth.
Adjust the salt and pepper to taste as different salt types vary in intensity. I cook with Himalayan pink salt and a little goes a long way!
I like to prep a few mason jars at a time when I make a batch like this. Pint size jars work the best.
You can store the broth in the fridge for up to 5 days and in the freezer for months.
HERE ARE MORE GUT FRIENDLY RECIPES TO TRY!
Do try this recipe and If you do, please share how it goes in comments! You can also tag me in all your pics on instagram @eatdrinkpure so I can see your creations!
Bone Broth - Yakhni
Excellent for gut health, this family bone broth recipe is as simple as it can get! Simply put everything in a pot and let it simmer!
Ingredients
1.5

pound

whole chicken

4

cloves

garlic

1

inch

ginger root

3

carrots

roughly chopped

2

small

tomatoes

roughly chopped

1

medium

onion

roughly chopped

8

peppercorns

1

inch

cinnamon stick

I use Ceylon Cinnamon

1

tsp

salt

or to taste

5-6

cups

water

or enough to fully submerge all ingredients

2

tsp

coconut aminos or soy sauce

optional
Instructions
Put everything in a stock pot and let come to a boil on medium high heat.

Once the yakhni comes to a rolling boil, lower the heat to medium low and remove any scum (white foam) that has risen to the top.

Next, cover the pot and let the yakhni cook for 2 to 4 hours.

Once ready, remove the chicken pieces and set aside for use later.

Strain everything through a fine mesh sieve mashing the vegetables along the sieve to maximize the flavor of the broth.

You can enjoy the yakhni immediately or store for later.

To store, pour the yakhni into mason jars and refrigerate for upto 3 days or freeze for longer.

When ready to eat, simply defrost over night in the fridge or on the counter top by thawing the jar in a bowl of lukewarm water.
Notes
For a clear soup don't mash the vegetables and just strain everything together. If you do mash the veggies, note that there will be some residue that settles in the soup. Simply stir or shake before consuming.
Use soy sauce or coconut aminos (gluten free) for an extra kick. This is completely optional but I find it adds an umami flavor to the yakhni that my family and friends really enjoy. 
I use Himalayan pink salt and find that if using table salt, you usually need to add more so adjust accordingly.