Anyone growing up in Pakistan will attest to this weeknight staple. We love our keema (spicy ground beef) and often make it with the addition of vegetables like potatoes, peas and or even spinach. My recipe for keema is a basic recipe that you can make on its own or with the addition of the above vegetables.
Why you should make this keema
This recipe comes together fast making it an absolute must in your menu rotation. Coupled with Daal and rice, it is the ultimate Pakistani comfort food! And bonus, it is freezer friendly, making it meal prep friendly too!
My keema recipe is multi purpose! You can eat it the traditional way, with naan or rice one day and use leftovers for stuffing in quesadillas, mixing with some pasta to make keema spaghetti or even use it to stuff bell peppers (capsicums) or tomatoes like my mother did for parties back when I was growing up.
Oh and one more very important reason is because my best resident critic, my son, approves of it! If you have a young adult at home, you know how hard they can be to please!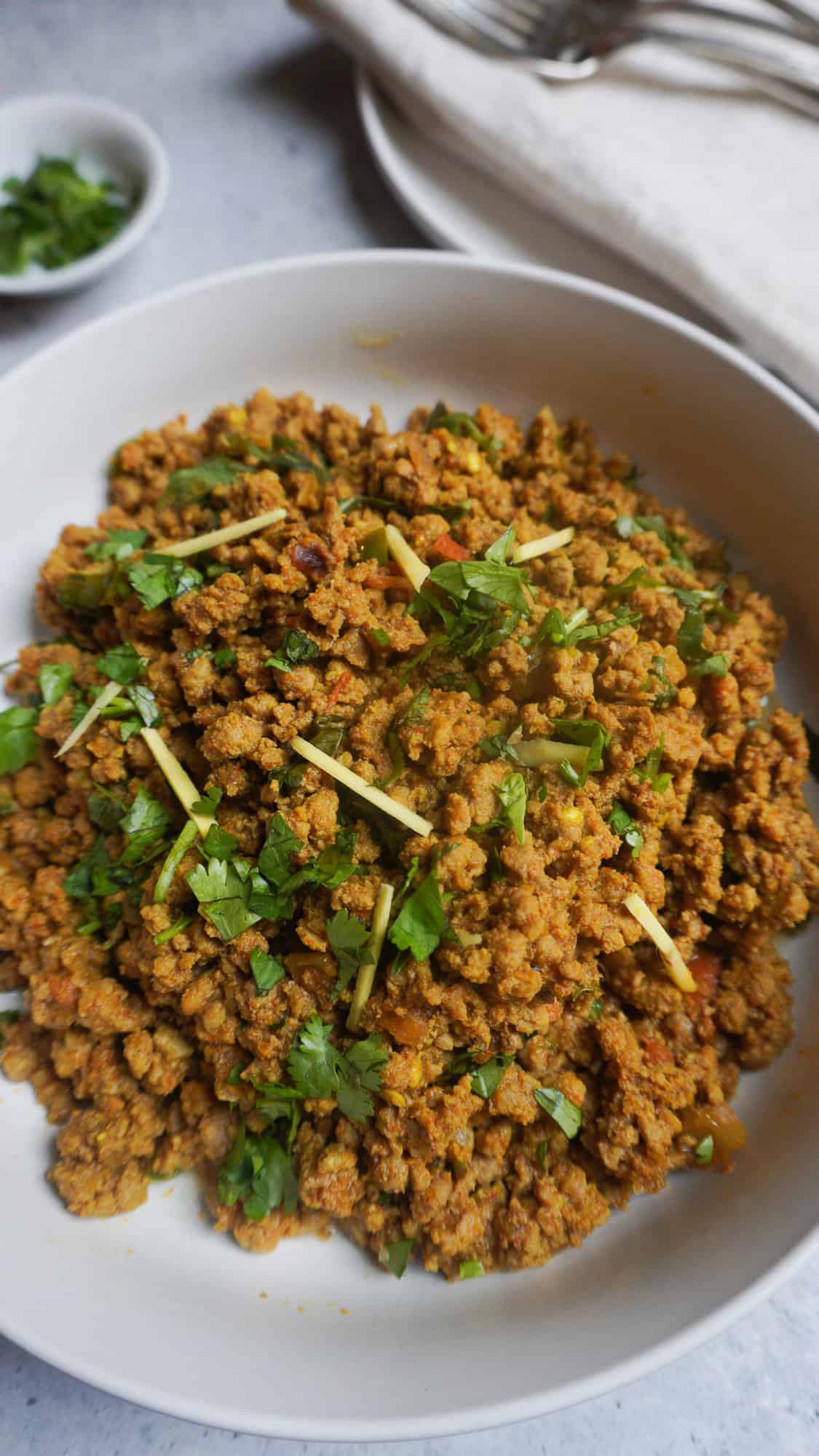 What you will need to make keema
Oil – I like to use neutral avocado oil but you can use olive oil, just please don't use processed, genetically engineered seed oils like
Aromatics – Onion, garlic, ginger,
Spices – Fenugreek seeds are optional but I find they give an added layer of flavor. Red chili powder, cumin powder, turmeric powder and coriander powder.
Ground beef – I use lean ground beef (80/20 ratio)
Tomato – These are diced so as to incorporate and cook quickly.
Green chiles – Any will work but I like Serrano best for its heat.
How to make spicy minced beef
You will begin by browning onions on medium high heat till they are golden. Then add the ginger and garlic and saute before adding the ground beef. Stir and break up the keema as you go. Add the spices and stir to incorporate. Add the tomatoes and green chilies. At this point you will lower the heat and cover the pan to let everything cook up. After 20 minutes uncover the pan and dry out the keema on high heat. The keema is ready once the moisture dries up. Garnish with some chopped cilantro and a drizzle of lemon juice. A sprinkle of garam masala will up level this dish.
Some tips to help you make the best keema
Should I wash the ground beef? I don't but you can if you wish.
Can I make keema with other meats like chicken, goat or lamb? Absolutely! Just adjust the spices as chicken can often be blander than the others.
Which vegetables can I add to this master recipe? I have added peas, potatoes and even spinach to this recipe and they have all worked fabulously. Just add the peas/potatoes when you add the tomato. Make sure to cube the potatoes so that they can easily cook up in the moisture.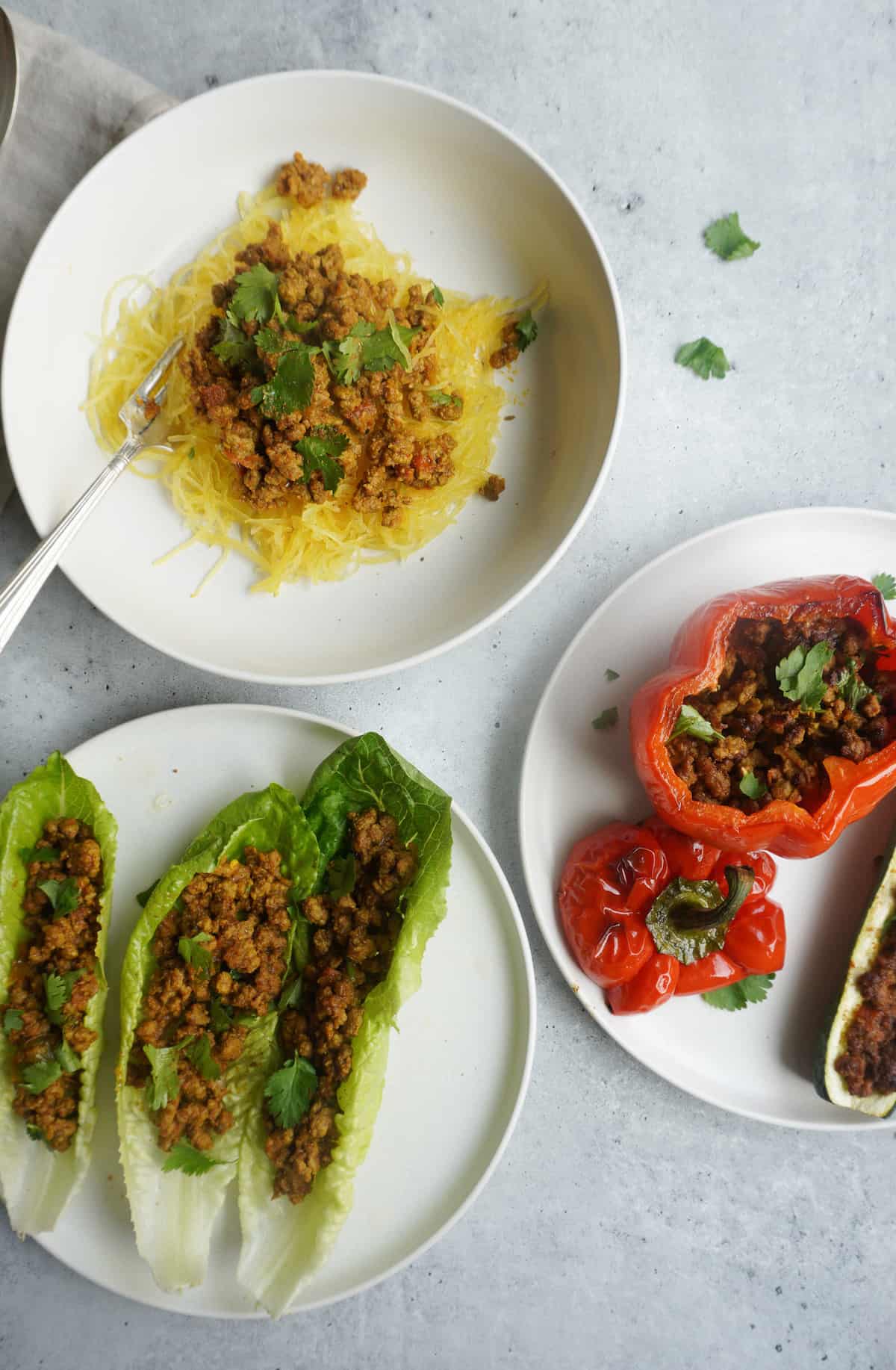 What to eat with keema
Traditionally keema is eaten with roti (flat bread), chawal (white rice) and throw in some good ol daal and you have the Pakistani version of comfort food!
But because I avoid gluten and try to limit my consumption of grains, I like to eat it with some romaine lettuce, stuffed inside a zucchini boat or bell pepper and when squash is in season, atop some roasted spaghetti squash.
More weeknight dinner recipes
Do try this recipe and let me know in comments how it turned out!
Keema
This keema is ready in under 30 minutes making it a quick and easy weeknight recipe. Plus it's meal prep friendly too!
Ingredients
4

tablespoons

oil

½

medium onion

diced

1

teaspoon

garlic paste

1

teaspoon

ginger paste

2

pounds

ground beef

2

teaspoons

red chili powder

1

teaspoon

turmeric powder

2

teaspoons

coriander powder

1

teaspoon

cumin powder

2

teaspoons

salt

4-5

fenugreek seeds

1

medium tomato

chopped

1

green chili pepper

chopped
Garnish
Chopped cilantro

Lemon juice
Instructions
Take a medium sized wok/pot and on medium high heat fry the onions till golden brown. Stir constantly and do not let them burn.

Add the ginger and garlic and stir fry for about 30 seconds.

Add the beef and stir to combine making sure to break it up as you stir as it tends to clump.

Once the beef is well combined, add all the spices and stir some more.

Add the tomatoes and green chili and stir before lowering the flame and covering the pot. Let the tomatoes wilt for about 15-20 minutes.

Once the tomatoes have softened, uncover the pot and increase the heat to high all while stirring the keema with quick movements so that the water dries and the oil rises to the top.

Garnish with chopped cilantro and a drizzle of lemon juice.
Video
Notes
I use lean ground beef (80/20) but you can use regular ground beef as well.
I don't wash my ground beef but you can if you wish.
This recipe can be adapted to ground chicken meat as well but just taste test the spices as chicken meat tends to be a bit bland compared to beef.