Chicken curry is a staple in my Pakistani home. Growing up, not so much. it was either Karahi Chicken or none at all. It was only after I got married and had my husband's version of chicken curry that I started experimenting with my own version.
The Challenge
This curry is missing a key ingredient, onion, that you will find in almost all curry recipes but I omitted it simply because the teaching kitchen I was hosting my South Asian Cooking Workshop in, had an exhaust missing. Now if you've cooked Pakistani curry, you know that the smell of onions is hard to get rid of! I'm not complaining since it ended up working out for me ( I didn't have to stand around waiting for the onions to brown) and for the sake of brevity of the workshop.
I also had the challenge of making the curry dairy free as dairy can be an allergen to some. Coconut milk was a no brainer but you can also swap it out with cashew cream or nut milk yoghurt which is now widely available.
The Result
There was a happy ending to all of this. The attendees loved it and the recipe has now made it over to the blog! I present to you The Tandoori Chicken Curry.
The printable recipe is down below and You can even watch me make it in the accompanying video
Yield: 4-6
Tandoori Chicken Curry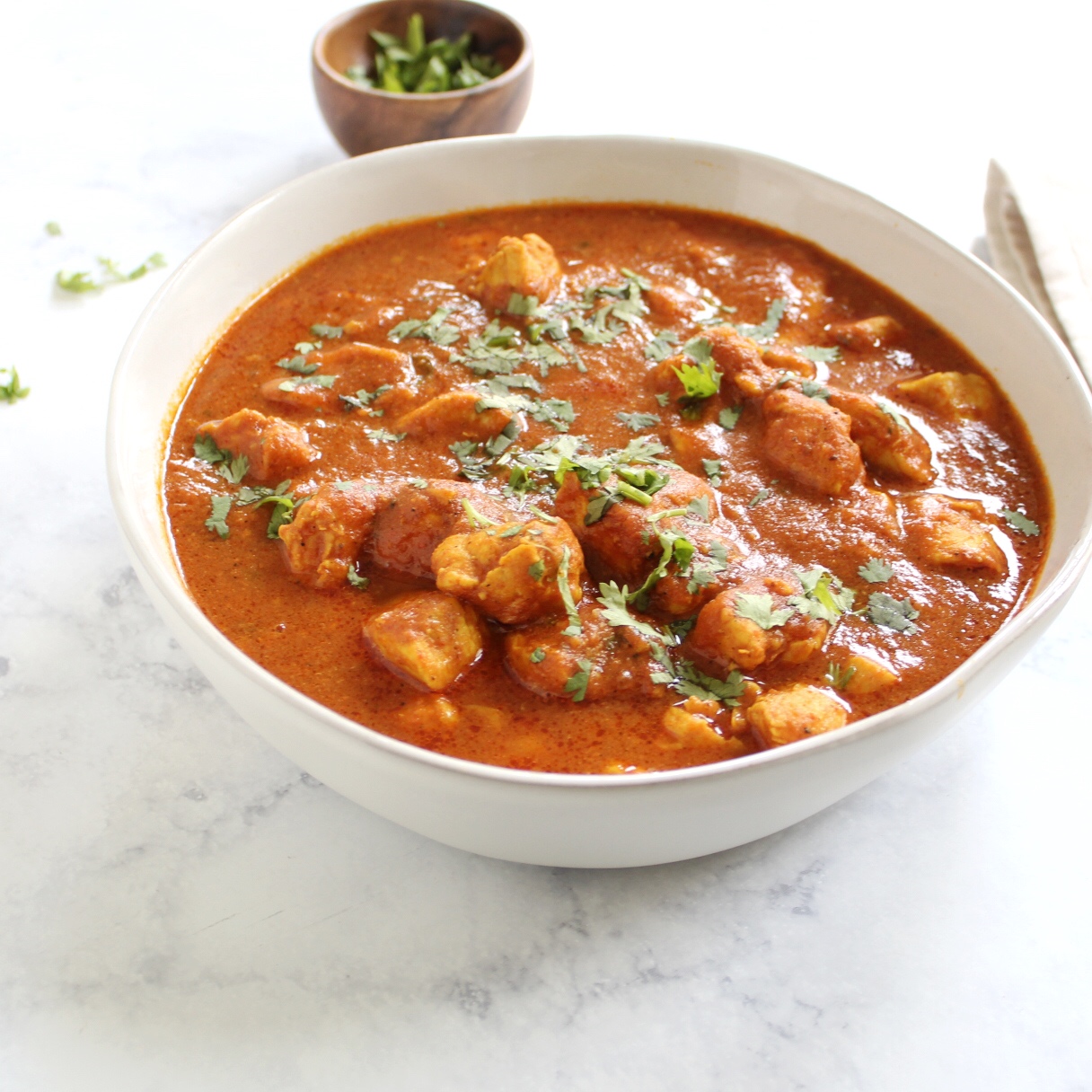 This quick and easy chicken curry will have you in and out of the kitchen in a flash. Without compromising on taste! Now that's a win win!
Ingredients
2 tablespoons ghee
2 lbs. chicken tenders or boneless, skinless thighs, cubed into 1 " pieces
2 teaspoons garlic, minced
1 teaspoons ginger, minced
1 teaspoon red chili powder
¼ teaspoon turmeric powder
1 tablespoon tandoori masala
1 (8 oz.) can tomato sauce
1 teaspoon Himalayan pink salt
1 cup coconut milk
Instructions
On medium high heat, add ghee to the pan.
Add ginger and garlic and stir fry till golden
Add all the masalas and stir some more.
Add the chicken and stir fry till it changes color about 3 minutes.
Add the tomato sauce and coconut milk.
Cover and let cook for about 10 minutes.
Garnish with chopped cilantro and serve with white, brown or cauliflower rice.
Have you tried my Chicken Kofta Curry recipe? One Jumpstart member loved it so much that she's made it multiple times! Yesss!