Club sandwiches always remind me of Pakistan. They are a staple in most every restaurant, coffee shop and club in Karachi. Today I'm sharing how I've made it my own. This club sandwich recipe is lower in carb and made with the best in class ingredients!
The key component of the club sandwich is the chicken spread. The great thing about a basic chicken spread is that you can use it in sandwiches, eat it with crackers, use it as a protein rich dip with your favorite vegetables, in a lettuce wrap or even in a salad!
How to make the club sandwich
From what I recall the Pakistani club sandwich served at restaurants and clubs have three components.
The chicken sandwich spread.  Made with boiled and shredded chicken. Usually butter and or mayo is added as well as salt and pepper to taste.
The omelet. Plain and simple.
 Sliced cheese. The processed kind available in grocery stores.
These are arranged in three layers with three slices of toasted white bread. In restaurants club sandwiches are served with coleslaw and french fries.
Here's how I make club sandwich with the same great taste but healthier:
I add a fourth component; the veggies. I like adding a leafy green,  think romaine or green leaf lettuce, cucumbers and tomatoes. Essentially marrying the club sandwich of the East to the club sandwich of the West. Here in the U.S., club sandwiches are typically assembled with said veggies.
My chicken spread also includes the cabbage which would not be eaten if I were to serve it in a coleslaw. Were my kids big fans of this? Not really but I take chances when I can.  Other than a tiny complaint by Sami, it was all good!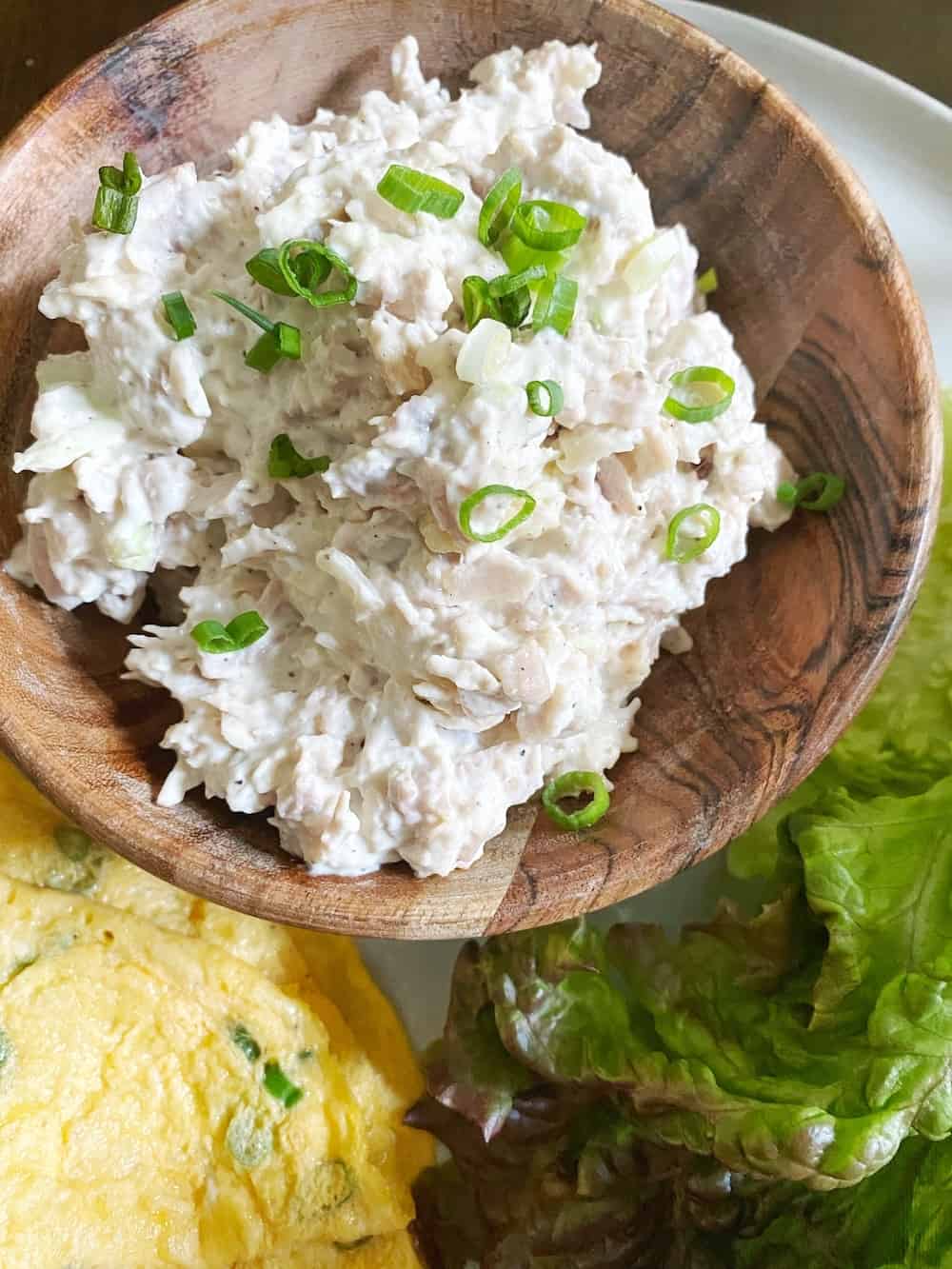 I also like to add some green onions to my omelet but that is totally optional.
For the kids I use cheese from 2 different brands. Kerrygold or Organic Valley.  These are both sourced from grass fed cows which is better for the body.
Lastly, I omit the third slice of bread so we can keep the carb count low.  Also try to get the best quality bread you can find.  I myself avoid gluten so I choose gluten free bread when I am craving bread or make a wrap with a lettuce leaf.  Mostly however, I eat a deconstructed club sandwich with some plantain chips and almond flour crackers on the side.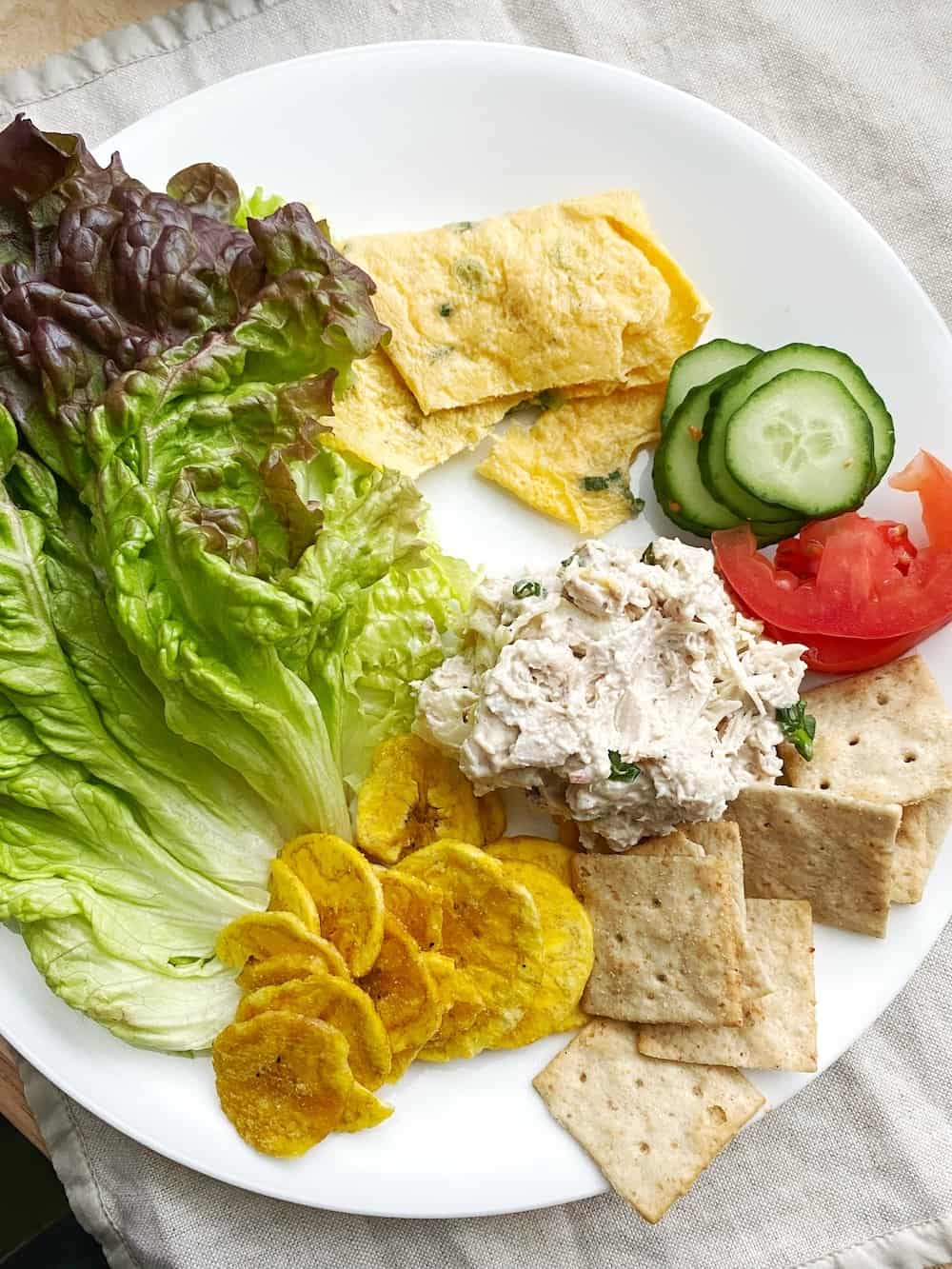 Do you like club sandwiches? What's your favorite sandwich to eat? Let me know in the comments below and as always if you do try this recipe, let me know how you liked it in the comments below.
You can find the printable recipe below as well as a step by step tutorial.
Club Sandwiches
Here's my take on the ever so popular club sandwich. I've made it healthier by making the coleslaw part of the sandwich itself and omitting the need for the extra slice of bread!
Ingredients
1

whole chicken

boiled and chopped up

3/4-1

cup

mayonaise

1/2

teaspoon

salt

1/4

teaspoon

pepper

1

cup

shredded cabbage

3

eggs

whisked

12

Slices

of bread
Instructions
Boil the chicken in enough water so as to dredge all the pieces.

Add salt and pepper to taste.

Once boiled ( about 30 minutes) drain the stock and store in mason jars to use later. You should get about 2-3 mason jars worth.

Debone the meat and chop it into tiny pieces. Often the chicken is shredded for club sandwiches but I prefer the chunkiness of the chopped meat

Add the mayonnaise , salt, pepper and cabbage to the chicken and mix till fully incorporated. Set aside.

Whisk the eggs with a pinch of salt and pepper.

Optionally I also add some green onions to the omelet mixture.

Heat a pan and in 3 batches fry the omelet.

To assemble, take one slice, add about one to two tablespoons of the chicken mix depending on the size of your bread.

Cut an omelet in half and add that atop the chicken spread.

Next add the lettuce, cucumbers and tomatoes.

Finally add the cheese. You can use sliced cheese or shredded.

Cover with the second slice of bread.

Grease a cast iron or ceramic pan with butter or oil.

Carefully lay the sandwich down and let the bread toast up.

Once the bread gets a nice golden color, flip the sandwich and press down and let the cheese melt. This will help with the sandwich staying intact.

Once done, take out of pan and slice it in half.

Serve with cucumbers, chips and ketchup.
Video
Notes
I usually boil a whole chicken and make a batch of this sandwich spread as part of my meal prep for the week. Any leftovers can be refrigerated for up to 3-5 days.
I save the stock to use later in soups, curries and pasta sauces.
Grilling this sandwich can get messy but that's because we don't have the stability of that extra slice of bread. This does not compromise on taste. In fact, the sandwich turns out extra juicy!