You guys! I found the squash of my childhood! Remember in my last post I told you about how my only exposure to squash was the Opo or Lauki? Well, I found it in my neighborhood grocery store! And since it's fall and squash is a big part of the season, I figured I would cook it for Meatless Monday.
I have never before had so much respect for vegetables. This tradition I have started at home has really educated me on the benefits of this food group we hardly gave a thought to before. Vegetables are mostly a side dish in Pakistani cuisine and if given the honor of being an entree, the limelight is usually shared with some type of meat.
Our Meatless Monday tradition has enabled us to incorporate more vegetables into our lives, expanding and enriching our culinary horizons.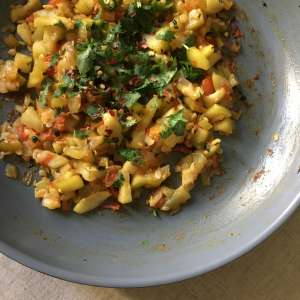 Meatless Monday~ Lauki (Opo Squash)
This version of Lauki is rustic and robust. Paired with tomatoes and onions, it is sure to have your family coming back for more!
Ingredients
1

medium sized Lauki

peeled and diced

1

large onion

diced

1

small tomato

diced

1/2

green chilli

chopped

1

tsp

garlic

minced

1/2

tsp

salt

1

tsp

red chili powder

1/4

tsp

turmeric

3

tbsp

oil

Olive or Canola

4-5

sprigs cilantro

chopped for garnish
Instructions
In a pan, fry the onions till golden brown

Add garlic, salt, red chilli powder and turmeric

Stir fry

Add half of the chopped green chilli

Add the tomatoes and lauki and stir fry

Cover the pan and let cook

After about 10 minutes check to see whether the vegetables have cooked through

Stir fry un covered till oil separates from the vegetables

Garnish with cilantro and the rest of the green chilli

Enjoy by itself with roti or as a side with rice
This recipe is quick and hassle free and I must thank my aunt for it. Thank you Khala Ammi for all your tips and advice!
I must mention also that Lauki is usually cooked with daal (lentil curry) where I come from but this version was a total hit! I will be making it again soon! I hope you will give it a try and come back and tell me in the comments below how it went. I love to hear from you!