Crispy, spicy, pan fried salmon bites atop a bed of rice drizzled with that addictive spicy mayo we all love so much! Ready in 30 minutes!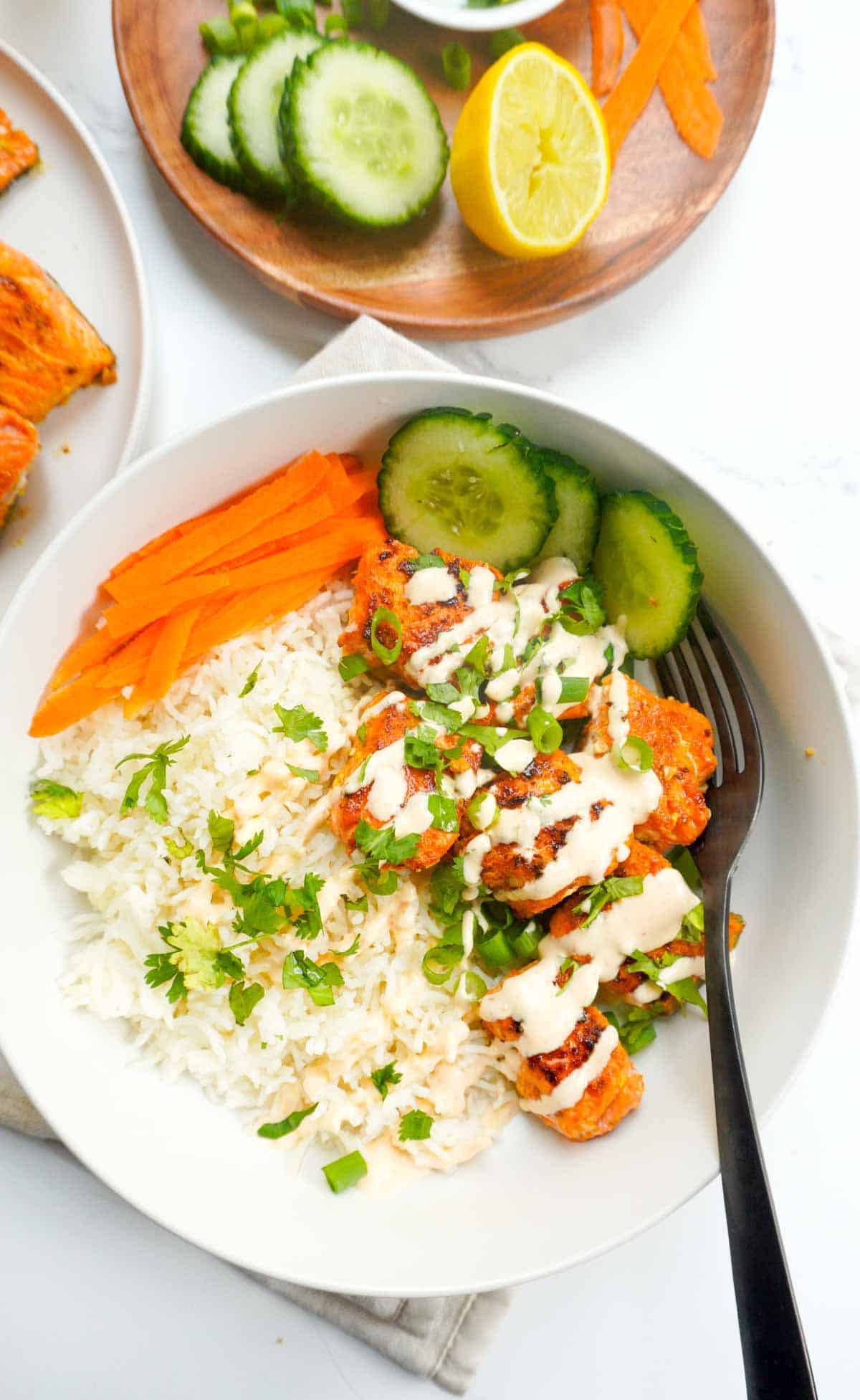 Why you should make this spicy salmon bowl recipe.
This recipe comes together in 30 minutes or less! Perfect for weeknight meals!
These bowls are the perfect fusion fish recipe for fussy eaters be that your kids or spouse! Salmon is not found in South Asia so it truly is an acquired taste for myself and Ali. We are used to eating mostly white fleshed fish like Pomfret and would go for shrimps or prawns any day of the week but salmon, a much meatier fish, took some getting used to. So, all that to say, if your struggle is similar, make this bowl! You won't regret it!
Everything tastes better in a bowl! Plus easy clean up! Skip the family style serve ware and just make bowls!
A note on buying salmon.
Wild caught vs. farm raised
I thought it would be helpful to talk a little bit about something that may have caused some confusion when it comes to buying salmon and most seafood for that matter. You have wild caught and farm raised salmon. So which is healthier and is it worth the money to buy wild caught? Here's what I found out through my research and I hope this will help you figure out what is best for your budget as well.
Here are some things you need to consider when buying salmon or any other fish for that matter:
The feed: Farm raised often means the fish is fed a processed, high fat, high protein diet which makes them bigger whereas wild caught fish eats what it finds in its environment and is the size nature intended it to be. This can mean a better nutrient profile for wild caught salmon compared to farm raised. Here are more details.
The price: Wild caught salmon is more expensive compared to farm raised salmon.
Antibiotics use: Farm raised salmon are given antibiotics to prevent or curtail infections while wild caught salmon has no such issue. There are regions that use less antibiotics than others. Chile e.g uses way more than Canada and Norway.
Even if you are buying farm raised salmon, you are still benefiting from this nutrient dense protein source. If antibiotic use is an issue to you, make sure you buy salmon sourced from regions that have some amount of regulation in the use of antibiotics. You can find the source of the salmon on the packaging.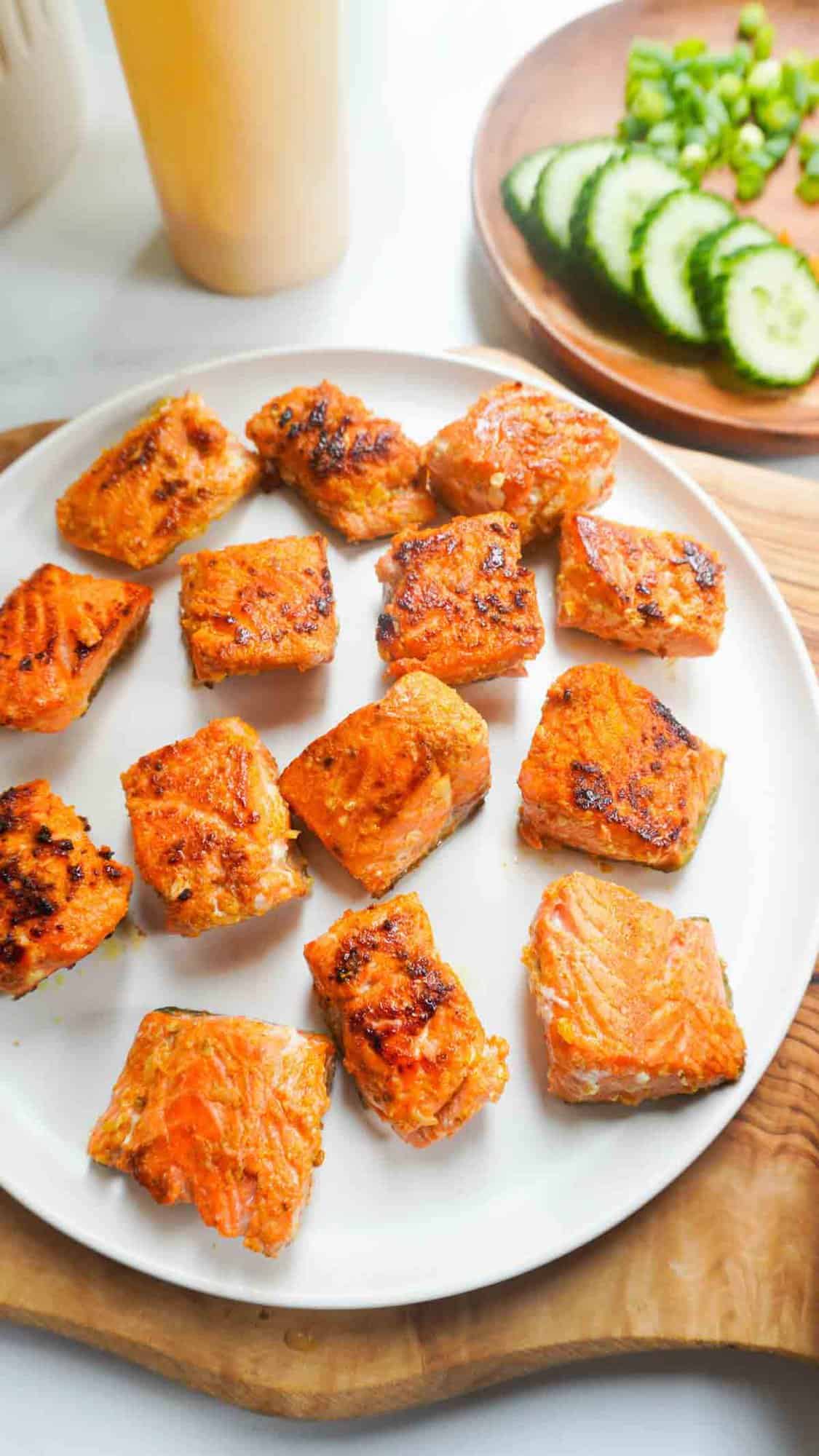 What you will need
For the marinade
Salmon.
Spices. Red chili powder, salt, turmeric, cumin powder.
Garlic.
Lime juice.
Soy sauce/Coconut aminos. This is optional but gives the salmon an umami flavor which I enjoy in seafood dishes.
Oil.
For the spicy mayo
Mayonnaise
Sriracha sauce
Water. This is to thin out the mayo so it is easier to drizzle on the bowl.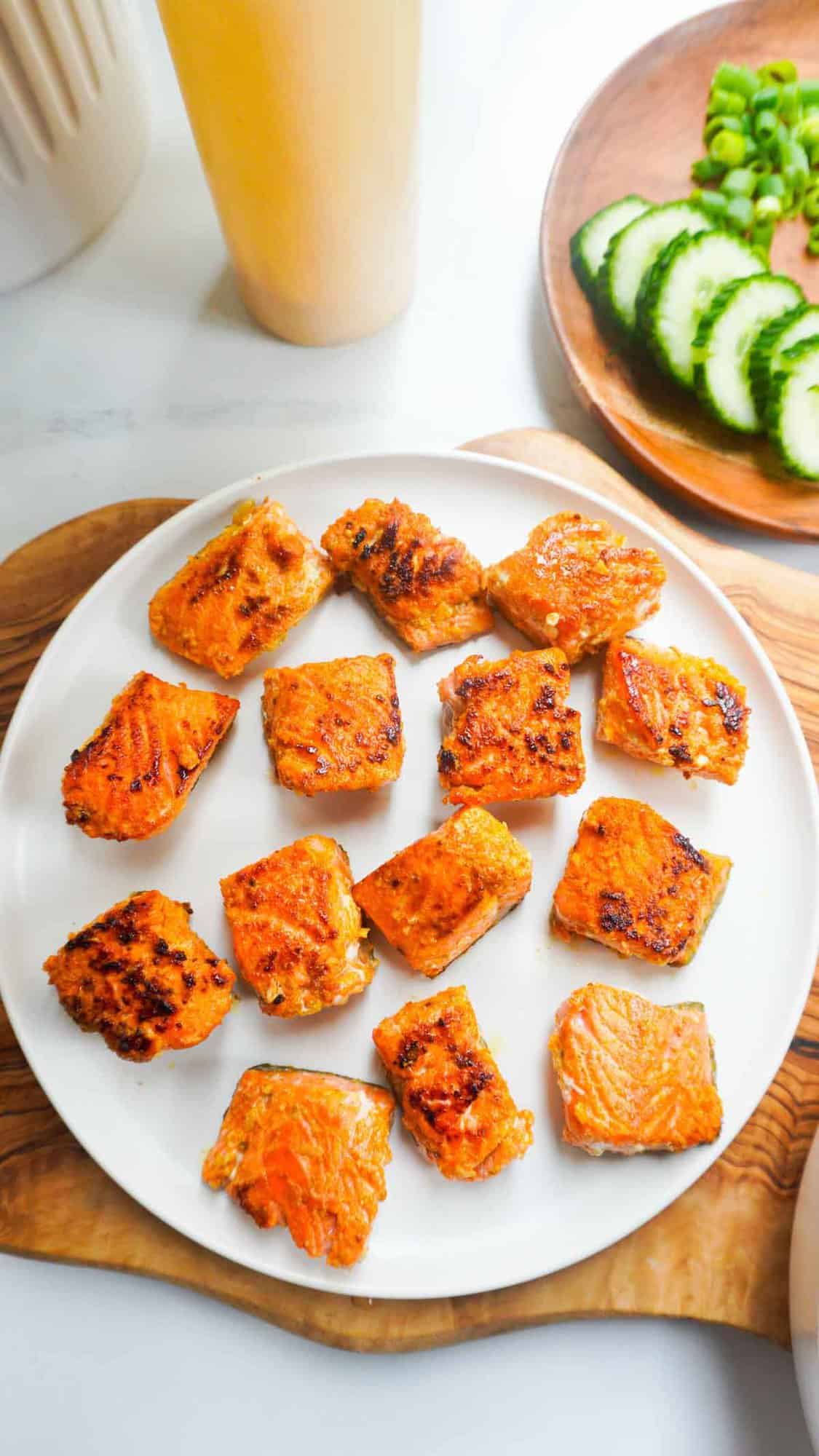 How to make these salmon tikka bowls
There are four components to this dish. The rice, the salmon nuggets, the spicy mayo and the vegetables.
Step 1
Prepare your rice of choice. I have made this with white rice as well as cauliflower rice ( making this a Keto/Paleo/Whole30 friendly dish) but I can imagine brown, wild rice or even quinoa working really well.
Step 2
Make the spicy mayo. I use this same recipe for my Sweet Potato Kimchi Fries and it can be used as a dipping sauce all on its own!
Or, simply mix 1 cup mayonnaise and 1 tablespoon Sriracha sauce or any hot sauce available where you live. You can add water and thin it out to the consistency you prefer.
Step 3
Prepare the salmon. Now you have two options: Skin off vs. skin on.
I prefer to leave the skin on. But if you don't care for the skin, skin it.
Dab with a paper towel to remove any moisture and then cube it. Not too small, as we want to prevent the salmon from breaking up when fried.
Coat the pieces in the spices
Pan fry them. Make sure not to crowd the pan as we want crispy rather than steamed.
Assemble
And now assemble everything and garnish with your veggies of choice. In this recipe I used cucumbers, carrots and cilantro with a drizzle of lime juice. Finish off with the spicy mayo drizzle.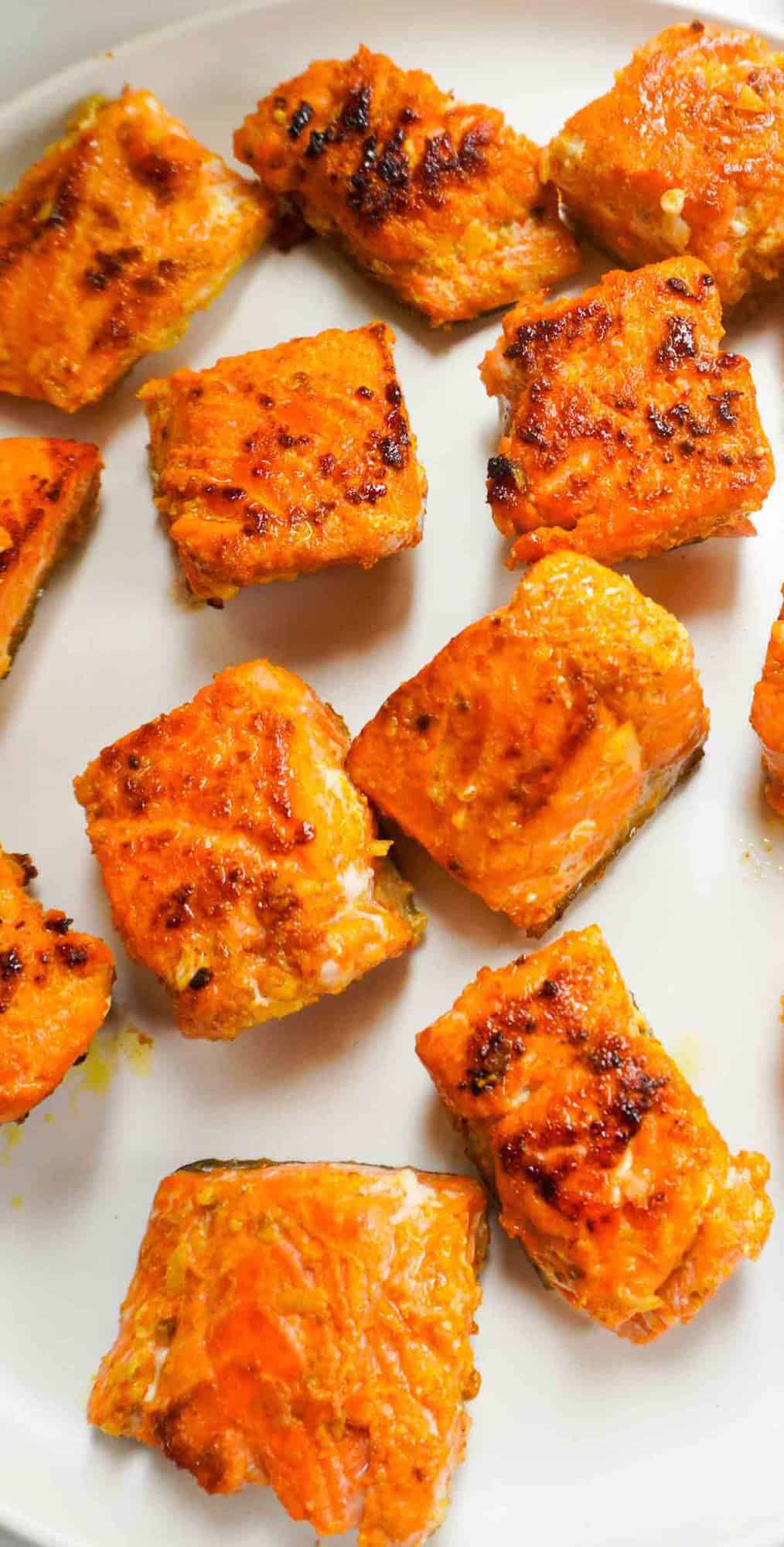 Tips & variations
If you pan fry like I have here, make sure to use a non-stick skillet (affiliate link). Trust me, I've tried a cast iron pan and the delicate salmon pieces end up breaking up and sticking to the pan.
Pan fry, bake, air fry or grill. This recipe is pretty versatile and can be cooked by any method of your choice.
Change up the grain. Switch out the white rice for brown rice or even cauliflower rice to keep it Keto/ Paleo/Whole30.
Change up the veggies. Steamed broccoli, pickled purple cabbage, sliced red onions and avocado are some of the other veggies that would go brilliantly with this salmon bowl.
Prep ahead and storage
All the components of this bowl can be prepped before hand and stored in the fridge separately for up to 2 days. Because warming the bowl will be required before serving, I wouldn't advice assembling the bowl before hand.
Freeze the salmon bites. Allow to cool to room temperature and then place in an airtight freezer safe bag or container. The salmon bites can be frozen up to 3 months.
Reheat. Place frozen bites to thaw in the fridge overnight and microwave to heat.
Recipe FAQs
Can I make this bowl with any other fish?
Absolutely! In fact, you can assemble a bowl like this with any protein of choice, beef, chicken and even shrimps!
Can I prep this bowl ahead of time?
Yes! Just prep all the ingredients and heat and assemble just before serving.
Try these other quick dinner recipes:
If you try this recipe, I'd appreciate it so much if you would rate it ⭐️⭐️⭐️⭐️⭐️! And let me know in the comments how it worked out for you. I love hearing feedback and the recipe rating helps others find this recipe!
Spicy Salmon Tikka Bowls
Crispy, spicy, pan fried salmon bites atop a bed of rice drizzled with that addictive spicy mayo we all love so much! The perfect quick, healthy fusion recipe!
Equipment
ceramic non stick skillet

Fish spatula
Ingredients
2

pounds

salmon fillet

cubed

1

teaspoon

red chili powder

1

teaspoon

salt

1

teaspoon

turmeric

1

teaspoon

cumin powder

2

teaspoons

garlic

minced

1

lime

juiced

2

tablespoon

coconut aminos or soy sauce

optional

2

tablespoons

oil
Spicy Garlic Mayo
1

cup

mayonnaise

1

tablespoon

Sriracha sauce or any other hot sauce of choice

Like Crystal or Tobasco (see notes)
Instructions
Prepare the salmon
Skin and cube the salmon fillet. Place in a bowl. Make the marinade by adding all the spices, garlic, lime and soy sauce/coconut aminos.

Add the salmon cubes to the marinade and set aside.
Cook the rice
You can make it the old fashioned way or use your rice cooker. I am loving my rice cooker these days! Keeps it handsfree!
Make the spicy mayo
While the rice is cooking, In a bowl, add all the ingredients for the spicy mayo and mix to combine.
Cook the salmon
Heat a ceramic, non stick pan on medium high heat. Once hot, add oil and place salmon pieces in two batches so as not to over crowd the pan. Let the salmon cook for two minutes and then flip to the other side, making sure you get a good sear.

Cook for another two minutes. Take out onto a clean paper towel lined plate. Repeat with the rest of the salmon pieces.
Assemble the bowls
Prepare the salmon bowl putting rice first into the bowl, then the salmon pieces. 5-6 pieces per bowl is good. Finally add the vegetables and drizzle the spicy mayo. You can be as generous with this as you want. Finish off with some cilantro.
Notes
A non stick pan works best here. I did try this with a cast iron but if you're not using lots of oil, it will just result in the salmon breaking up and shredding.
Add more or less of the Sriracha/hot sauce according to your tolerance. I find 1 tablespoon sauce : 1 cup mayo to be the perfect spice level for my family.