This tamarind/Imli chutney is spicy and tangy with just a hint of sweetness. It is refined sugar free and perfect to batch or meal prep. Plus it freezes well too!
What is Tamarind/Imli Chutney?
Tamarind Chutney, or imli Chutney as it is called in Urdu, is a sauce made with tamarind, sugar and spices. It is a favorite pairing with pakoras / fritters in Ramadan. It is also the condiment of choice on Chana Chaats and other savory South Asian snacks.
I love making my own and freezing some in an ice cube tray as part of my Ramadan meal prep. That way, I have homemade imli chutney ready and available whenever I need it.

The ingredients
Tamarind: I get the seedless block variety from the Indian store.
Spices: Red chili powder, salt and cumin powder. Chaat masala is optional.
Sweetener: I have used both coconut sugar and jaggery (gur) with great success.
Water: 4 cups to begin with and more depending on the consistency you prefer.
How to make this tangy chutney
Boil: The very first step to make this imli ki chutney is to boil the block of seedless tamarind in some water. Seedless tamarind blocks are available at most Pakistani/Indian grocery stores. In a dutch oven or deep sauce pan, put the block of tamarind and add water (adding boiling hot water will cut the prep time as the block will break up faster). Cover the pan and bring the water to a boil, about 15 – 20 minutes. Break up the tamarind block once the water has come to a boil and slightly mash the tamarind with the back of a wooden spoon.
Strain: Once boiled, pass the pulp through a fine mesh sieve. Discard the pulp and continue to season the tamarind juice. You can thin it out some more or leave it be. I prefer it thicker so that it is easily picked up with pakoras.
Season: I keep the seasoning simple with salt, red chili powder, cumin powder and coconut sugar or gur. Dates and date sugar can also be used to sweeten this chutney.
You can optionally add chaat masala and some people add garam masala and ginger powder as well.
Storage tips
Refrigerate imli chutney for up to 2 weeks in the fridge in an air tight jar or freeze the chutney in an ice cube tray and then put the cubes in a freezer bag for up to 6 months.
What to eat with tamarind/imli chutney
Imli ki chutney is great on top of Channa Chaat, Pakoras and other savory Pakistani/Indian snacks.
You can serve it alongside seekh kababs, chicken skewers, and other grilled foods.
More recipes you'll love:
If you try this recipe, I'd appreciate it so much if you would rate it! And let me know in the comments how it worked out for you. If you are on social media, share your pics with me on Instagram by tagging me @eatdrinkpure so I can see and repost it on my stories!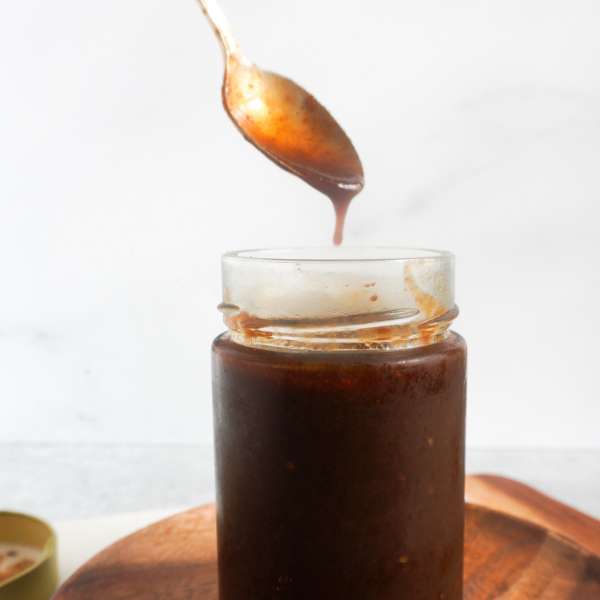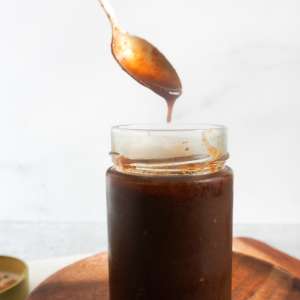 Imli Ki Chutney
Ingredients
1

17 oz. packet seedless tamarind block

2

teaspoons

red chili powder

2

teaspoons

cumin powder

2

teaspoons

salt

1/3

cup

coconut sugar/jaggery

4

cups

Water
Instructions
Dredge the tamarind block in a deep pot in 4 cups boiling water.

Cover the pot and bring to a boil on medium heat. About 15-20 minutes breaking apart as it cooks.

Once done, let cool and squeeze out the juice by straining it through a fine mesh sieve/strainer

You will get about 2 cups of juice. You can add 1/2 cup of additional water depending on the consistency you prefer.

Season and enjoy with fritters, chaat and other savories.
Video
Notes
This recipe is a great one to prep ahead. You can keep the chutney in an air tight jar in the fridge for up to 2 weeks and in the freezer for much longer.
Use an ice cube tray to freeze individual servings and defrost on countertop about 30 minutes. I freeze in king cube silicon trays and defrost 2-3 cubes depending on how much I need.