When I was growing up, chana chaat was as a staple at tea parties, birthday celebrations and our Ramadan table. This family recipe is the only way we ate chickpeas growing up. It's tangy, it's spicy and I could honestly eat it all day long! It is packed with fiber and protein and so by default, satiating as well.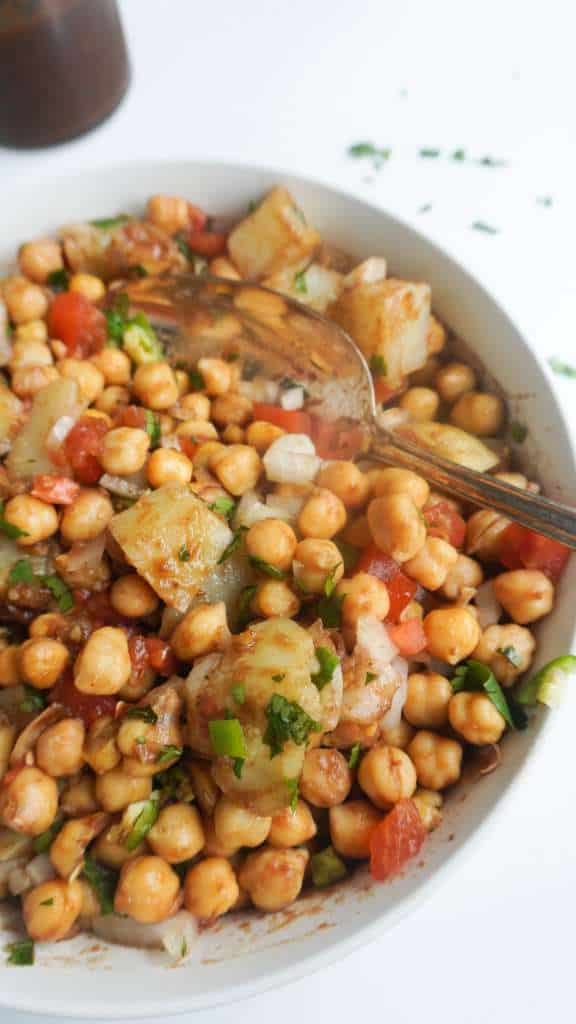 I realized as I was researching for this recipe that we refer to channa chaat as cholay in our home.Typically cholay refers to a hot chickpea curry but for me cholay has always been a drier, tamarind coated snack. As I ventured out into the world, I learned that most people referred to it as chana chaat and there were so many variations of it. With yogurt, without it, with potato, without it.
Today I want to share my version of chana chaat with you! But first,
What is chana chaat?
Chana chaat is the quintessential Pakistani street food-spicy, tangy and crave worthy! Chana chaat is not exclusive to Pakistan but enjoyed in India and even Bangladesh.
My version of chana chaat has three main components:
Chickpeas and potatoes: You can boil your own chickpeas or cut prep time by using the canned variety. Adjust salt as needed if using canned.
Tamarind / Imli ki Chutney: This versatile imli ki chutney is what seasons the chickpeas and my recipe is clean and easy to make.
Garnish: Do not skip the garnish which is basically chopped cilantro, onions, green chili and tomatoes. Diced real fine and sprinkled on top. Of course you can control the spiciness by controlling the amount of chiles you add. You can also deseed the chiles to reduce the heat.
Why you will love this dish
Chana chaat is very easy to batch cook and keeps well in the fridge for up to 5 days. So it is perfect for meal prepping. Just keep the chickpeas separately from the vegetables. You can mix the chickpeas with the tamarind chutney and store those together. Add the vegetables when ready to eat, especially the onions.
It is super quick to make, especially if you are using pre boiled or canned chickpeas. As for the imli chutney, I always have some on hand and all that is required is to assemble it. A perfect 20 minute lunch or snack.
Chickpeas or garbanzo beans are a low calorie food and a good source of fiber and protein. This makes for a filling meal or snack.
If you love spicy and tangy, then this one's for you!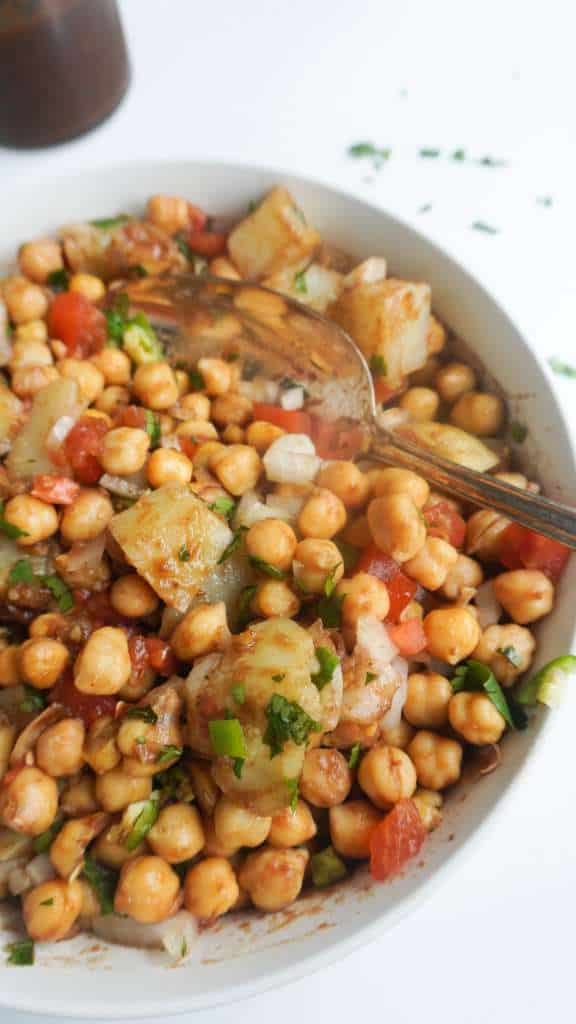 How to make it quick and easy – use canned chickpeas!
I almost always use canned chickpeas because I prefer to spend as little time as possible in the kitchen! I am sure you feel the same way. Whenever there's a kitchen short cut/hack, I'm there! So use canned chickpeas, my friends, it's so much quicker!
Now, canned chickpeas, although cooked, can be a tad hard but with my recipe we will be softening them up by heating them with imli chutney and water.
In a pot, add the rinsed and drained chickpeas along with the imli ki chutney. Add some water (about 1/4 cup) to facilitate some more softening of the chickpeas. Stir and mash the chickpeas a little with the back of a wooden spoon.
Next add the boiled and cubed potato, cover the pot and let simmer for about 5-8 minutes while you prepare the vegetables. Chop up the tomatoes, onions, green chili and cilantro.
Once the chickpeas and potatoes are ready, give a taste test and add more salt if desired. Next, add all the veggies saving some cilantro to top the finished product. Mix the chaat well, plate into a wide, shallow bowl and garnish with the saved cilantro, chaat masala and additional chutney if desired.
Some topping ideas
You can add some crunch by additional sev ( gram flour based garnish).
If you can tolerate yogurt, add whipped greek yogurt, thinned with some water (seasoned with some salt and red chili powder) before adding the rest of the garnish.
Traditionally chana chaat is topped with crushed papri ( a wheat based deep fried wafer) but because I eat a gluten free diet, I usually stick to sev and if I have it ready, my homemade nimco. If nothing else, I've even sprinkled some sliced almonds and or pumpkin seeds for crunch.
Have fun with this dish and make it your own by adding different toppings!
Frequently asked questions
What if I want to use dry chickpeas instead of canned?
You absolutely can. Just make sure to presoak them and boil them before starting this recipe.
Can I substitute black chickpeas for the white chickpeas?
For sure, just make adjustments for cook time as black chickpeas tend to take longer to cook.
More snack recipes to try
If you try this recipe, I'd appreciate it so much if you would rate it! And let me know in the comments how it worked out for you. If you are on social media, share your pics with me on Instagram by tagging me @eatdrinkpure so I can see and repost it on my stories!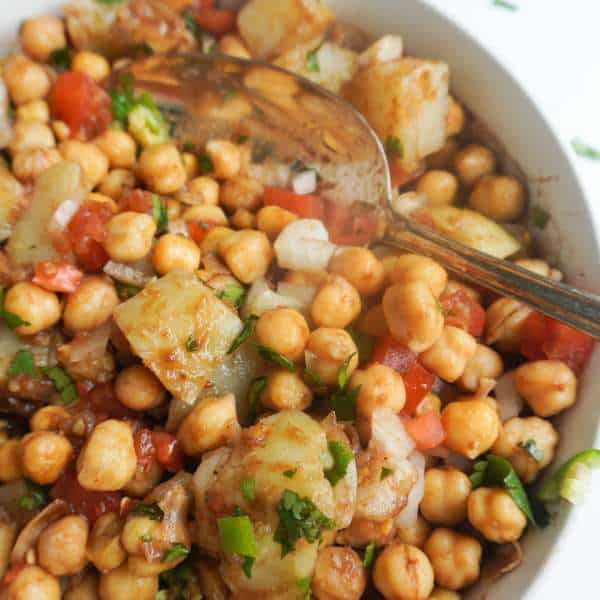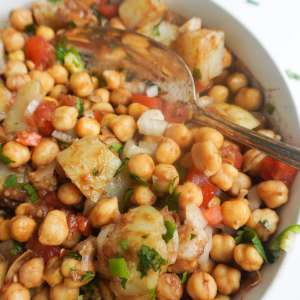 Chana Chaat (Cholay)
This chana chaat recipe is spicy, tangy and super simple to put together. Perfect as a tea time snack and for Ramadan Iftars!
Ingredients
Channa ingredients
2

cans

chickpeas/garbanzo beans

3/4-1

cup

Imli ki chutney

1/4

cup

water

1

small white potato or 1/2 russet potato

boiled and cubed
Garnish
1/4

onion

diced fine

1/2

small tomato

diced small

1/4

cup

cilantro

chopped

1/2

green chili

chopped
Instructions
Begin by adding the chickpeas, imli ki chutney and water to a pot on medium heat.

Mash the chickpeas with the back of a wooden spoon and cover and heat up the chickpeas.

Prepare the vegetables for garnish. Chop the onions, tomato, cilantro and green chili.

Check on the chickpeas after 5-8 minutes and give them a stir. They should have softened up some. Mash them some more.

Add the boiled potato and stir well.

Next, mix in the veggies, saving some cilantro for garnish.

Plate the chaat and garnish with the cilantro. You can sprinkle some chaat masala on top and even add some whipped yogurt and sev.
Video
Notes
You can play with the amount of imli chutney. Start with 3/4 cups and increase the amount as needed.