This spicy cashew butter dressing is not just a dressing, but a multipurpose sauce that can be used for marinading and drizzling on your protein of choice or any other food for that matter! Think roasted veggies! Yum! In fact, I'd even suggest using it as a dipping sauce! It's that versatile plus it's dairy free!
    Why I like to make this cashew butter dressing at home
If truth be told, I don't buy my salad dressings. I truly believe you can make most of them at home, cheaper, healthier, with just a few basic ingredients. I did however make an exception the last time I was at Trader Joe's. I had been seeing their Spicy Cashew Butter Dressing on social media and decided to try it out. It did not disappoint. Now, I've been making peanut butter and almond butter based dressings for a while now but I really like the creaminess and neutral flavor profile that cashew butter lends to this recipe. It is definitely a hit in my home and I am positive it will be in yours too! 
However, If you know me, you know that I like to save money where I can and the thought of spending $4 for an 11 oz. bottle just doesn't appeal to me. Especially when it goes so fast! So, I had to try making it at home. And so, this Trader Joe's inspired cashew butter based dressing was born. And if my family's reviews are anything to go by, I have pretty much nailed it! 
What you will need to make this cashew butter dressing
Cashews: Soaked and drained cashews are best. Leave them to soak overnight and then rinse and drain them before making the butter. This ensures a smoother, creamier sauce. If you decide to buy pre made cashew butter, make sure to read the ingredient list as many have added sugar and or inflammatory oils like sunflower or safflower in them.
Ginger puree: Puree / paste is better than whole ginger here as it helps the dressing come together faster.
Lime juice: You can swap out with lemon juice if you wish although the ingredient list on Trader Joe's dressing called for lime juice.
Maple syrup / sweetener: Maple syrup keeps this dressing light and neutral although any sweetener of choice would do. Just don't add refined sugar because you know, we are refined sugar free around here ?
Sriracha / red chili paste: If you can't find Sriracha, I imagine any red chili paste would do.
Coconut aminos / Soy sauce: Use coconut aminos if you are on a gluten free diet as soy sauce tends to contain wheat. Also, a majority of soy beans in the U.S are genetically modified so it's best to get organic soy sauce.
Cilantro: I know many don't love cilantro but I would recommend you not skip this herb. It just adds a fresh and herby flavor to this sauce.
Water: You can play with the amount of water you want to use and adjust your seasonings accordingly. The Trader Joe's version was slightly more watery than mine but that just boils down to personal preference.
Assembling it
I think the most time consuming part of the recipe is making the cashew butter. I like to rinse and soak the cashews either overnight or quick soak them in boiling water to help remove the phytic acid that is present on the nut as well as any pesticides and chemicals. This helps with digestion and results in a creamier, smoother sauce.
In a food processor, add the cashews and blitz for about a minute or two, scraping down the sides in between till you have a smooth, paste like consistency. In all honesty, you really don't need to process it till it forms into butter as once the rest of the ingredients are added, it will come together just fine. Next, add all the rest of the ingredients and blend till everything is well incorporated. You can adjust the water according to your preference. I don't like my dressing to be too runny and this amount of water was just right for me. 
How to store this nut based dressing
This dressing can be stored in a mason jar or a recycled salad dressing bottle. I also have several of these cute Korken  bottles from Ikea that work really well too.
Storage
This dressing keeps well up to 2 weeks in the refrigerator but let me assure you, it will finish way sooner!
More homemade dressings and condiments to try
If the poll on my Instagram stories was anything to go by, a lot of you wanted this copy cat Trader Joe's Spicy Cashew Butter Dressing so I am hoping you will try this out soon! If you do, be sure to let me know how you like it in a comment below or tag me on a picture on Instagram! I'd love to see it!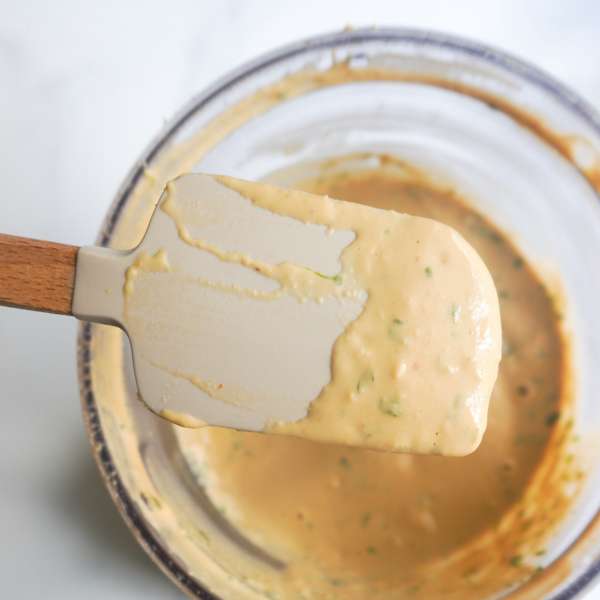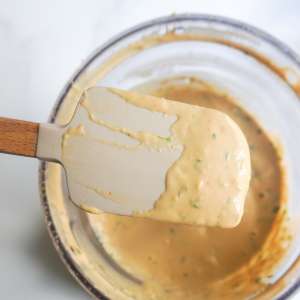 Spicy Cashew Butter Dressing
This creamy spicy cashew butter dressing is the perfect addition to your salad or as a sauce on your protein of choice.
Ingredients
1/2

cup

raw cashews

1

teaspoon

ginger puree

2

teaspoons

coconut aminos / soy sauce

2

teaspoons

maple syrup

1

teaspoon

Sriracha sauce

1/2

teaspoon

salt

1/2

teaspoon

red pepper flakes

optional

1/2

cup

cilantro

packed

4

teaspoons

lime juice

6

tablespoons

water
Instructions
In a food processor add the pre soaked, rinsed and drained cashews and blitz for about a minute or two, scraping down the sides in between till you have a smooth paste like consistency.

Next, add all the rest of the ingredients except the water and blend till everything is well incorporated.

Add the water little bit at a time till you get your consistency of choice.

Enjoy as dressing, dipping sauce or marinade.

Store in the fridge in an airtight container.
Video
Notes
To get best results, process the cashews into a paste like consistency before adding the rest of the ingredients. This ensures a smooth, creamy texture.