I was going to name this Chia Oat Cereal something else but I think "cereal" suits it better. It is thick and creamy like overnight oats and chia pudding but still runny so cereal seems a better description:). When I saw My of MyHealthyDish talk about Kim Kardashian's Chia cereal, I knew cereal was the best way to describe this concoction!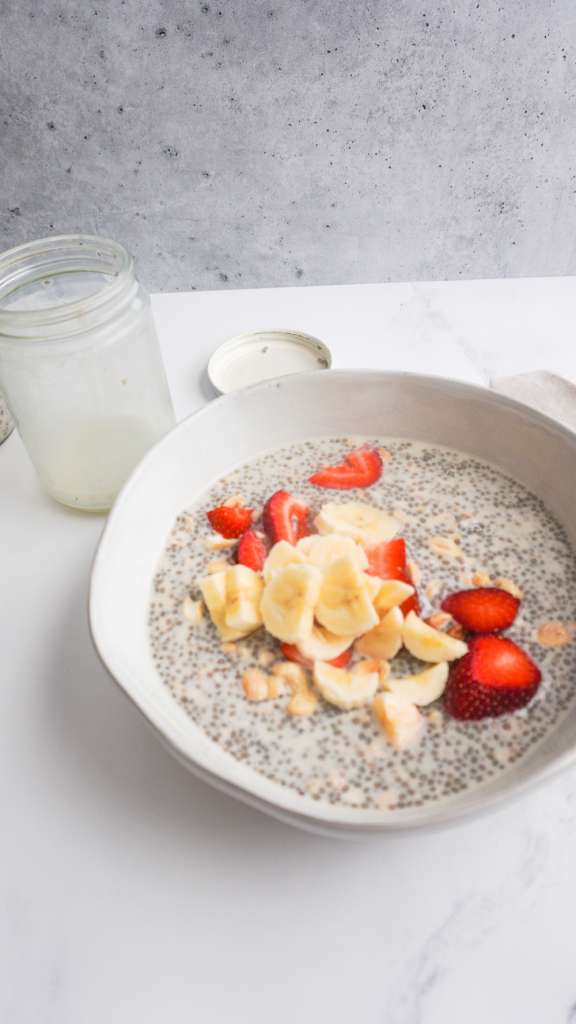 The best part is that my 12 year old loves it and actually polished up the whole jar on filming day!
HEALTH BENEFITS OF CHIA SEEDS
Chia seeds are packed with nutrients and date back to the Aztecs. They are a great source of omega 3 fatty acids, anti oxidants, potassium, magnesium and zinc.
Antioxidants neutralize reactive molecules in your body called free radicals, that, if built up in the body, can be contribute to aging and diseases like cancer.
Omega three fatty acids promote healthy skin, alleviate menstrual cramps, Improve bone and joint health, reduce inflammation and a whole host of other benefits.
HOW TO MAKE CHIA OAT CEREAL
CHIA SEEDS Like my Chia Pudding and Chia Kheer recipes in the past, I refrigerated this overnight for best results but you can try doing it for a few hours.
Also chia seeds last longer aka gel up when stored in an airtight container in the fridge so if yours are not gelling up, this could be why.
OATS Using rolled oats works best as they soften up as they are supposed to. Steel cut oats need cooking before hand. I haven't tried this recipe with quick oats but I imagine they would work fine as well.
MAPLE SYRUP For sweetening up the cereal I used maple syrup so that it was naturally sweetened. Honey would work too or you can keep it keto by adding stevia drops.
MILK I kept this dairy free by adding almond milk but you can easily use your milk of choice.
This recipe is meal prep friendly!
This Chia Oat Cereal is meal prep friendly just like the other chia recipes and I have found that 8 ounce jars work best for breakfast for one. This recipe makes two 8 ounce jars. You can eat straight out of the jar or dump out the contents into a bowl.
If you work, It is such a time saver in the morning when all you have to do is grab a jar out of the fridge and be on your way but even if working from home, these little Chia Oat Cereal jars can help save time, effort and figuring out what to eat for breakfast!
Here are some more breakfast recipes to try:
I hope you try this quick and easy meal prep friendly recipe! If you do, please consider leaving me feedback in the comments, I love reading them. If you'd like to share a picture of your cereal, simply tag me @eatdrinkpure on instagram so I can see it!
Chia Oat Cereal
This wholesome and nutritious chia oat cereal is filling and meal prep friendly for crazy mornings when all you have time for is to grab breakfast and go!
Ingredients
4

tablespoons

chia seeds

4

tablespoons

rolled oats

2

tablespoon

maple syrup

2

cup

almond milk

2

teaspoons

vanilla extract
Instructions
Line up two small 8 ounce jars and add 2 tablespoons chia seeds, oats, 1 tablespoon maple syrup and 1 teaspoon vanilla extract to each jar.

Add 1 cup milk to each jar.

Stir to combine and close the jars tight.

Shake the jars to make sure all the ingredients are thoroughly combined and there is no clumping.

Refrigerate for at least 30 minutes to overnight. The cereal gets thicker the longer it sits.

Enjoy topped with fruits and nuts of choice.
Video
Notes
You can make this Whole30 compliant by skipping the maple syrup and oat.
Sweeten with a banana or other fruit instead.