I am absolutely obsessed with this homemade nimco recipe. For those of you who don't know, nimco is much like trail mix. A savory South Asian version of trail mix if you will. As with many of my recipes I have my aunt (khala ammi as I call her) to thank for this one. She has been making this for as long as I can remember and with the holiday season approaching, I figured this would be the perfect little holiday gift for friends and neighbors and so I set about writing down the recipe so that you can make it and spread the joy to yours.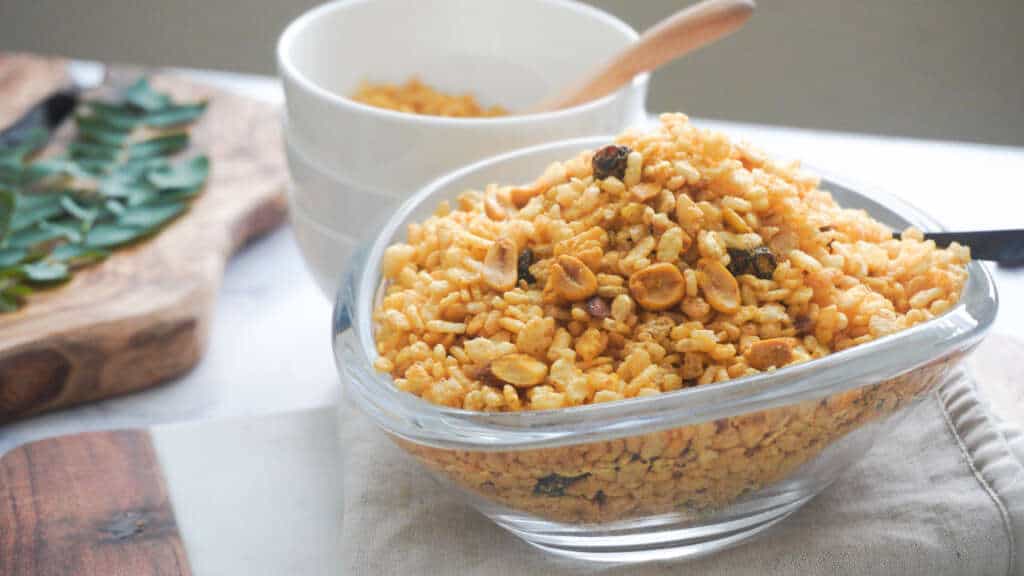 What you will need to make nimco at home
Rice flakes – These can be the rice crispy cereal you get at the store or even puffed rice cereal. I prefer rice flakes as I feel they absorb the spices (masala) better.
Spices – Cumin, turmeric, red chili powder, paprika, salt. I also add a fresh jalapeno that I fry up.
Seeds and herbs – Mustard seeds and curry leaves give the distinct aroma and flavor found in store bought nimco
Nuts – I add almonds and peanuts but you can add cashews too.
Sweeteners – A touch of cane sugar and raisins added to balance out the flavors.
Oil – A neutral oil like avocado would work best in this recipe.
Citric Acid – This is what gives the nimco its tanginess. I address substitution in the FAQ below.
How to make it
Preheat the oven to 350 degrees and roast the almonds. About 15 minutes. While the almonds are roasting, infuse the oil. Slice a green chili. I use a milder variety like jalapeno or Serrano. Set aside. Heat a small skillet or frying pan and once hot, add the oil. Once the oil shimmers, add the green chili and fry till brown. Next add the black mustard seeds, cumin seeds and curry leaves. Stir to coat everything in oil and fry for about a minute on medium low heat. Set this infused oil aside.
Now start assembling the dry ingredients. Rough chop the roasted almonds. In a large bowl add the rice flakes, nuts, spices and raisins. Toss to combine and add the infused oil a little bit at a time tossing in between. Once all the oil is combined with the dry ingredient, you will see the nimco achieve its signature golden color. The paprika is key to this so make sure to not skip on it.
Make it healthier
Most people buy pre packaged nimco from the store but most brands have additives and the ingredients are likely deep fried and that too in inflammatory oils like vegetable and soybean and or sunflower oil. With this recipe you get to control the quality and quantity of the ingredients.
Be mindful of the oil you use. Avocado oil is a great option as it is neutral in taste and has a smoke point of 500 degrees so it is perfect for high heat cooking.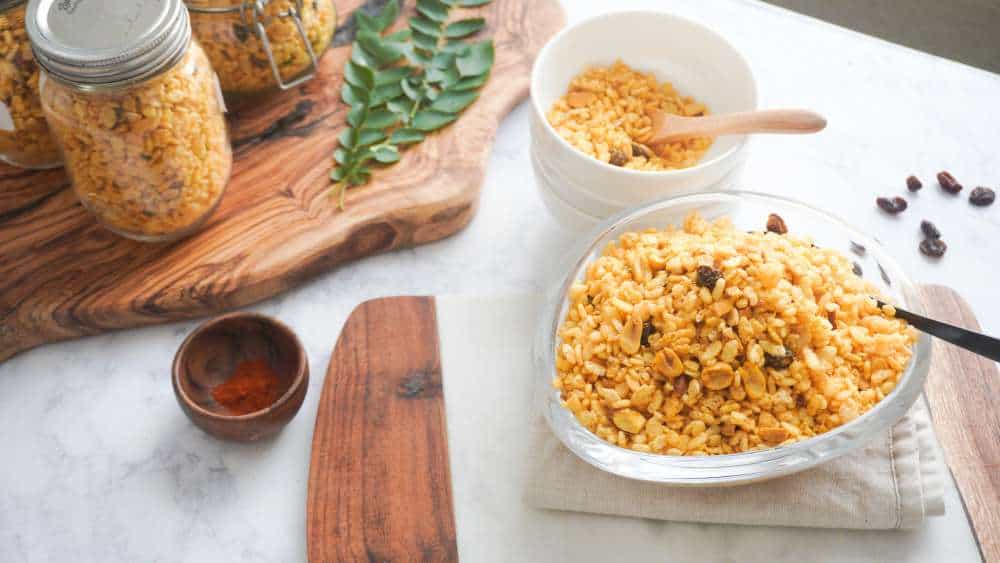 This recipe is definitely an indulgence so make sure when you do make this, you share it with others because I promise, it is very easy to overeat! Happy cooking and happy holidays! Remember to leave a review when you make this, it is always a pleasure to see how it goes for you and if you're on Instagram, take a pic and tag me @eatdrinkpure so I can see your creation!
You'll love these other healthy snacks
Homemade Nimco
Perfect for gift giving but this nimco recipe is so good you won't want to share it!
Ingredients
1

cup

almonds

1

jalapeno or any other mild green chili

4

tablespoons

neutral oil

I use avocado oil

11

big curry leaves

1

teaspoon

cumin

whole

1

teaspoon

black mustard seeds

1 1/2

cup

rice cereal / puffed rice can also be used

1

cup

dry roasted peanuts

1/2

cup

raisins

1 1/4

teaspoons

turmeric

1

teaspoon

paprika

to give color

1 1/4

teaspoons

red chili powder

1

teaspoon

sea salt

2

teaspoons

cane sugar

1/4

teaspoon

citric acid
Instructions
In a 350 degrees preheated oven, roast whole almonds for about 15 minutes.

While the almonds are roasting, slice the jalapeno and set aside.

Once the almonds are ready, give them a rough chop and set aside.

Temper the Oil

Heat the oil in a sauce pan and add the jalapeno.

Fry till blackened and then add the curry leaves, whole cumin and mustard seeds

Turn off the heat and pour the tempered oil in a bowl and set aside.

Assemble

In a large bowl add the rice crispies, nuts, raisins and all the spices and seasonings.

Toss to combine everything and then pour the tempered oil little by little tossing to coat everything evenly.

Toss for another few minutes to ensure everything is mixed evenly and let sit for a couple of hours to let the color come in.

The color of the rice crispies will change to a golden yellow.

It is now ready to eat.

Enjoy yourself and share with others by pouring into jars of choice.
Video
Notes
Tip:
1. As per my khala's instructions, if you want the golden color, adding paprika is key.
2. Most citric acid today may be synthetic so make sure yours is made of the real thing. Find authentic citric acid here.
3. I prefer rice flakes but if you can't find it where you live, you can use puffed rice as well.