These chocolate chip granola bites are so easy to make and perfect for lunch boxes! With schools starting soon, I am definitely planning to meal prep these bite sized snacks. They are one of the more popular recipes with my kids as well as with all of you! Yes, you! These little energy balls were one of the first recipes I shared on here and Youtube back when I first started out food blogging and judging from the rave reviews, they are super popular with anyone who's tried them!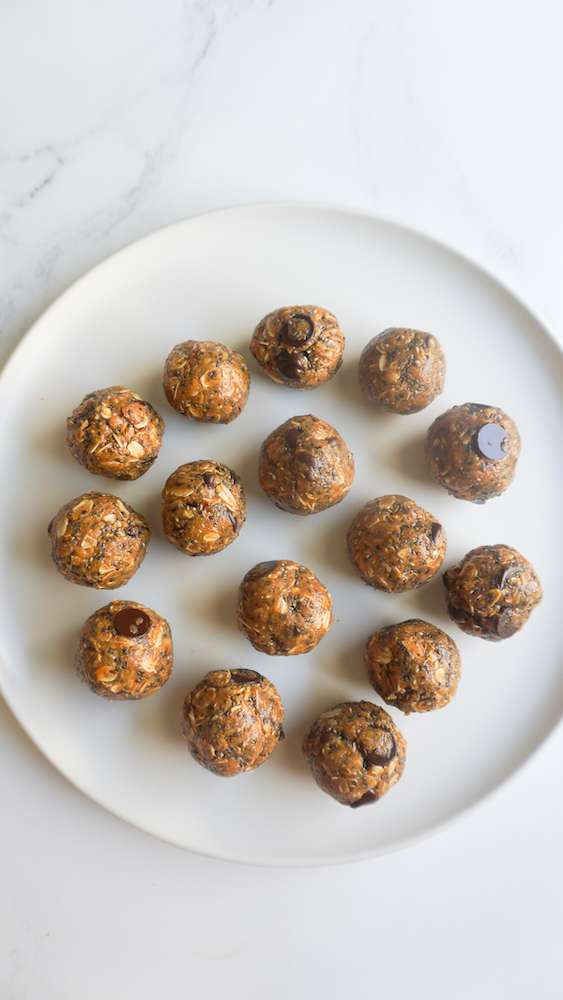 What makes these chocolate chip granola bites special?
These granola bites are free of:
Added sugars
Natural and artificial flavors
Genetically modified ingredients
Preservatives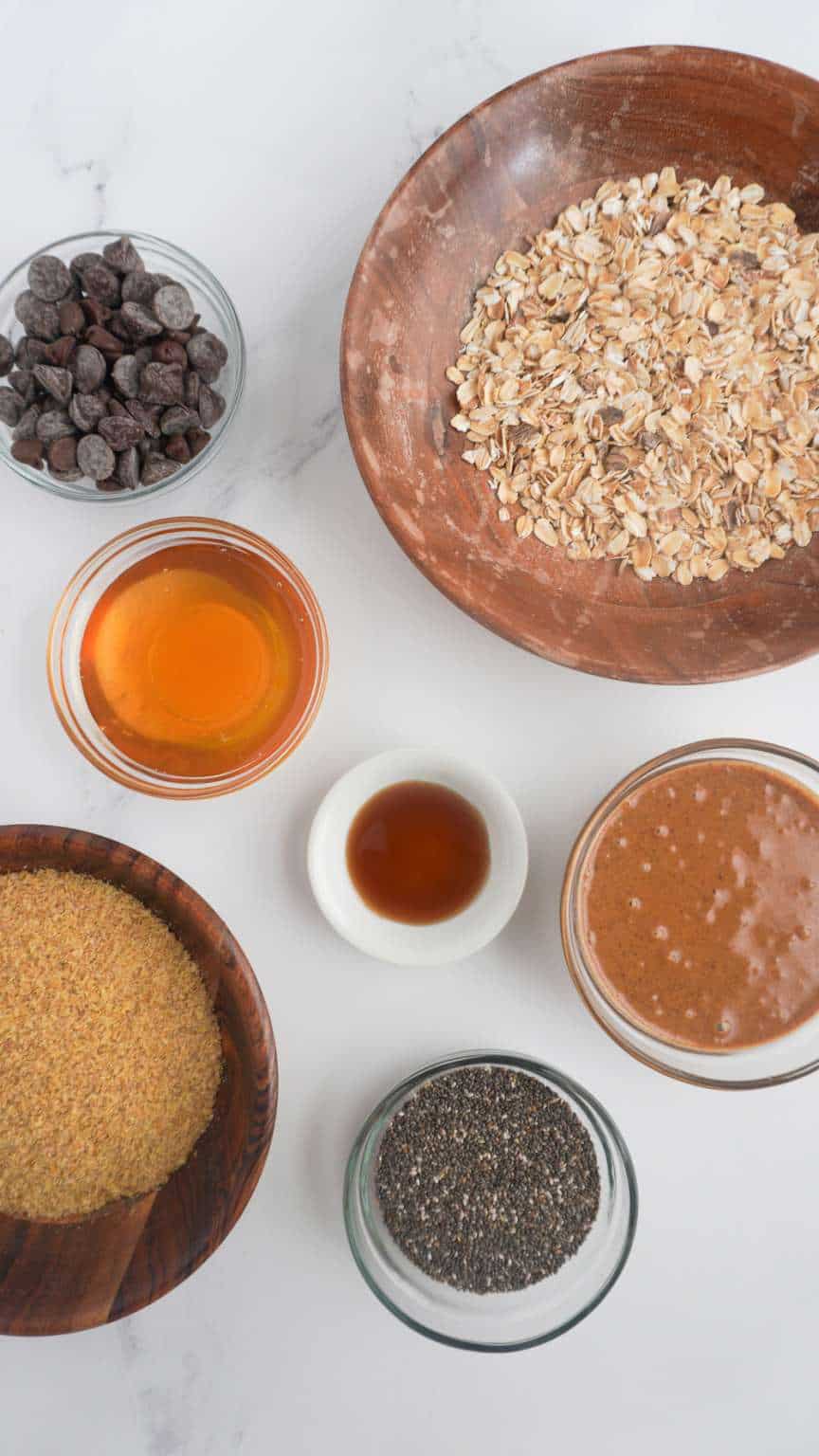 What's in them
Rolled oats: Oats are naturally gluten free but may be processed in the same facility as wheat. If you are on a gluten free diet, make sure you get the ones specified as gluten free. I like to toast the oats to add a crunch but if you're in a hurry you can just use them straight out of the bag!
Almond butter: This helps bind the energy balls together. You can also use peanut butter or even sunflower seed butter (for nut free schools) if these are to be put into lunch boxes. Always read your labels and stick to nut butters that have one ingredient, the NUT! Many are laden with added sugars and cruddy oils.
Honey: I like to use raw honey because it has added nutrients and anti inflammatory benefits. A win win
Flax meal & chia seeds: High in Omega 3 fatty acids, protein and fiber. I originally did not add chia seeds to these balls but lately both my boys have been wanting added protein in their food so these provide that plus a nice crunch too.
Chocolate chips: Try and get dark chocolate chips or even dairy free, allergy friendly ones. I like using Hu Kitchen chocolate chips too.
How to make chocolate chip bites
This recipe couldn't be easier. All you have to do is:
Toast the oats and let them cool completely. Toasting the oats is not absolutely necessary but rather recommended to add a layer of texture to these bite sized treats.
Add the rest of the ingredients and stir together.
Chill in the refrigerator for up to 30 minutes or more. This helps to make the balls and prevent stickiness.
Roll into small golf ball sized rounds.
Serve or store in an airtight container in the fridge.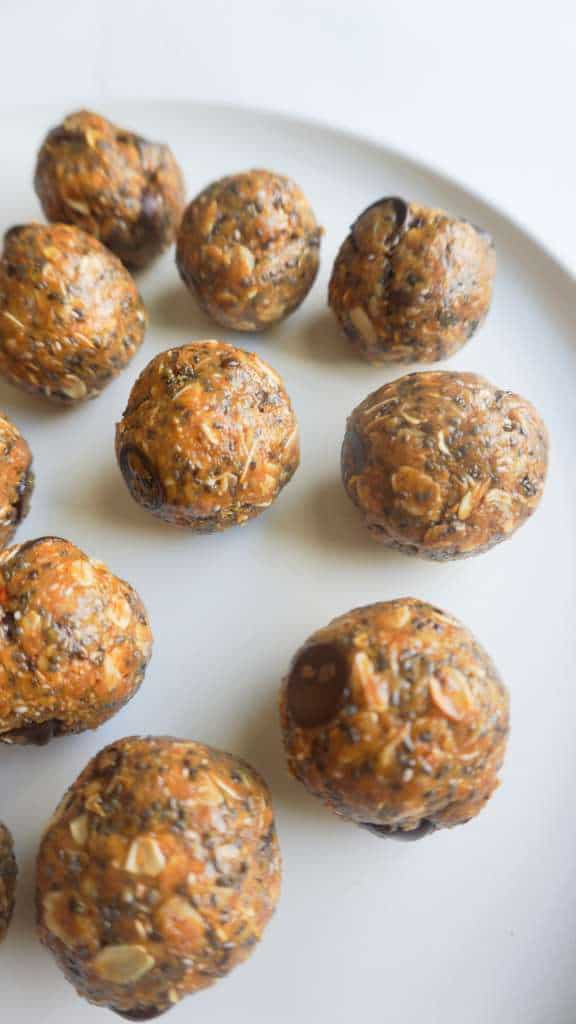 Good to know:
The refrigeration really helps managing these balls but if it does get sticky, try wetting your hands just a touch to make it easier to make them.
You probably have all the ingredients in your pantry, make them! You won't want to go back to store bought granola bites ever again, I promise! If you do make these, please come back and tell me how they turned out!
I love hearing from you and a review really helps support the blog!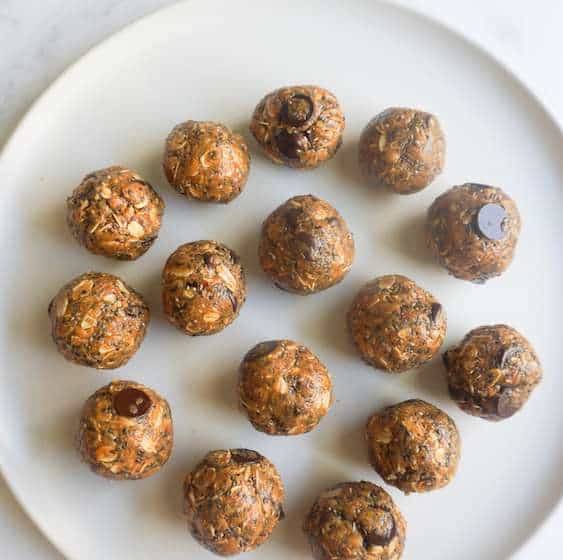 Chocolate Chip Granola Bites
These granola bites are the perfect combination of chewy and crunchy. Plus are sweet enough to appease the sweetest of tooth!
Ingredients
1

cup

rolled oats

1/2

cup

almond butter

1/4

cup

honey

1/2

cup

flax meal

1/4

cup

chia seeds

1

teaspoon

vanilla extract

optional

1/2

cup

semi sweet chocolate chips
Instructions
In a mixing bowl combine all the ingredients and mix till well incorporated.

Refrigerate for about 15 minutes so that it is easier to form into balls.

Once chilled form into balls the size of golf balls.

Enjoy right away or store in airtight container.
Video
Notes
I have found toasting the oats give them that crunch factor that works really well in this recipe. If you do decide to toast them, let them cool completely for about 30 minutes or so so that the chocolate chips don't melt into the whole mix.
I usually find alcohol free vanilla extract at Trader Joe's, Sprouts or the one by Simply Organic.