My mind is screaming after this past week. Thanksgiving came and went and we did our fair share of feasting. It wasn't just the one day however, it was the whole week. We ate out more than I would have liked. We stayed up later than I would have liked. Hence the need for the this healing turmeric milk or haldi doodh as we call it in urdu.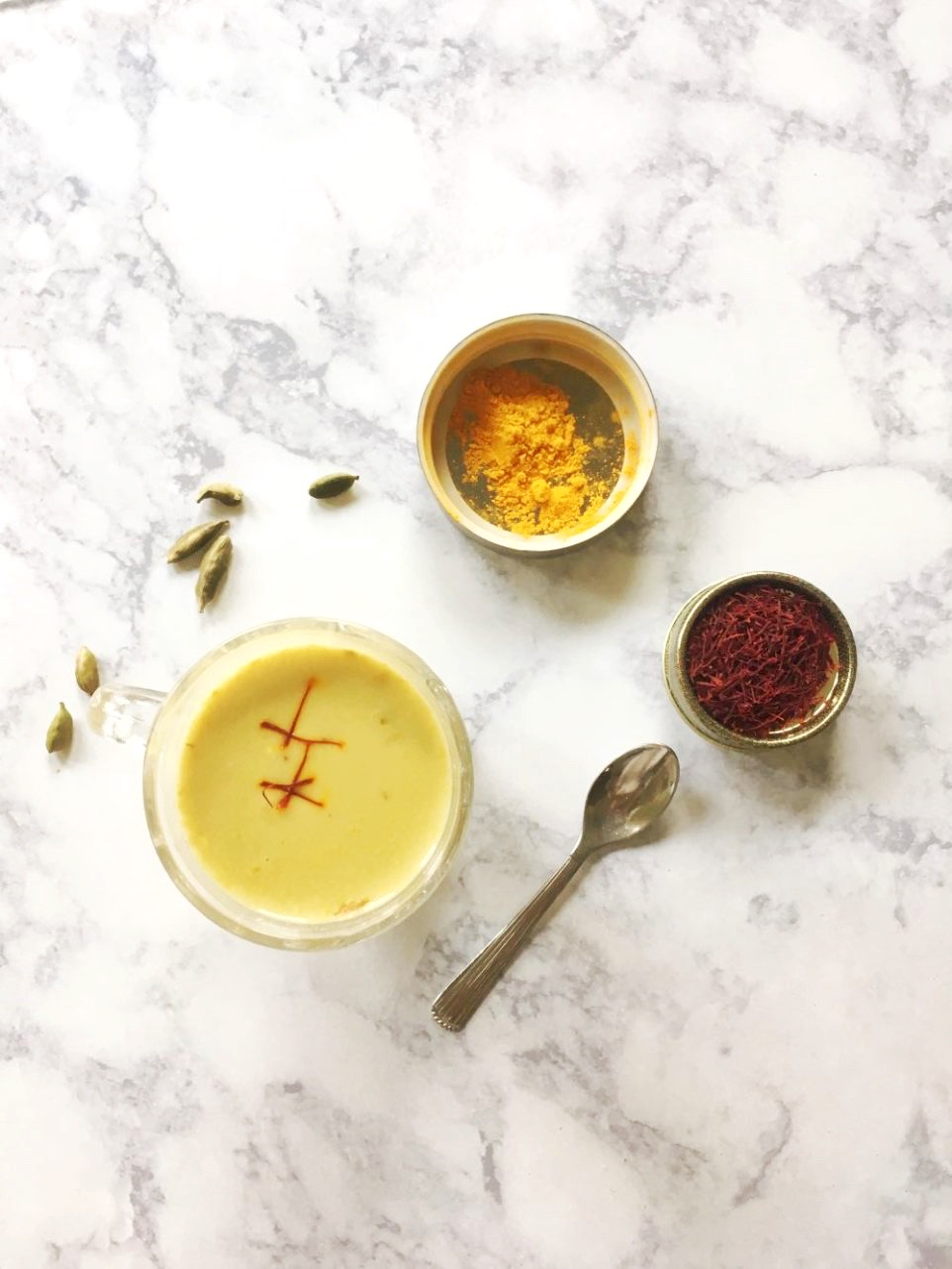 Back to dessert, I mean cleanse…that tastes like dessert. Truly. My Pakistani/Indian friends will relate I am sure. This beverage reminds me of sheer khurma. A Pakistani milk and vermicelli sweet dish that's central to eid celebrations in the Sub Continent.
I am talking about Golden Milk as it has come to be known today. Golden because of the star ingredient,
TURMERIC
Turmeric belongs to the same family as the ginger root and is an integral part of Pakistani and Indian cuisine. The major component of the root is curcumin. Curcumin has shown: anti-inflammatory, anti-bacterial, anti-fungal and anti-cancer activities and is such a prevention to many diseases such as:
Alzheimer's
arthritis
Cancer
Diabetes
Allergies
Read the study here.
There are many ways to ingest turmeric. The root itself added to food, the spice as I am using in the milk below as well as supplement with turmeric pills.
With much nostalgia I sipped the warm concoction and decided that this would be my beverage of choice for the fast approaching cold winter nights. The coziness can't be beat and I know with the holiday season in full swing, my family and I will need this more than ever.
Have you tried making this milk? What did you think? Let me know in the comments!
If you want more anti inflammatory beverage recipes try:
Ginger Turmeric Immunity Shots
Healing Turmeric Milk
A delicious blend of healing turmeric and soothing honey. It is so good it will feel more like dessert than a cleanse!
Ingredients
1

cup

milk

regular,almond, coconut. I used unsweetened vanilla flavored almond

1/4

tsp

turmeric

2

tsp

honey

1

healthy pinch saffron

1

pinch

black pepper

1

pod cardamom

1

tsp

pistachio

ground, for garnish
Instructions
In a small saucepan over medium low heat bring the milk to a simmer.

Add all the ingredients except the pistachios.

Whisk to combine.

Let steep on low heat about 2 minutes.

Pour into cup and garnish with pistachios.

Enjoy warm.