This lemon ginger honey syrup will help strengthen your immune system, reduce inflammation and even help with regulating bowel movements! Ever since I started my journey to health I have tried to start my day with what I call my "Immuni-tea". It has been a way to get my daily dose of vitamin C, benefit from the nutrients in raw honey and ginger root and heal with turmeric. 

Why I love making this elixir in bulk
I came up with this elixir when fixing myself the tea became time consuming. Doing everything from scratch every morning just seemed cumbersome. When you have to run out to work/school/ errands, any time saving hack is welcome! What I found helped is to bulk prep the concoction in a jar and enjoy it for days! If you know me, you know I truly believe in meal prep.
Another reason I love this lemon ginger concoction is to save money! And who doesn't love that? While I love the convenience of a teabag, they can cost a pretty penny. A box of 20 premium lemon ginger Manuka honey teabags can cost $5. This elixir is way cheaper and gives you more bang for your buck as all the components are super fresh.
How to assemble and consume this concoction
A regular old airtight jar is all you really need.
Next, just put all the ingredients together.
This way all you have to do is to heat up some water and add a tablespoon of the mixture to it, and you're good to go!
You can have it with plain water but recently I have started adding it to my green tea along with some collagen powder. I often miss having my collagen powder but adding it to my morning tea along with the elixir is working really well! I'm killing two birds with one stone and I'm loving it!
What is in the syrup
Lemon– You can add oranges as well as it is a great source of vitamin C.
Ginger– Ginger is beneficial due to its anti-inflammatory compound Gingerol which helps fight inflammation and thus plays a role in reducing the risk for chronic disease.
Raw local honey – You can use Manuka honey for its medicinal properties but using at the very least, raw and local honey is non negotiable.
Turmeric – Turmeric includes the compound Curcumin which is known for its anti inflammatory, anti biotic properties. Organic turmeric powder is preferred and fresh turmeric will do as well.
Black pepper – Preferably freshly crushed.
Studies show that the absorption of Curcumin, the compound found in turmeric is greatly enhanced when combined with Piperine, the compound found in black pepper. Hence the addition of black pepper into the mix.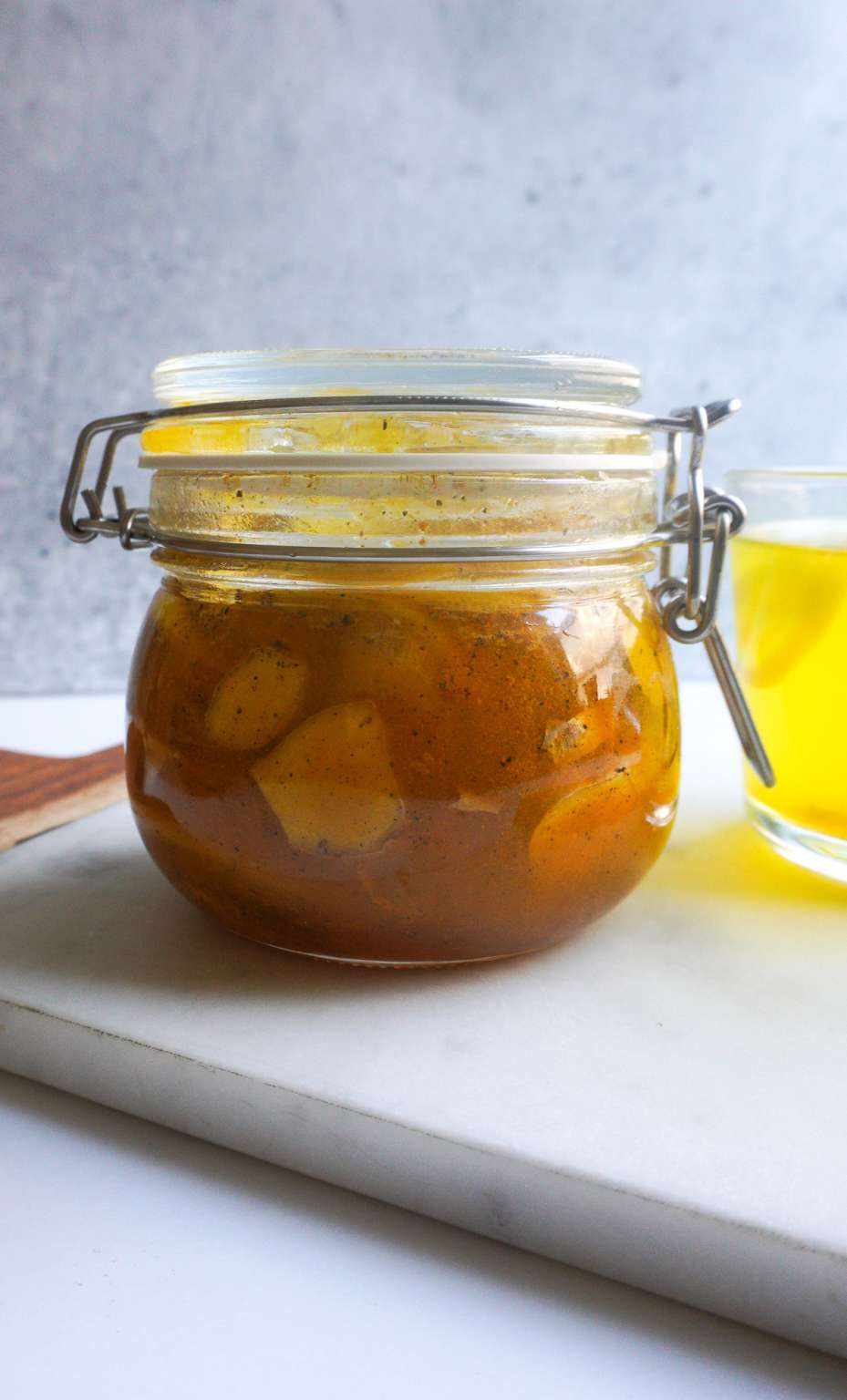 Tips for making it
Make sure to use organic produce
Because we add the whole fruit, skin and all, we want to ensure the cleanest variety we can find. Since these fruits are on the EWG's Dirty Dozen and will marinate in the jar, it is absolutely essential that you use organic here to avoid pesticide and herbicide toxicity.
Fully submerge the fruit in the honey
To avoid molding, make sure everything is fully covered with the honey when you are assembling the elixir. You should also take a few pieces of ginger and lemon as you consume this elixir, so as to use up everything and prevent molding at that end as well.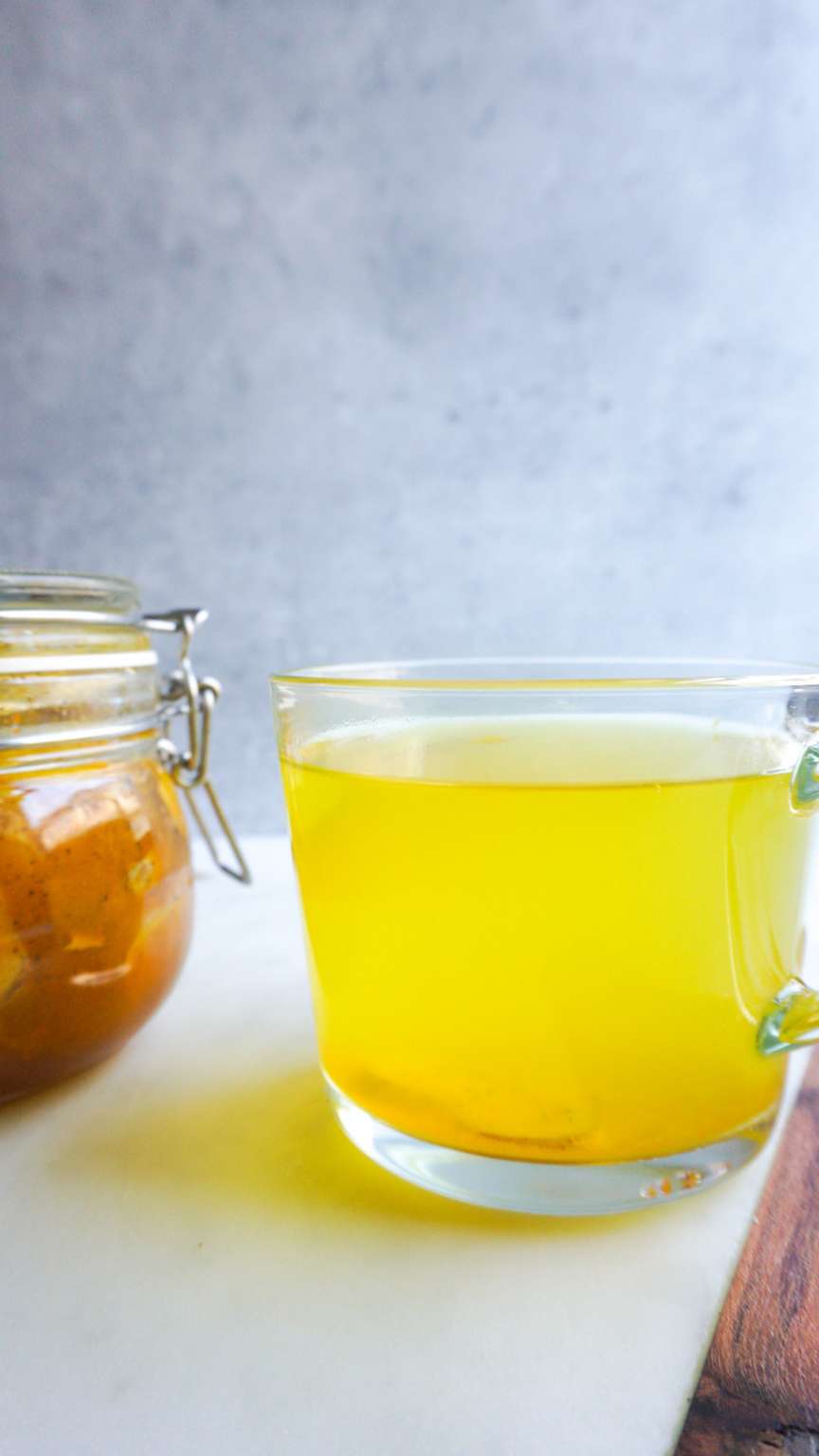 Frequently asked questions
I have heard adding honey to hot water above 140 degrees is toxic. Is this true? 
The only study claiming of honey's toxicity in hot water states that it needs to be studied further and that it is not an established fact. 
It may lose some of its efficacy however, so to be safe, wait for the water or tea to cool down before adding this concoction. 
Read more about it here and here. 
How long can this elixir be stored and does it have to be refrigerated?
You can store this up to 2 months as it includes honey which is a preservative by nature. It is recommended to store the elixir in the fridge. If consumed daily, it usually lasts a couple of weeks.
Can you give this to children?
Absolutely! This elixir contains fresh produce and all natural ingredients so should be safe for kids to take. However, babies under the age of 12 months should not be given honey as per research. I give it to my kids much like a cough syrup because that's the way they prefer to take it! 
Can I use oranges instead of lemons? 
For sure! Both oranges and lemons contain vitamin C which is what we are looking for. In fact, I often add both the fruits when I have them on hand.
I hope you give this recipe a try! If you do, would you mind leaving me a review in the comments? It really helps me make content that you like to see! 
If you're looking for more immune boosting recipes here are some to try: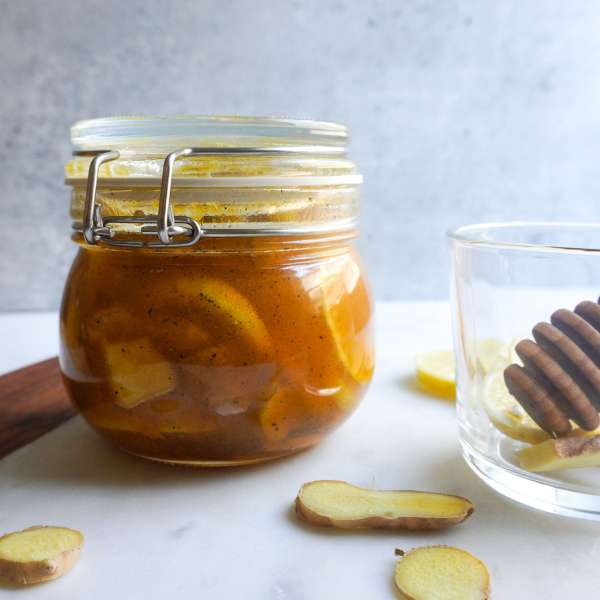 Lemon Ginger Elixir
This lemon ginger elixir is the perfect remedy for balancing your immune system year round but especially in cold and flu season.
Ingredients
2

lemons

4

inch

knob of ginger root

2

tablespoons

turmeric powder

1

tablespoon

black pepper

Raw honey

16

ounce

airtight jar
Instructions
Wash and dry the lemon and ginger thoroughly.

Cut both into thin slices.

Add them in alternate layers to the jar.

Add the turmeric powder and black pepper.

Pour the honey so as to dredge the produce fully.

Push down on the produce with a spoon or honey dipper so as to combine everything.

Close the jar tightly and give it a shake.

When ready to drink, simply take a tablespoon along with a slice of lemon and ginger and add it to a cup of plain water or herbal tea.
Video
Notes
Make sure to use organic produce as this will all be marinating and we want to avoid pesticide residue.
You can swap out the turmeric powder for the root.
Make sure to use local, raw honey to avoid honey that has been cut with sugar.
Feel free to use this on its own. I often just give this to my kids much like a cough syrup.