This hot chocolate recipe is always a winner with my boys! With temperatures falling, a hot and cozy beverage is just what's called for, but without the added table sugar!
My kids absolutely love the Swiss Miss brand of hot chocolate but ever since we started eating better and reading labels, the whopping 7 teaspoons of sugar per cup is hard to swallow. And so, I set about creating a healthier, more nutrient dense hot cocoa for them. Here's how I make it: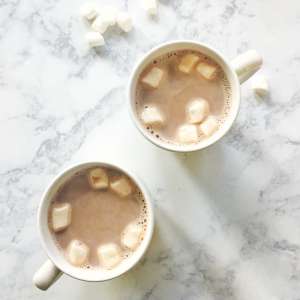 COCOA OR CACAO POWDER
The chocolate in the hot chocolate can come from either unsweetened cocoa powder, which is more processed than the nutrient dense cacao powder. If you want the medicinal properties of the cacao bean then opt for magnesium rich cacao powder. There is a difference in taste. Cocoa powder tends to be less intense and slightly sweeter than cacao so if you do decide to use one or the other, do adjust according to your preference.
HOW TO MAKE HOT CHOCOLATE
Start by heating up the milk. I have used whole and plant based milks ( almond, cashew) but my boys prefer whole milk as it results in a creamier beverage.
Once the milk starts to form small bubbles on the sides and is heated through, add the cacao and your sweetener of choice as well as the vanilla extract. Stir everything together and serve topped with marshmallows or whipped cream.
HOT COCOA INGREDIENTS
Milk – I use whole organic milk as the kids prefer it to plant based milk which will result in a thinner beverage.
Cacao – Preferably organic.
Sweetener – Maple syrup works really well here but you could use coconut sugar too. I would just add the sugar with the milk and heat both together so that the coconut sugar dissolves as it heats. You can even use Stevia drops to keep it low carb.
Vanilla – I use non alcoholic extract.
TIPS & VARIATIONS
The hot chocolate can be made creamier if you do use plant based milk by using a frother.
Make a peppermint mocha hot chocolate by adding a drop of two of peppermint essential oil.
MORE WARM AND COZY BEVERAGES TO TRY
If you try this recipe, I'd love for you to comment below or tag me in a pic and share on Instagram!
Healthier Hot Cocoa
Ditch the nasty store bought brands and make hot cocoa at home with this simple 5 minute recipe! It's nutrient dense and delicious!
Ingredients
2

tablespoons

cacao powder

2

cups

whole milk

2-4

tablespoons

maple syrup

1/2

teaspoon

vanilla extract
Instructions
In a small sauce pan, on medium high heat, heat the milk.

Once the milk is heated through, you will see small bubbles form around the sides of the saucepan, add the cocoa and whisk to mix.

Add the maple syrup and vanilla and whisk to combine.

Pour and enjoy topped with marshmallows or a sprinkle of cinnamon.
Video
Notes
Always try to get organic, non-GMO, ingredients when you can to upgrade your recipes! 
The range for the sweetener is wide because my boys prefer it sweeter while I prefer 1 tablespoon per serving for myself. You can adjust it as per your preference.