These masala lamb chops are seasoned to perfection with just a few simple ingredients. Perfect for indoor or outdoor grill. Even if you're new to cooking lamb, this recipe will be sure to impress your guests!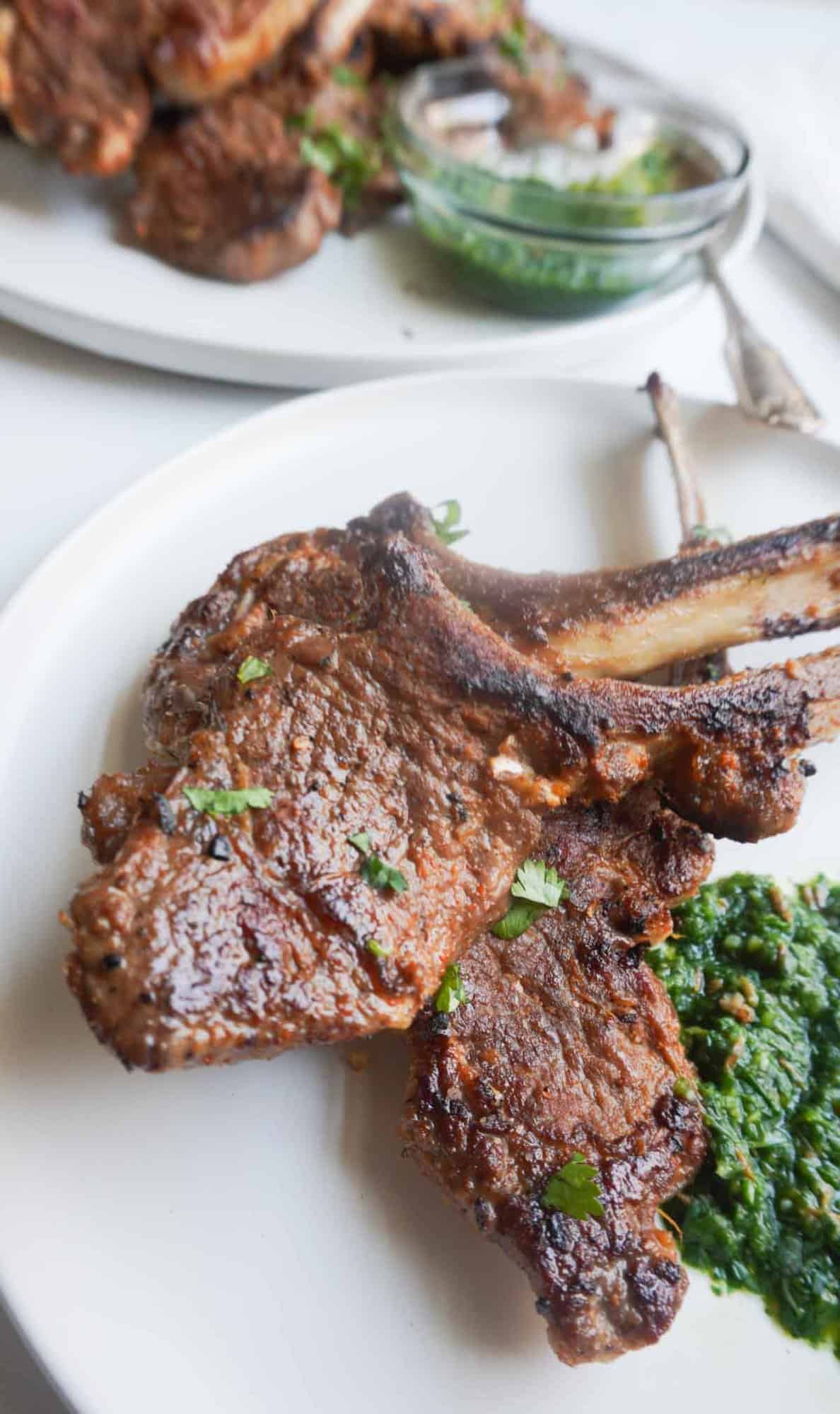 What do lamb chops taste like?
Lamb has a unique taste but is the closest in taste to beef but gamier. If cooked well, lamb chops are tender, steak like pieces of meat that melt in your mouth. If your meat is grass fed, it will have less fat and have a stronger flavor(such as the ones imported from New Zealand and Australia).
As compared to mutton, which is more common in South Asian and Middle Eastern cuisine, lamb is sweeter and more tender.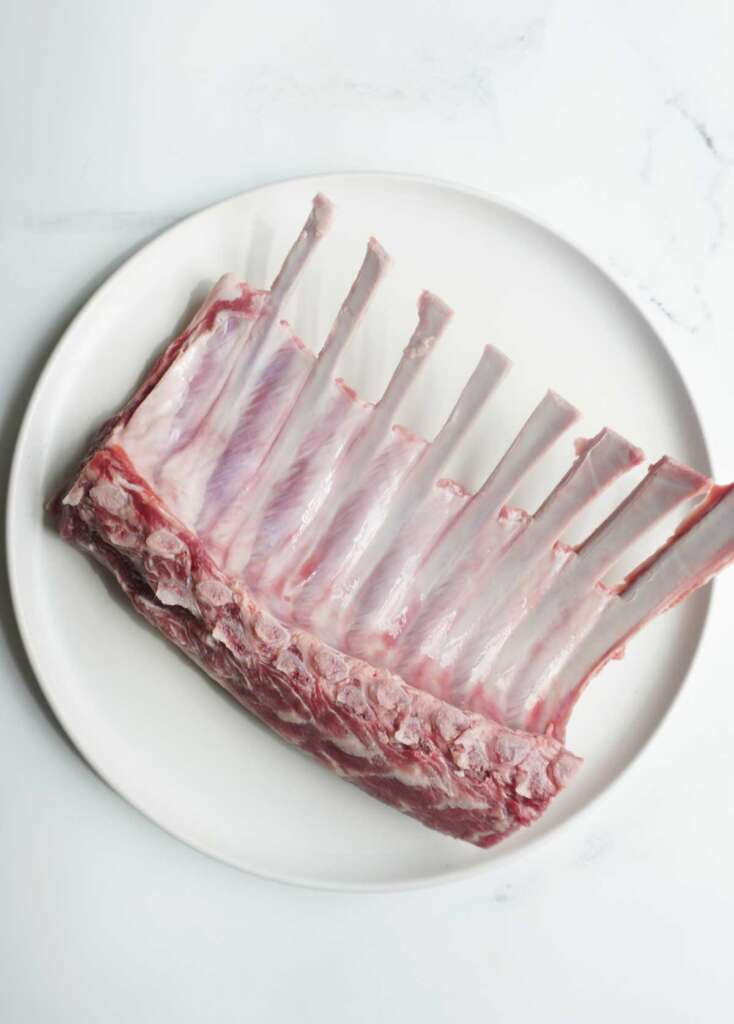 How to make these Pakistani/Indian lamb chops
Although cooking lamb can be intimidating, this simple recipe is so easy. It is the perfect place to start experimenting with lamb recipes.
Here's how we do it:
Prepare lamb If you buy the French rack of lamb like I do, you will need to separate them into chops.
Make the marinade Just four ingredient: Red chili powder, salt and minced ginger and garlic. Mix the spices together and set aside or have them ready and add to the prepared lamb chops.
Coat the lamb Massage the chops with the spice rub.
Marinate for up to 4 hours or overnight. Don't skimp on this as this is what gives the lamb flavor.
Grill I have tried this recipe on a cast iron skillet, non stick pan, on a sheet pan in the oven and in the air fryer and my favorite way to cook it is on cast iron. It does need more attention and cleaning of the bits between batches but trust me, it is well worth it!
What you will need to make them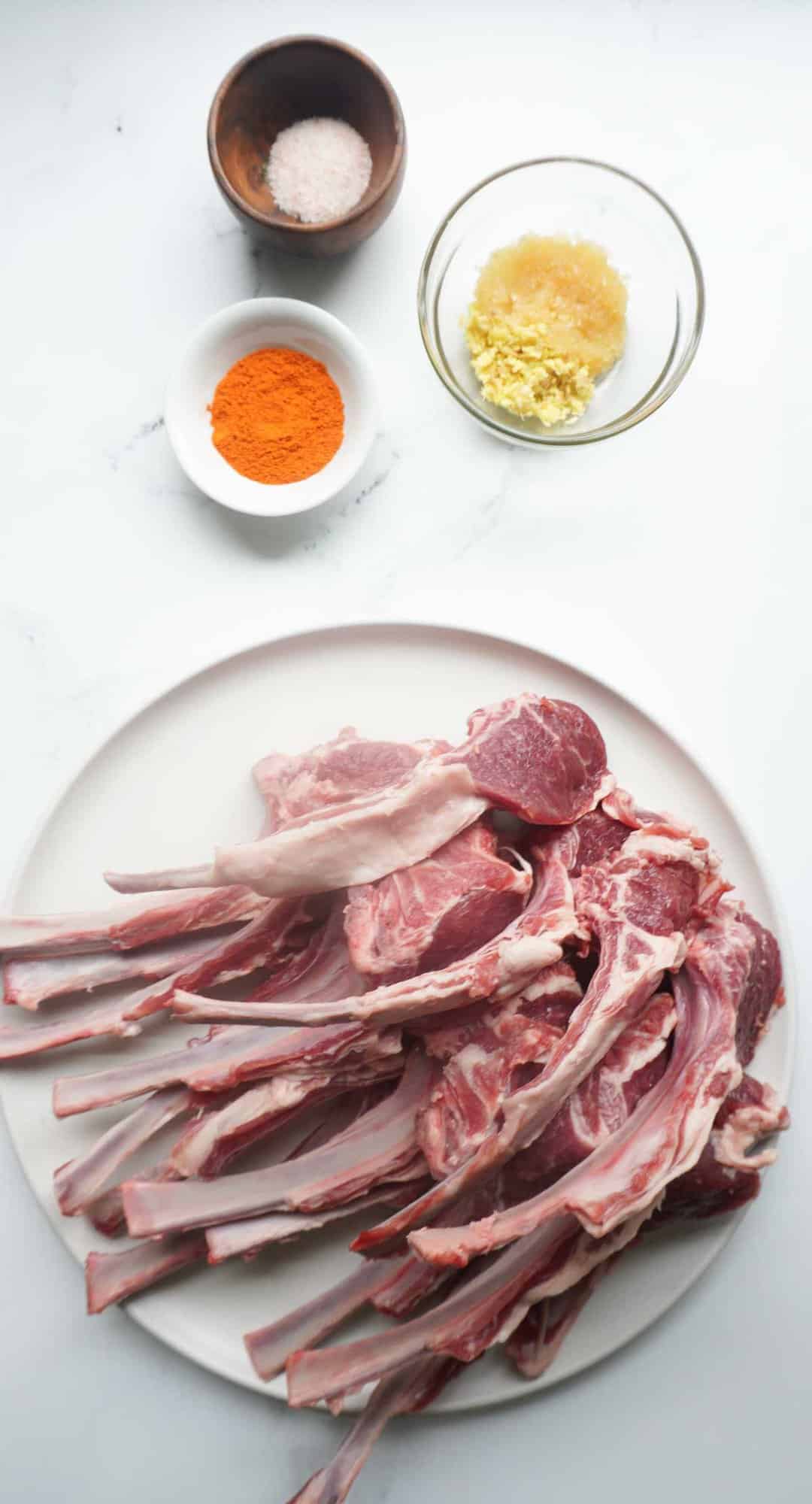 Lamb chops I get Australian rack of lamb that is sold at Costco. They are grass fed and finished and for those of you who are selective about your meat, and eat just HALAL certified, then you're in luck too!
If you buy chops from the halal meat store then it is more than likely goat chops which is very similar in cooking time to lamb chops but is slightly tougher and less gamier in flavor.
Ginger and garlic I mince mine in bulk.
Spices Keeping it simple with just red chili powder and pink salt.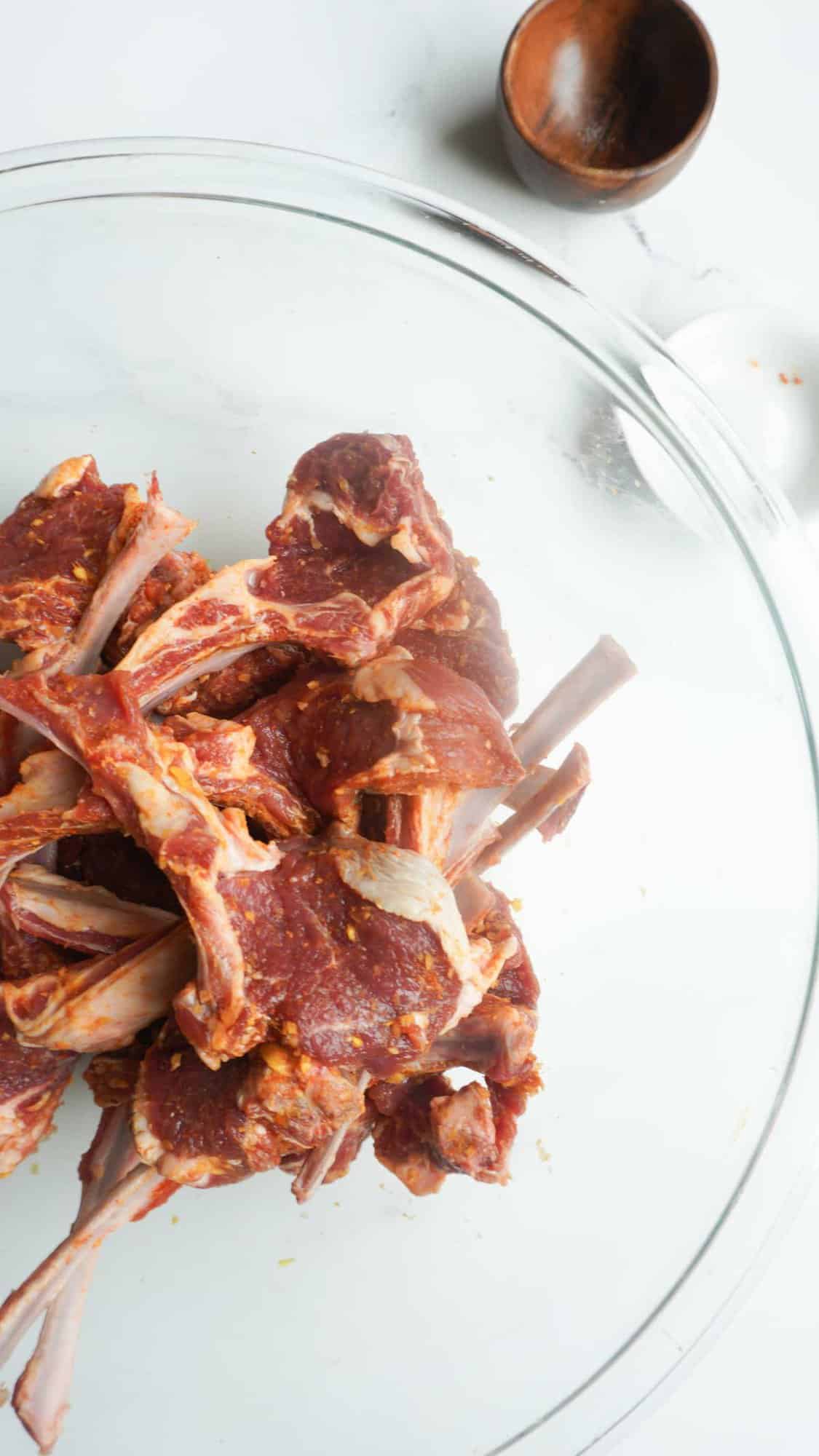 Cast iron lamb chops vs. air fried lamb chops
Using a cast iron skillet is the easiest way to get that signature char that we all love on our grilled foods so I personally like using my cast iron skillet to make these masala chops. The air fried chops (pictured on the right), although more convenient to make, will not have the char that pan seared lamb chops will. The air fried ones tend to be drier as well.
Tips to make the best masala chops
Make sure you marinate the lamb for at least 4 hours as that is the amount of time needed for the spices to seep into the meat.
Sear on high heat first to get a good char on the meat.
Make the lamb chops in batches and do not over crowd the pan.
Remember to clean the pan between batches as burnt meat/spices tend to smoke up the kitchen and can potentially set off your smoke alarm!
Side dishes for lamb chops
Growing up we ate lamb chops with a side of daal chawal (lentil curry and rice) but nowadays I make a big batch of the chops and a side salad or chutney and fries.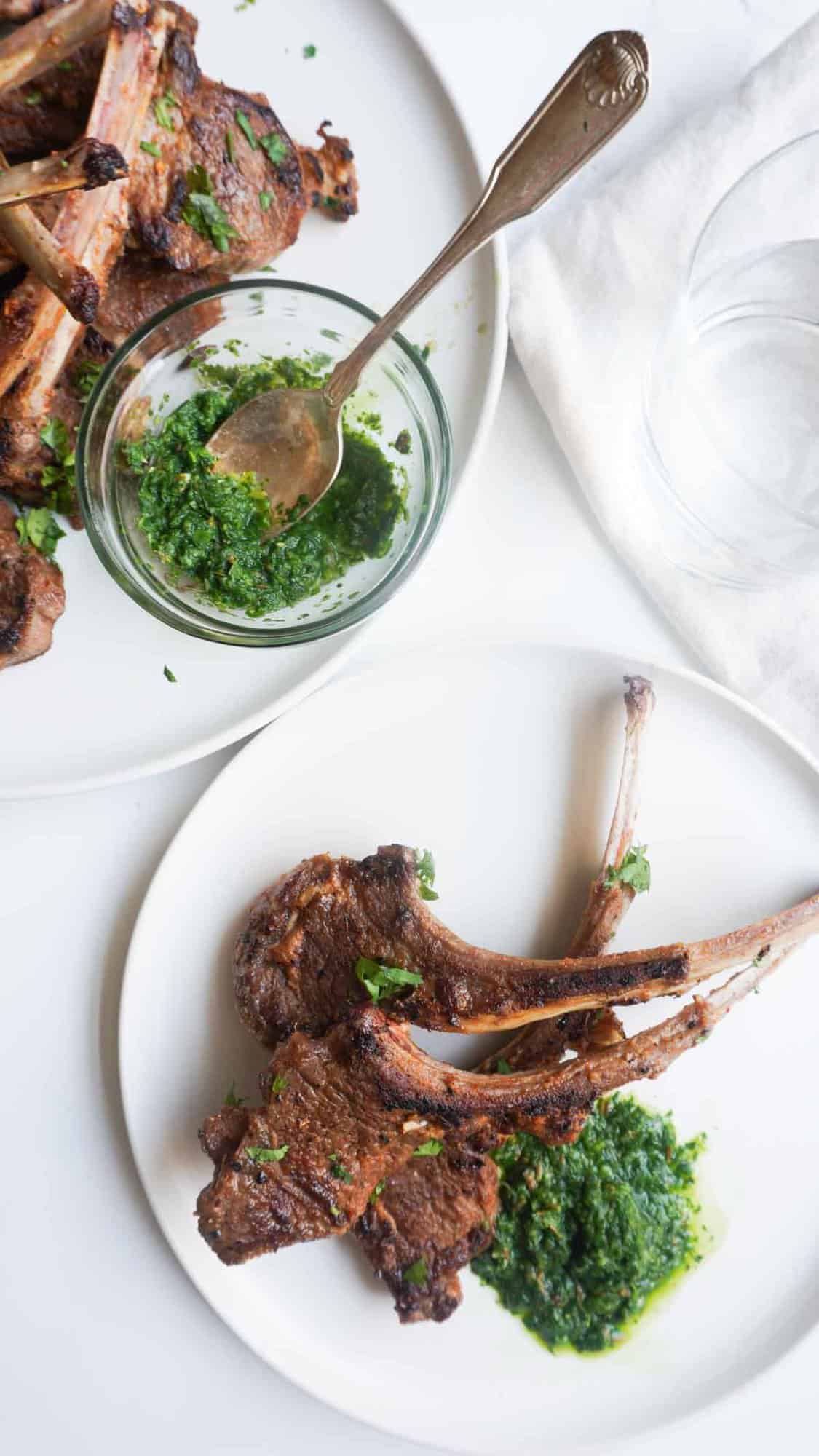 If you try it, let me know by ⭐️ rating it below and let me know in the comments how you liked it. It always means a lot when I get reviews on my recipes.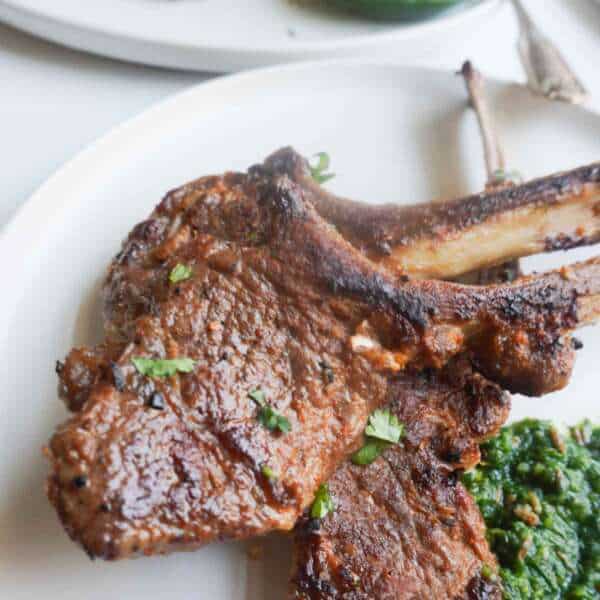 Masala Lamb Chops
These masala chops are seasoned to perfection with just a few simple ingredients. If you're intimidated by lamb, this recipe is a must try!
Ingredients
4

pounds

lamb chops

1

tablespoon

garlic

minced

1

teaspoon

ginger

minced

1 1/2

teaspoons

red chilli powder

1 1/2

teaspoons

pink salt
Instructions
Cut the rack of lamb to separate each chop.

Mix all ingredients in a bowl and coat the lamb chops with the mixture.

Marinate meat for about 4 hours in the refrigerator.

Take out of the fridge and let them come to room temperature ( about 15 minutes)

Heat a large pan and fry the chops in batches making sure not to overcrowd the pan.

Fry each side on high heat for 3-5 minutes per side (depending on how thick the meat is). Medium well is done at 145 degrees fahrenheit/ 63 degrees Celcius.

Serve with mint chutney or any other condiment of choice.
Notes
Make sure not to over crowd the pan. I usually fit about 4-5 chops per batch. 
Use a cast iron pan for the perfect charred look.
When making these indoors, remember to scrape the bits of leftover meat between frying batches as they tend to burn and smoke up the kitchen.