My Karahi Chicken is spicy, tomatoey (is that a word?) and definitely has the influence of Karachi written all over it! With bold and smokey cumin flavor this Karahi chicken will have you licking your fingers and coming back for more! It's fancy yet quick enough for weeknight meals. So, let's make it! 
But first, what exactly is karahi chicken/chicken kadai?
Originated in the North West Frontier Province or Khyber, Pakhtunkhwa province in Pakistan, the Karahi gets its name from the wok like pan it is made in.
There are many different versions of the dish and each one is as flavorful as the next but the one that I have mastered is the one I make almost weekly. My family loves it and considers it the best karahi chicken recipe! And I consider that a huge compliment because they are super hard to please!
It is inspired by the street style food of my birth place, Karachi, Pakistan.  Although I have eaten many a karahi over the years, it was watching it being made on camera that got me wanting to tweak my own recipe. If you have watched any of the Pakistani food tour videos by Mark Weins, you likely know what I am talking about.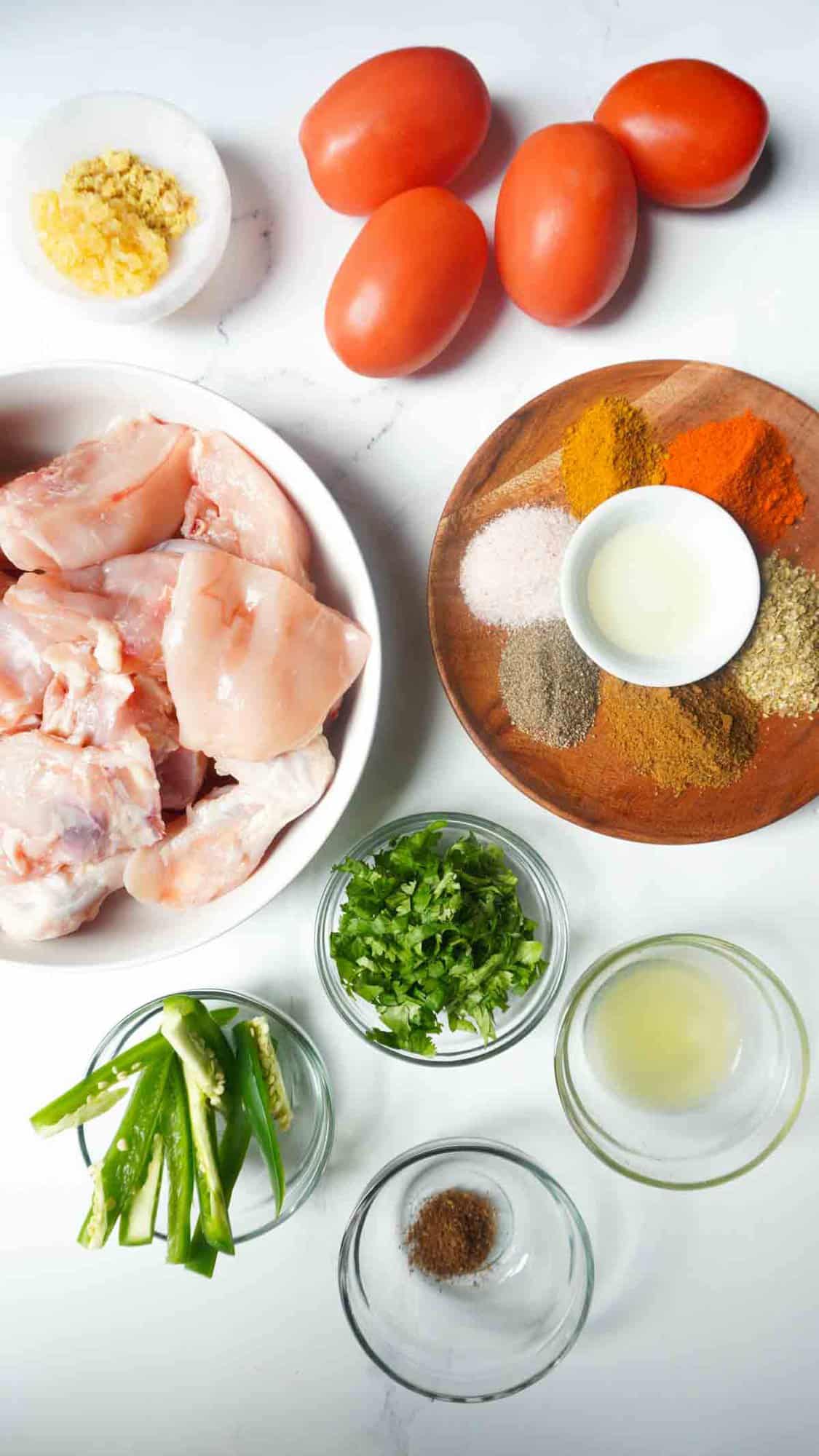 What you will need for the karahi
Whole chicken: Cut into 16 pieces. You can use chicken breast pieces but authentic chicken karahi is made with bone in chicken pieces.
Garlic: I use garlic I mince myself. This is key to get the best results as the fresher the ingredients, the tastier the karahi.
Spices: Red chili powder, salt, cumin powder, coriander powder, turmeric powder and black pepper powder.
Tomatoes: I use Roma tomatoes as they are widely available where I live but any ripe and juicy, medium sized tomato will do.
Green chili: I use just one Serrano pepper cut into 3 pieces sideways and added when adding the chicken. This brings some heat to the karahi early on and infuses the chicken early on.
For the garnish
Garam masala: Again freshly ground or you can use my Roasted Cumin-Coriander Masala posted in my Haleem recipe too. This is made in bulk and can be used as garnish to finish off most any Pakistani curry.
Cilantro and green chili: Chopped cilantro is an essential garnish and another Serrano or even Thai green chili pepper slit length-wise more for the aroma than heat.
Ginger: Julienned.
Drizzle lime juice: This is optional but will definitely add an additional layer of flavor.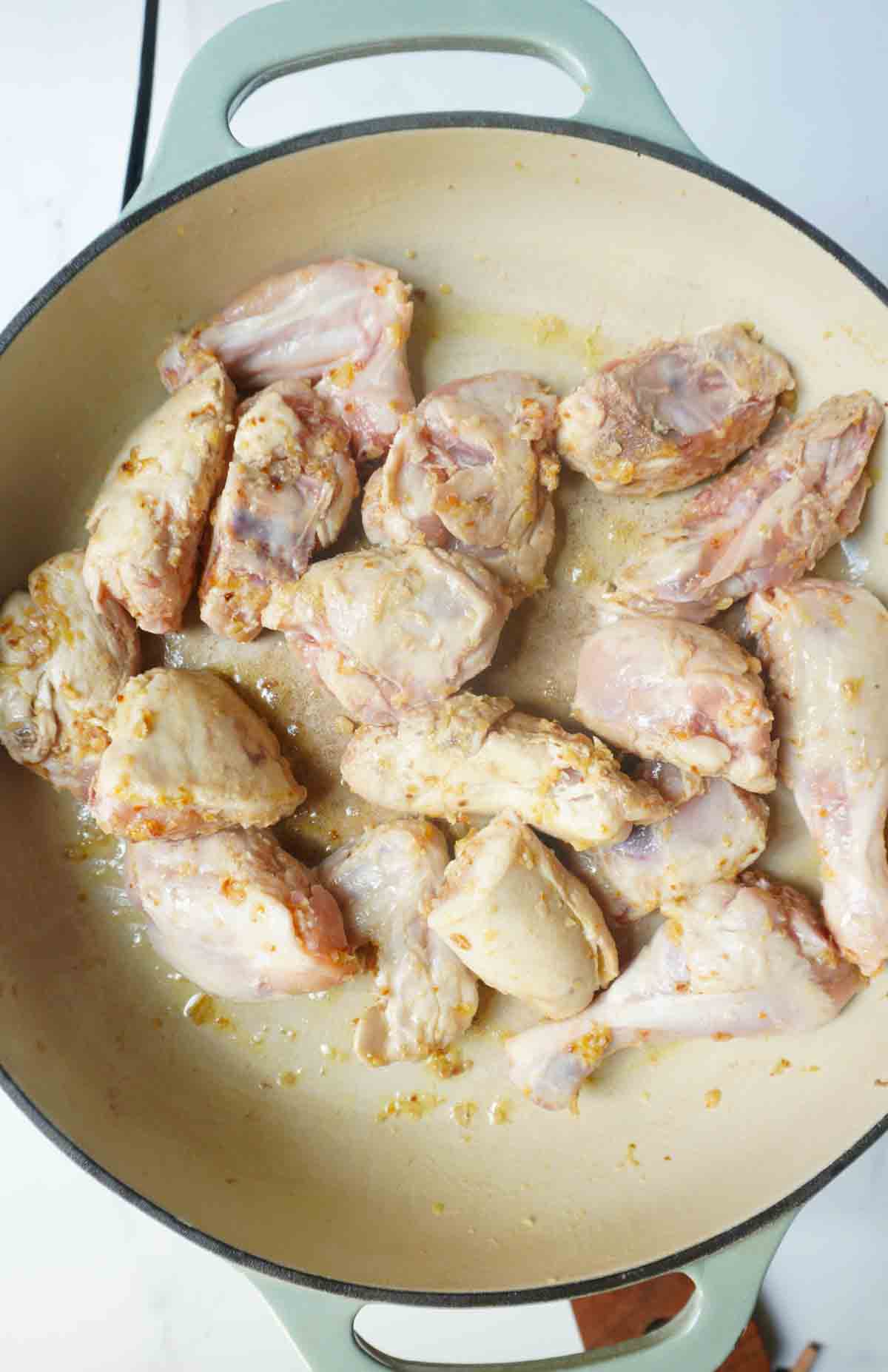 How to make chicken karahi
Much like the other Pakistani chicken recipes on my site, this recipe is quick, simple and easy to make. So much so that it has made its way into our dinner rotation as well as onto the site. If you're looking for an easy chicken karahi recipe, this one is it! Here's how to make it:
Heat a medium sized saute pan on medium high heat and add oil. Once the oil is heated, add the garlic and stir till aromatic.
Next, add the chicken and stir till the chicken changes color. About a minute.
Next add the spices and toss to coat all the chicken and continue to bhunno or stir fry on high heat.
Next add the tomatoes. Stir and cover the pan and lower the heat to a simmer. Cook covered for 20 minutes. This will break down the tomatoes and help make the "curry" for the karahi chicken. Read more on how I cut prep time when it comes to tomatoes below!
Uncover the pan after the 20 minutes are up and the chicken has cooked through. The tomatoes will have broken down some but smash them with your wooden spoon and if leaving them whole, de skin them as well. They will separate from the tomato without any issues. If you chopped them up then you have nothing to worry about as the skins will disintegrate into the curry.
Increase the heat to medium high and stir fry the chicken till the water has dried and the oil rises to the top. You will have a thick curry like situation.
Turn off the heat and garnish with the garam masala, cilantro, green chili, julienned ginger and drizzle of lime juice.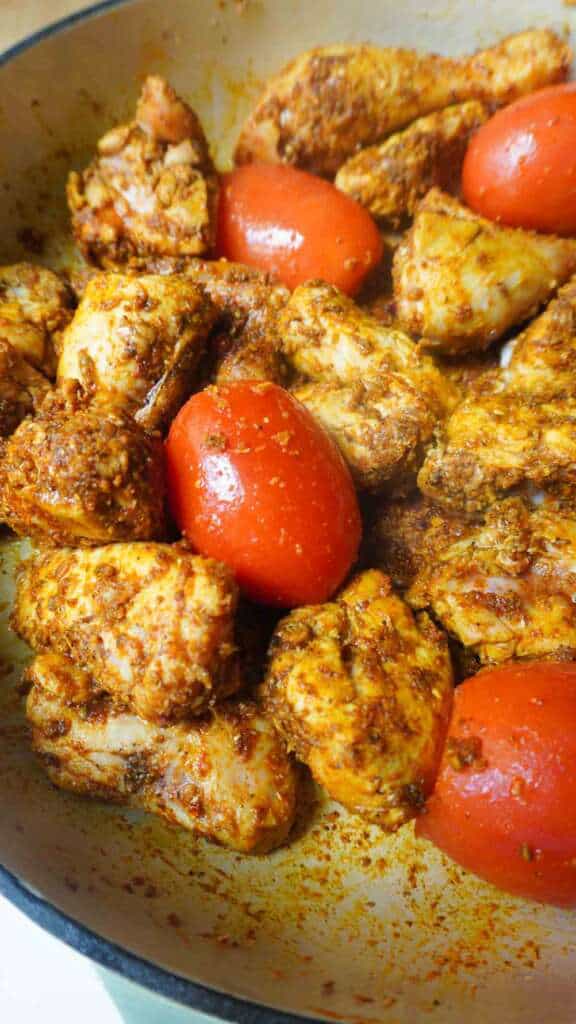 A note on the tomatoes and onion
As you may have noticed, there is no onion in this recipe. Authentic chicken karahi recipes do not call for onion. However, I have made it with and without onion myself and have not seen much of a difference. There may be more gravy or curry with the addition of the onion but you can easily omit it for the sake of time without compromising on flavor.
As for the tomatoes, you can add them whole and then de skin them once softened. This will only take a few minutes and save on prep time. If you do decide to chop them, then you don't need to worry about the skin as that will disintegrate int the curry.
What to serve with karahi chicken
Chicken karahi is traditionally served with naan (wheat flat bread) but if you avoid gluten, here's what you can eat in its place:
Some gluten free naan that I like to make when I have the time.
Some cauliflower rice.
If nothing else, I'll have it on it's own with some Romaine lettuce leaves that act as my "naan"
Tips & Variations
Want more sauce or masala, add a small, chopped onion. Add the onion after heating the oil and fry till golden brown and then carry on with the rest of the steps as instructed.
The pan you cook in definitely influences the outcomes. I prefer to cook in a cast iron pan because it is like a traditional karahi but have made karahi chicken in a stainless steel wok as well and it takes a lot longer to dry out the water from the pan. It is totally up to your preference which you like better. The searing or bhunn on the chicken is much better in a cast iron pan as well.
Try to have freshly ground spices and freshly minced garlic instead of store bought garlic paste for the best results.
Use ghee instead of oil or half oil and half ghee(or even butter)
You can make this dish with boneless chicken breast (chopped in 1 inch cubes) or thighs but cooking times will vary. Thighs will take longer than breast and be juicier. Always cook the chicken to 165 degrees Fahrenheit.
Storing, freezing and reheating instructions
To store: Let the karahi come to room temperature and then store in an air tight container in the fridge for up to 3 days.
To freeze: Place in an airtight container and freeze for up to 2 months in the freezer.
To reheat: Thaw on the counter top and then reheat in the microwave or stove top.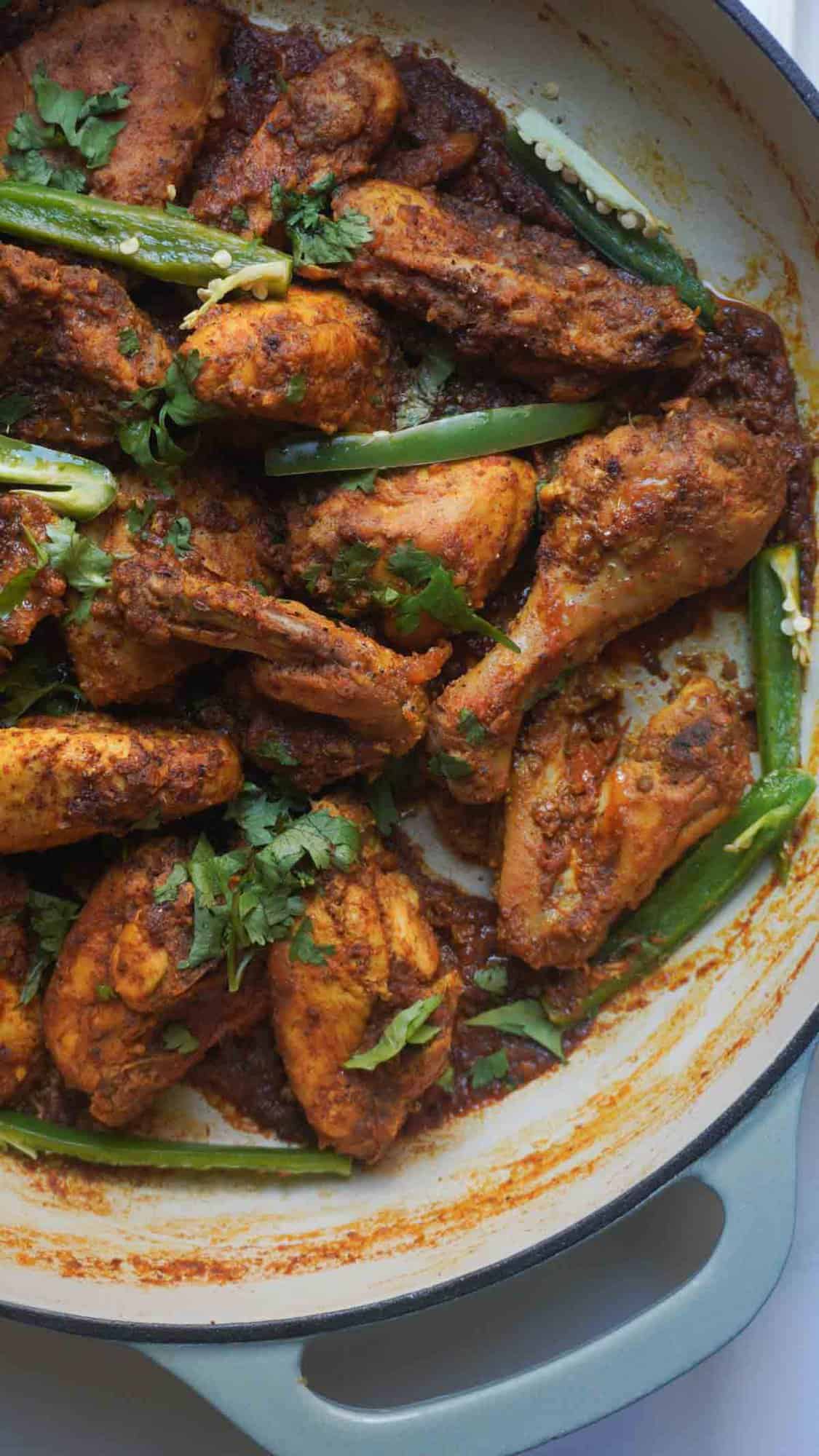 Other chicken recipes to try:
If you make this recipe, comment below and let me know how you liked it. You can also take a pic and tag me on Instagram @eatdrinkpure. I love to see you recreating my recipes!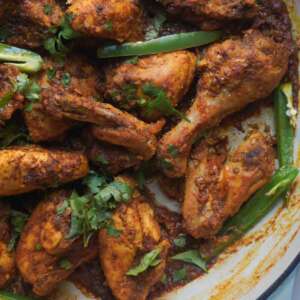 Pakistani Style Chicken Karahi
With bold and smokey flavor this Pakistani chicken karahi recipe will have you licking your fingers and coming back for more!
Ingredients
3

tablespoons

neutral oil

I use avocado oil or ghee

4

cloves

garlic

minced or 2 teaspoons minced garlic

1

inch

knob ginger

grated or 1 teaspoon minced ginger

1

whole chicken

about 2 lbs. cut up into 16 pieces

2

teaspoons

cumin powder

2

teaspoons

coriander powder

2

teaspoons

red chili powder

11/2

teaspoons

salt

1

teaspoons

turmeric powder

4

medium tomatoes

I use Roma
Garnish
1½

green chili

julienned

1/2

cup

cilantro

packed

Ginger

julienned for garnish

1/4

teaspoon

garam masala

lemon / lime juice
Instructions
In a pan, on high heat, heat the oil, add garlic and stir till aromatic.

Add chicken and stir a minute till it turns white.

Add all the spices and stir fry on high heat.

Add the tomatoes whole, lower the heat to medium low and cover to cook about 20 minutes. Uncover after 20 minutes and de skin the tomatoes and mash them up and incorporate into the gravy. Cover and cook for an additional 10 minutes.

After 10 minutes uncover and increase the heat to medium and dry out the water so that the oil rises to the top, about 1 – 2 minutes. Keep stirring to a minimum as that will result in breaking up of the chicken.

Shut off the heat , add the garnish and enjoy!
Notes
I used to chop up the tomatoes, but I now add the whole tomato and fish out the skins later. It is so much easier then skinning the tomatoes individually! Just cut the top off as it is tougher than the rest of the tomato and won't mash as well.
The butter is missing from this recipe so that it could be kept dairy free but you can add a tablespoon or two if you like along with the oil or ghee.