Chicken Karahi may be by far the most popular dish to come out of The Subcontinent. Originated in the North West Frontier Province or Khyber Pakhtunkhwa as it is now known,  in present day Pakistan, the Karahi gets its name from the wok like pan it is made in. I tend to cook it in a more modern stainless steel version and also my enameled cast iron casserole pan.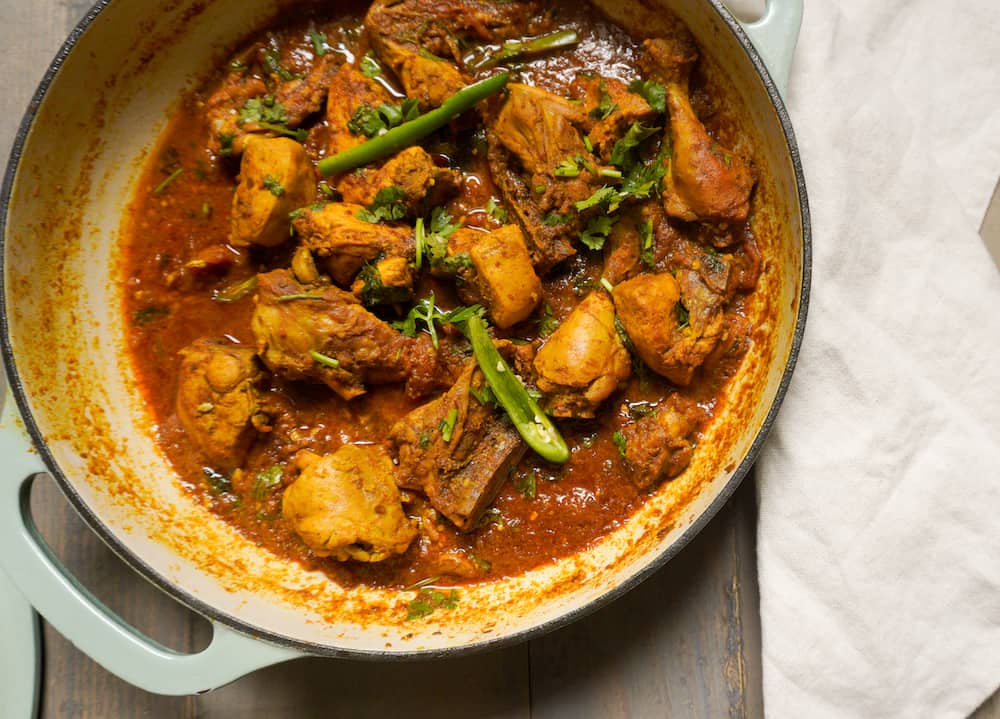 DIFFERENT VERSIONS
There are many different versions of the dish and each one is as flavorful as the next but the one that I have mastered is the one I make almost weekly. My family loves it and I am sure yours will too.
It is inspired by the street style food of my birth place, Karachi Pakistan.  Although I have eaten many a karahi over the years, it was watching it being made on camera that got me wanting to tweak my own recipe. If you have watched any of the  Pakistani food tour videos by Mark Weins,  you likely know what I am talking about.
MY VERSION
Because I am such a fan of quick, simple and healthy meals, this recipe has made its way into our dinner rotation as well as onto the site.
I have made it healthier and dairy free by leaving out the block of butter restaurants in Karachi add.  Feel free to include it in your dish.
WHAT TO EAT WITH KARAHI WHEN TRYING TO EAT HEALTHY
I have a great recipe for gluten free naan that I  like to make when I have the time or eat it with some cauliflower rice. If nothing else, I'll have it on it's own with a side salad. If you watch my Instagram stories you know I am not at all picky about including the staple roti or rice that is customary in South Asian cuisine and stick to a gluten free diet.
Karahi Chicken
Restaurant style Chicken karahi without the extra fat!
Cuisine:
Pakistani/Indian
Ingredients
3 tablespoons neutral oil (I use avocado oil) or ghee
4 cloves garlic, minced
1 inch knob ginger, grated
1 whole chicken ( about 2 lbs.) cut up into 16 pieces
2 teaspoons cumin powder
2 teaspoons coriander powder
2 teaspoons red chili powder
11/2 teaspoons salt
1 teaspoons turmeric powder
1½ green chili, julienned
Handful of cilantro, chopped
Ginger, julienned for garnish
Instructions
In a pan, on high heat, heat the oil, add garlic and stir till aromatic.
Add chicken and stir a minute till it turns white.
Add all the spices / masalas and stir some more or bhuno on high heat.
Add the tomatoes whole, lower the heat to medium low and cover to cook about 20 minutes. Uncover after 20 minutes and de skin the tomatoes and mash them up and incorporate into the gravy.
Add one green chili and half the cilantro.
Stir and cover for 5 minutes.
Uncover, increase the heat to high and bhuno till most of the water evaporates and the oil rises to the top.
Garnish with leftover green chili and cilantro and drizzle some lime juice.
Notes:
I used to chop up the tomatoes but after watching the pros in action via Mark Wein's video I now add the whole tomato and fish out the skins later. It is so much easier then skinning the tomatoes individually!
BHUNO means to stir fry on high heat.
The butter is missing from this recipe so that it could be kept dairy free but you can add a tablespoon or two if you like along with the oil or ghee.
If you make this recipe, comment below and let me know how you liked it. You can also take a pic and tag me on Instagram @eatdrinkpure. I love to see you recreating my recipes!
Try other Chicken recipes: