I have been making this chocolate chip cookie cake on repeat the last few years and Sami loves it so much that he has requested I make it for his birthdays two years in a row! That's not to say that I haven't made it in between as well!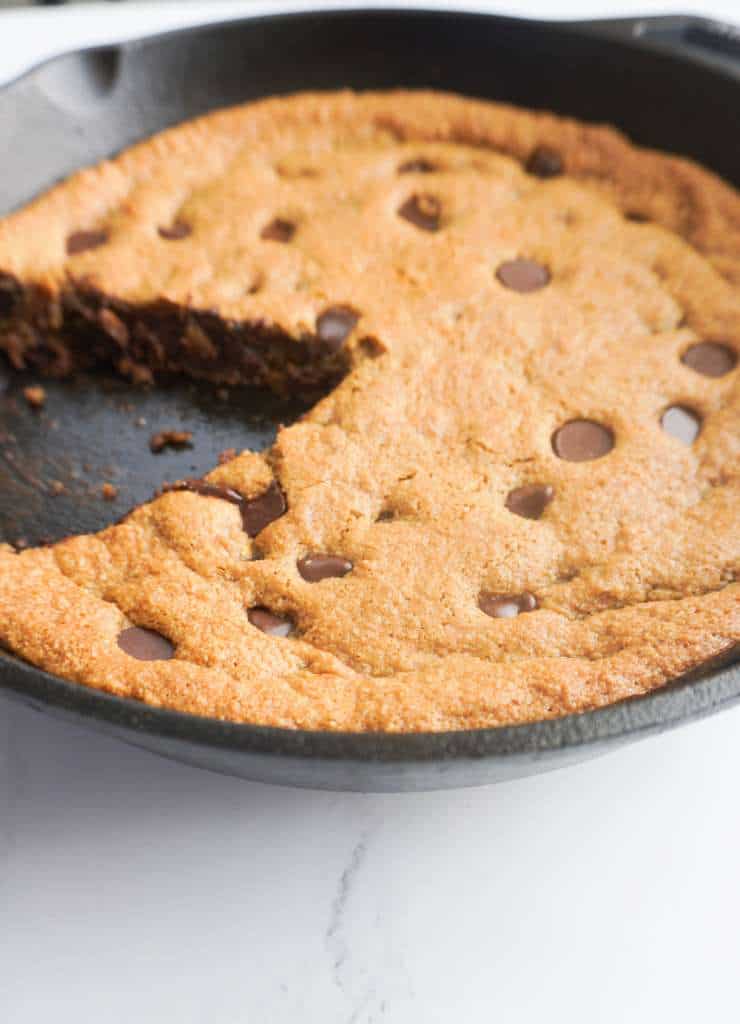 I have adapted this from Wellness Mama's recipe that I discovered a few years back when looking for a gluten free version of America's favorite cookie. But the idea to make it a cake came about when the boys had the Pizookie at a local restaurant chain called BJ's. They serve their chocolate chip cookie in a large round baking pan that you eat straight out of.
Also, the kids love the cookie cakes at Great American Cookies so we were bound to end up here!
WHAT YOU WILL NEED TO MAKE THESE CHOCOLATE CHIP COOKIES:
Almond flour – Almond flour is what keeps it gluten free and chewy. I used to make my own almond flour but now find that it's so much easier to pick up a bag at my local Costco.
Chocolate chips – I have used dark, semi sweet, dairy free and also ones without refined sugar. They all work well.
Baking Soda
Egg –
Vanilla – Alcohol free vanilla is available by Simply Organic or at Trader Joe's
Salt – I use Himalayan pink salt.
Sugar – Coconut sugar works really well but I have made it with cane sugar as well.
Butter / Oil – I use butter but when I want to cut back on dairy, I use refined coconut oil and can't tell the difference.
Chocolate Chip Cookie Cake - Gluten Free
This chocolate chip cookie cake is so simple to make and tastes just as delicious as its wheat version!
Ingredients
2

cups

almond flour

1/2

teaspoon

baking soda

Pinch

sea salt

1/2

cup

coconut sugar

1

egg

2

teaspoons

vanilla

optional

4

ounces

butter

melted
Instructions
Preheat oven to 350 degrees

Grease a 10 inch cast iron skillet with butter or oil

Chop up the butter into inch chunks and melt in a small pan

Once melted set the pan on the counter to cool

In a medium sized bowl mix the almond flour, baking soda and salt together and set aside

In a large bowl, whisk the egg until thoroughly mixed and add in the sugar

Mix till incorporated and add the melted butter little by little so as not to cook the egg

Add vanilla and stir to incorporate

Next add the almond flour mix and stir to combine

Lastly add 2/3 of the chocolate chips ( save a few to spread on top of cookie cake ) and stir

Spread the mixture into the pre greased skillet and top it with the remaining chocolate chips

Bake for up to 16 minutes or till golden on top. It will be gooey and will harden as it cools.

Enjoy with a scoop of vanilla ice cream!
Notes
I have used both dark and semi sweet chocolate chips in this recipe. There isn't a marked difference in sweetness but you can add 1/4 cup more sugar if using dark chocolate chips.
Watch the cookie cake after the 10 minute to avoid burning it. This is a chewy cake and will harden some as it cools.
This recipe is so simple and ready in under 30 minutes. You can serve it with ice cream or without. Let me know how it goes in the comment section below!