How do you create a functional and cost effective pantry? Well, you look beyond the Pinterest boards and high end stores! And If you've been following me long enough, you may have noticed that I like to be frugal. I absolutely love a good organization project but more than that, I love doing it without spending a ton. So below I have a few tips that will help you create your own practical and budget friendly pantry. Let's get started!
Empty the pantry and start with a clean slate.
So where do you start when it comes to a functional and cost effective pantry? This is really a no brainer but it warrants putting it out here. When you have a clean slate to work with, you welcome in new ideas and inspiration.
This is the perfect time to purge your pantry too. I realized when I emptied out my pantry that I was needlessly hoarding glass jars and bottles. I like to be frugal where I can so to me it was just more cost effective to repurpose old mayonnaise and almond butter jars (plus they're the perfect size for meal prepping Chia Oat Cereal ?) BUT honestly, how many does one really need? And so I got rid of many of them and only kept the few I use on a regular basis.
Emptying out your space also gives you room to plan out placement for the various storage containers you want to bring in as I was reminded by Naveen of The Design Souk. She has a great pantry makeover as well on her blog that you'll want to check out!
I truly wanted my pantry to be realistic, functional and suitable for my lifestyle and not just a pretty Pinterest pin. By the way, be sure to follow me there as I am getting a lot more active there.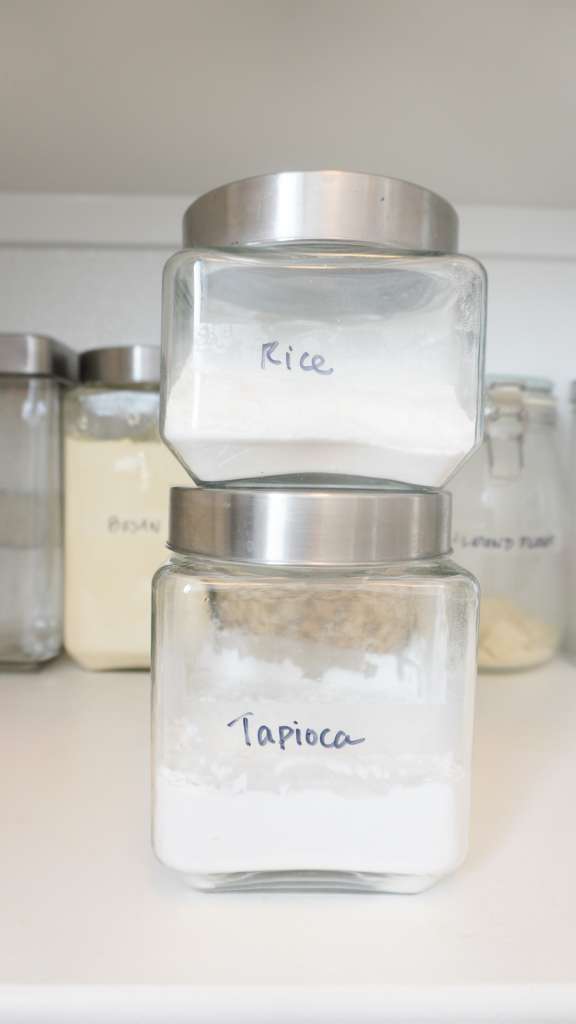 Group items into categories.
So once you've emptied out your pantry, group like items together. I put all my flours and grains together. My nuts and seeds went in another grouping and snacks and party supplies in their own groups. This gives you an idea of how many different categories you will need to fit into your pantry and the type of containers you will need as well. So for example, after grouping all my rice together, I realized I would need way too many jars (I use Basmati, Sushi rice, brown rice, Right rice and ready made packets of brown rice and quinoa for meals in a hurry) and a pretty big one for the white Basmati. So instead I opted for a big clear bin where I could store all the rice bags together. I labeled the bin and called it a day. I may or may not change that going forward.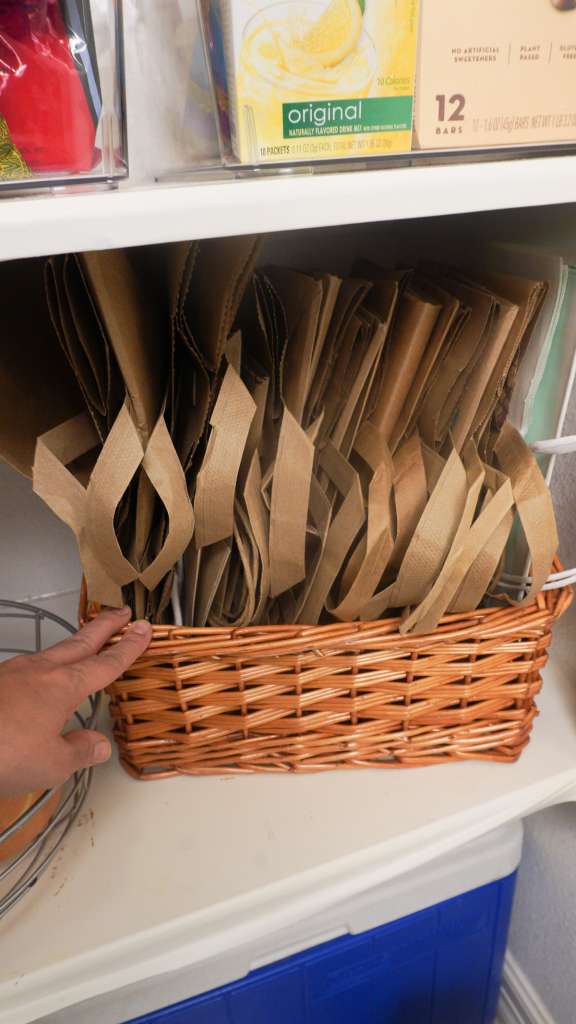 Try to use what you already have.
And here's how the cost effectiveness comes in. I tried to keep cost down by using what I already had like my glass jars. I have collected them over the years from Ikea and Homegoods among other stores. It was tempting to go out and buy the latest acasia topped jars but my glass jars are working just fine for me and so I kept those and instead opted to splurge on nesting baskets. I ditched my mismatched trays because they were just not serving their purpose any more. After all, we were aiming for functionality as well!
Get bins for all packaged items.
This time around, I wanted uniformity so that there would be a more streamlined look to the pantry. I wanted beauty but also wanted to keep the pantry makeover within my budget and so even though baskets would have been great, I opted for clear bins instead. And it was actually better, as it turns out, the clear bins are:
Better for seeing when stocks are low
Easier for kids to see what snacks are available at a glance
Available at my favorite bargain store, Homegoods yay!! ??
I have been obsessed with clear bins ever since binge watching The Home edit on Netflix and couldn't be happier when I found similar ones at Homegoods when out looking for storage. I got them in all sizes and store everything from baking supplies to bags of rice in them.
Hide all the misc items in baskets or bins.
On the flip side, I wanted to hide miscellaneous stuff in baskets for that streamlined look. As such I bought nesting baskets that now house party supplies, small appliances and extra lunch boxes.
Look for ways to use dead spaces.
I have hard to reach corners in my pantry that I needed to use effectively. Previously I had just been storing different things there and just having a hard time getting to them. This time around I placed turn tables to help make it easier to get to. I store bottles of different extracts, honey and back stock oils.
On another shelf, a lazy Susan houses all my specialty teas and coffees.
Use glass versus plastic
I have been using glass jars to store my grains, nuts, seeds and lentils for a while now and can't tell you how happy I am with them. They are functional much like the clear bins in that I know when stock is running low and add to the beauty and streamlined look of my pantry. They are also better than plastic containers which often contain BPA (bisphenol A) an industrial chemical used to make plastic and an endocrine disruptor. If you're interested in learning more about toxins in our food, do check out my Pantry Detox Guide. I show you how to purge your pantry of toxins and restock it with nutrient dense foods. I also share some of my favorite home and skin care products.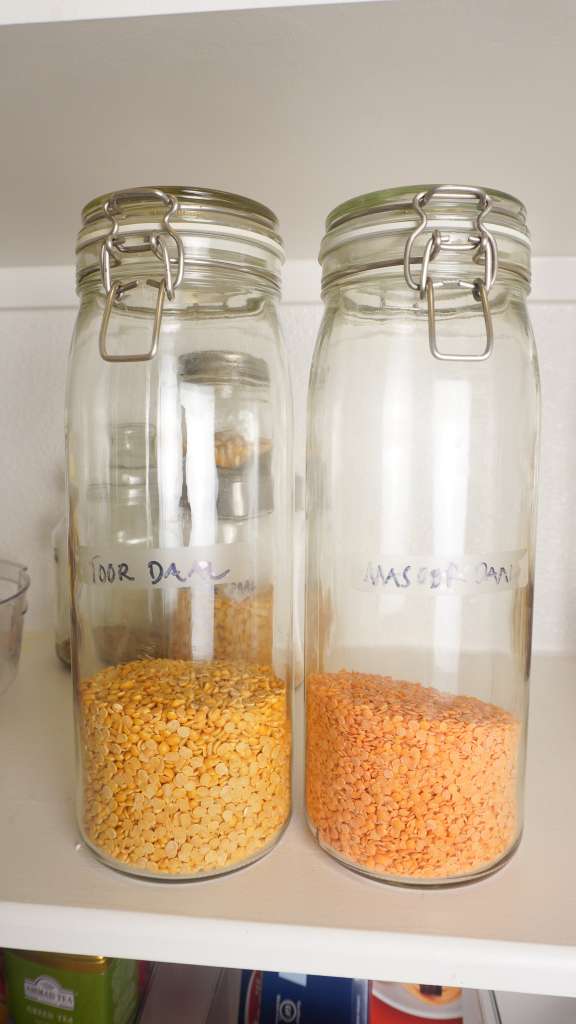 Think practicality when labelling containers.
I have gone through many different styles of labels. There were the simple white tags (not very pretty) and the chalkboard stickers (the handling would erase the label). And finally I bought clear stickers I could write on with a black sharpie. Because I wanted to save money where I could, I just used the clear ones left over from the last change out. They helped tie the clear bins with my glass jars and saved me from re labelling everything in the pantry.
Place items according to their use.
My top most shelf is the perfect place to house party supplies, flower vases, percolators, punch bowls and other seasonal items.
The next shelf down is where I have put my repurposed glass jars and bottles, jugs and other party supplies and our home medicine first aid kit.
On the middle shelf, I have all lentils, beans, grains, nuts and seeds.
The shelf that is eye level has all our snacks, baking supplies, packaged goods and back stock of spices, teas etc.
The bottom shelf has the onions and potatoes, some appliances and paper products.
On the floor I have my indoor grill, coolers and bottled water for emergencies.
And that's it! My realistic, cost effective and functional pantry! I hope you found these tips helpful and can implement them into your own pantry makeover. Do check out the before and after in my video!