This Barley bread is rustic, hearty and crunchy! It is a nutrient dense alternative to refined wheat that inevitably finds its way into our home and diets!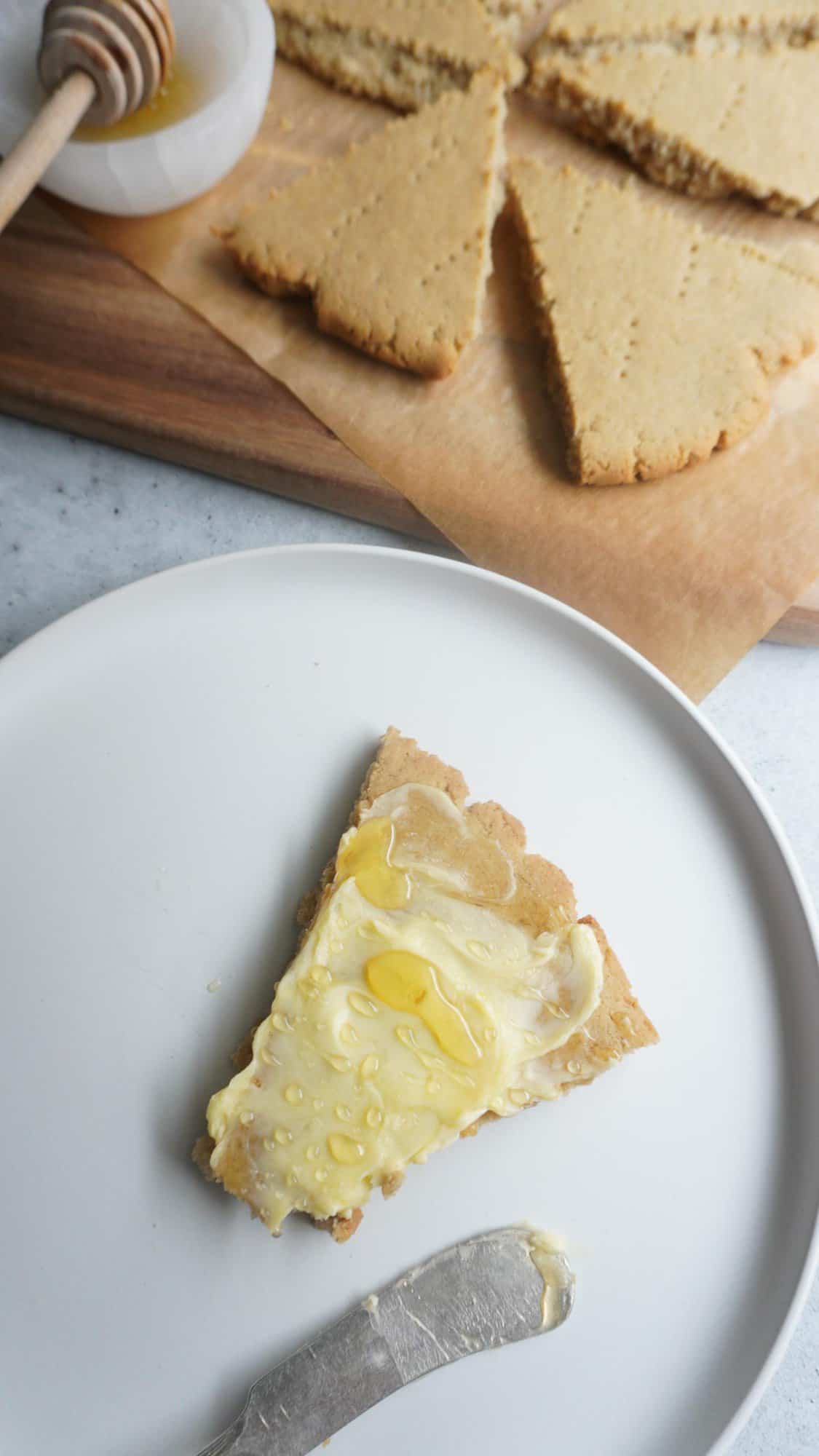 History of Barley
Barley is a grain that dates back some 10,000 years. It originated in Ethiopia and Southeast Asia and was the grain of choice in Ancient Greece and Rome. In fact, athletes in both cultures were known to use barley in their diets due to the strength it gave them.
Barley was the grain of choice for The Prophet Mohammed who actually was the inspiration for me even trying to make barley bread in the first place!
According to whfoods.com:
Barley is a very good source of molybdenum, manganese, dietary fiber and selenium. It also serves as a good source of the copper, vitamin B1, chromium, phosphorus, magnesium and niacin.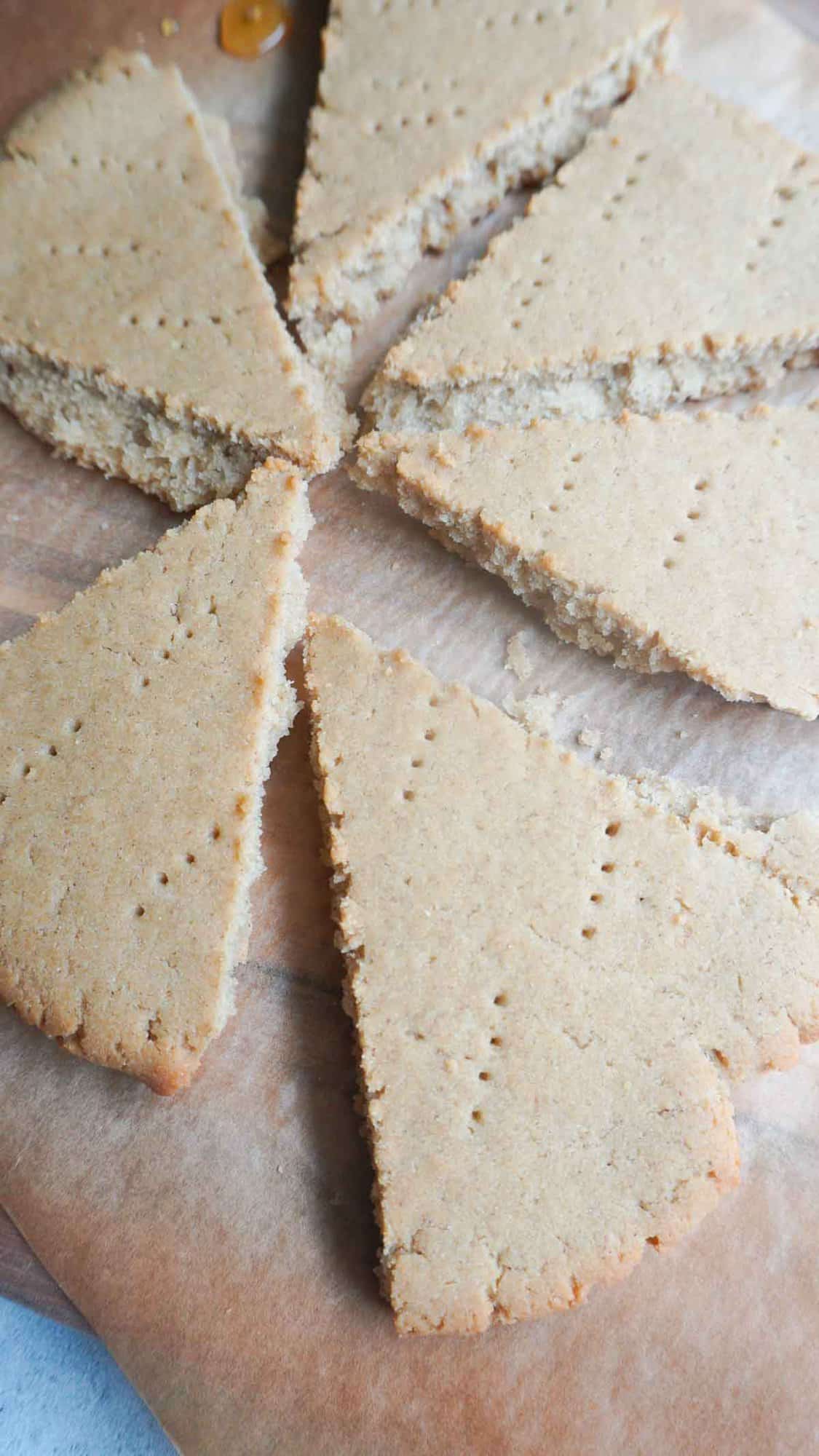 Why you will love it:
It is super quick to make and nutrient dense.
Barley has been shown to lower cholesterol
Barley helps lower the risk for type 2 diabetes
Barley has shown to prevent gallstones
Barley populates the gut with good bacteria
Barley is fiber rich and helps with keeping you regular.
Read more about this fascinating grain and its benefits here.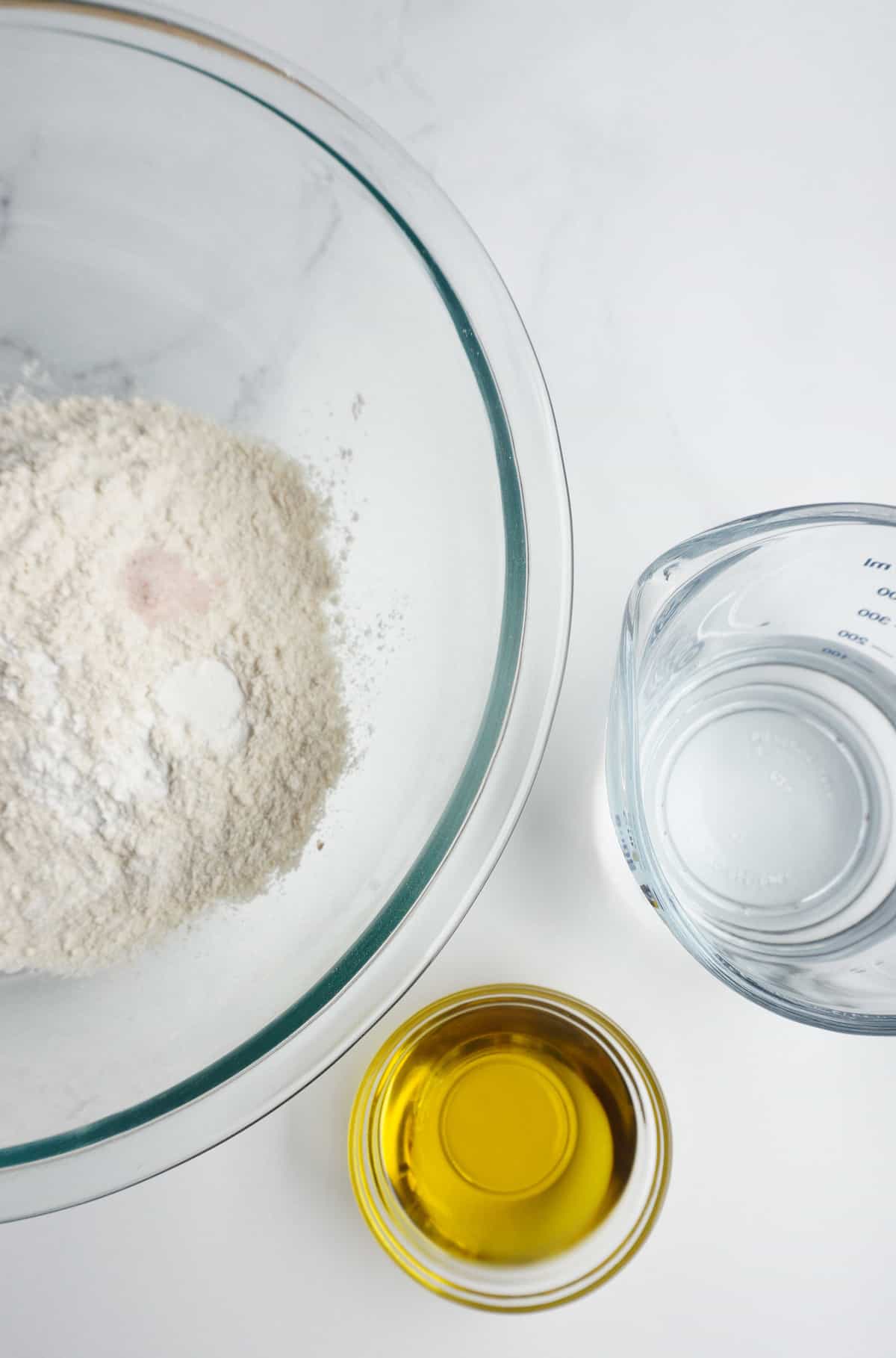 How to make this rustic flat bread
I had no idea one could make bread out of barley. Growing up I only saw barley being consumed with lemon as lemon barley water. But the process is pretty simple with just a few ingredients:
Barley flour
Baking powder
Salt
Olive oil
Water
Before you begin, preheat the oven to 450 degrees. Next you will mix all the dry ingredients with a whisk and then add the olive oil and water. With a wooden spatula, combine everything until a soft ball of dough forms. Next you will roll out the dough onto a flat surface lined with parchment. I have used my hands in the past but you can use a rolling pin too. Just roll it out till you get a thickness of an inch or so. I like to score it with a butter knife into 8 triangles and then prick it with a fork for the sake of design. Bake for 20 minutes. The bread is done once you see a golden crust.
How to eat barley bread
Barley bread is wonderful fresh out of the oven with a pat of butter and a drizzle of honey. You can eat it for breakfast or even afternoon tea in place of refined white wheat bread and sugar laden cookies.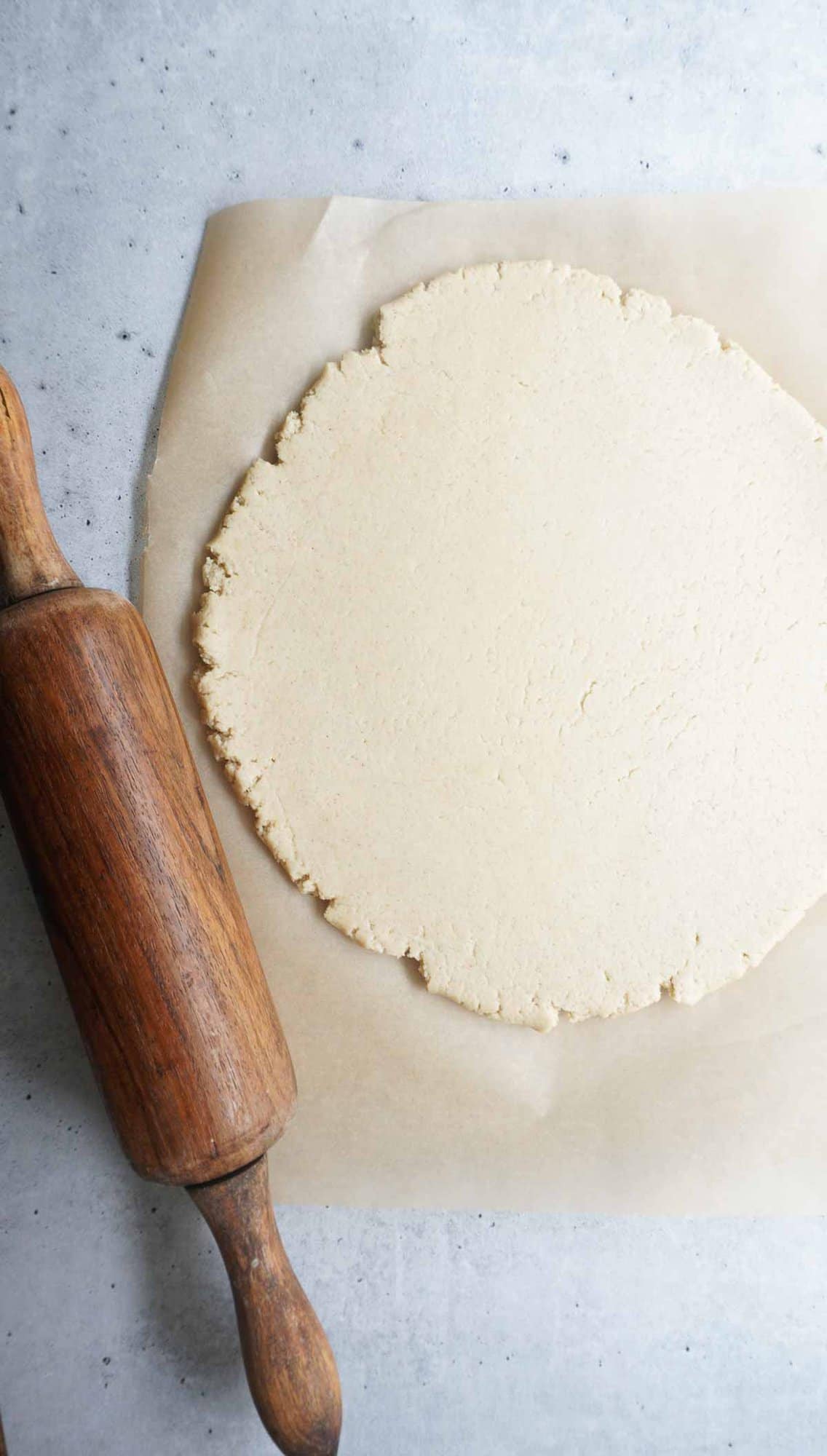 Frequently Asked Questions
Which barley should I use, hulled or pearled?
hulled barley is better in that it is a whole grain with just the inedible outer husk removed. Pearl barley has the husk and the bran removed along with being polished to give it a shinier appearance. Pearl barley is not as nutritious but results in a finer flour. 
Can I make barley flour at home?
I have yet to make my own barley flour. I have always just bought it at Whole Foods where you can find it in the bulk goods section. 
However, if you do want to make yours at home, I have found this extensive article that you can reference. 
Can I add mix ins to barley bread?
I don't imagine why not. In the past, I have added cranberries to the dough resulting in a sweeter bread and the last time I made it, my husband suggested I make it sweet by adding the honey to the dough instead of after so that is what I will try next. 
I have not, however tried adding cheese or anything savory to the dough so do not have any idea how that would turn out. Let me know in comments how it turns out if you do! 
More breakfast recipes to try
If you try this recipe, I'd appreciate it so much if you would rate it! And let me know in the comments how it worked out for you. If you are on social media, share your pics with me on Instagram by tagging me @eatdrinkpure so I can see and repost it on my stories!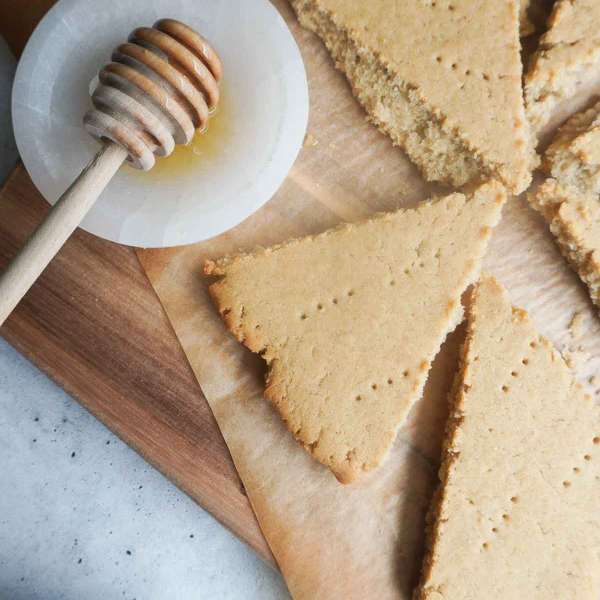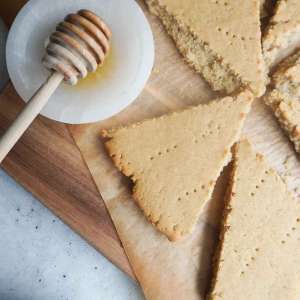 Barley Bread
This is a flat bread I came across on the healthyeating.com website years ago. Eat it warm straight out of the oven with a pat of butter and a drizzle of honey! So good!
Ingredients
2

C

Barley Flour

2

tsp

baking powder

¼

tsp

salt

¼

C

olive oil

1/2

C

water
Instructions
Preheat oven to 450 degrees Fahrenheit.

In a medium sized bowl whisk together barley flour, baking powder and salt till well incorporated.

Add to that, the olive oil and water and mix till you achieve a doughy consistency.

Roll out the dough onto a parchments lined flat surface till it is about 1/2 inch thick.

Transfer with the parchment onto a cookie sheet and score into eighths (in triangles) using a butter knife.

Prick all over with a fork and put into the preheated oven for 20 minutes.

Take out of oven, spread butter, drizzle with honey and enjoy!
Video
Notes
Use fresh barley flour for best results.
Start with 1/2 cup of room temperature water and increase by tablespoon increments as needed.
There are many ways you can add in dried fruit and nuts to this basic recipe. Cranberries are a great addition, giving the bread a more fruity flavor.
Don't expect a big rise when baking this bread, the absence of yeast will give it a more flatbread look and taste.