With Ramadan right around the corner and my commitment to eating healthier this year, I thought it would be fun to do a Healthy Ramadan Series and highlight some of my favorite bloggers and health coaches and see how they stay energized and productive during this month and learn their tips and tricks. This week we have Yvonne Maffei of the blog My Halal Kitchen.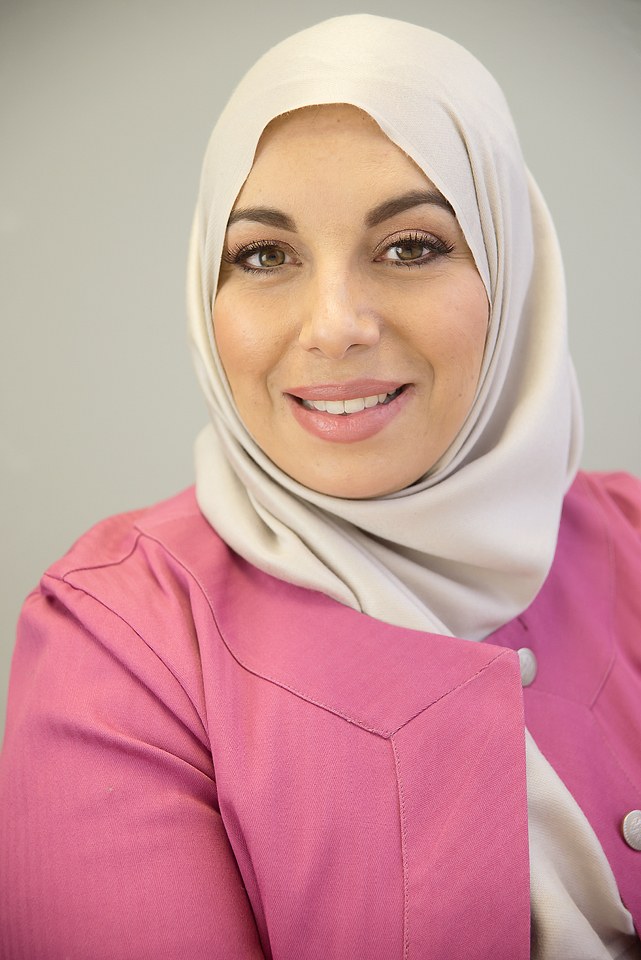 Who isYvonne Maffei?
In case you are unfamiliar with her work, Yvonne is the publisher behind the immensely popular blog, myhalalkitchen.com. She provides artful substitutions for non halal components in global cuisines and is an untiring advocate for halal and wholesome living. She is also a published cookbook author. Her latest cookbook My Halal Kitchen: Global Recipes, Cooking Tips, and Lifestyle Inspiration has offerings for people of all backgrounds with recipes that, I can attest to, are absolutely scrumptious! Read my review of the book here and about my experience meeting her in person here!
So, without further ado, let's take a look into Yvonne's Ramadan:
So Yvonne, how do you prepare for Ramadan? Many people bulk cook for the month. Is that something you do?
I don't always cook in bulk for Ramadan because I really like to enjoy variety at Iftar and Suhoor. Also, since we're in a great time of year to enjoy fresh foods, I like to see what's available at the farmers market that is seasonal and fresh, which is usually in limited quantity but makes for some very nutrient-dense, delicious foods to include in these meals. ​
What is your most favorite food to eat at Iftar?
My favorite summertime Iftar is actually a vegetarian one- Ratatouille. I love it because there are so many fresh vegetables and herbs and since those veggies have a lot of water in them, it's actually a very hydrating meal. I serve it with either couscous, rice or tiny pasta and it's a super filling meal. It's also a great way to eat less meat- you an always add some on the side, if you like, of course. ​
How do you stay productive during the month? Is there any particular food you eat at Suhoor that you feel helps you stay hydrated/energized?
​At Suhoor, I'm really partial to having some sort of protein, whether it's a small portion of eggs, meat (i.e. Sejouk with eggs), or a bean dish like Ful Mudammas, it's something I like to make sure is part of the meal because that really helps me get through the day much easier. Fasting isn't meant to make us miserable and the Suhoor is a Sunnah, so I think this is a good way to take care of oneself and prepare for a long day of not consuming anything at all.
What is your best go to quick and easy recipe?
​Quick and easy recipe for Iftar would be my Mediterranean Chicken recipe– it's so easy to make and takes less than 20 minutes. You only need oil, salt and pepper and your favorite type of vinegar. Once it's done, you can throw it in a pita to make a wrap or eat it over rice or couscous. Done.
For Suhoor, I recommend poaching eggs since it's super quick and also light on the stomach- no oil included unless you add it after cooking.
Q. Any other advise for our readers to ensure they have a healthy Ramadan?
A. Stock your kitchen, fridge and freezer with healthy foods. That way, there isn't any temptation to pick up any unhealthy items in the first place! Shop farmers markets and grocery stores for the freshest, prettiest and most seasonal food items and you'll be excited to cook and consume them for Suhoor and Iftar. Get the family involved by either shopping together when you can or telling them more about why you chose certain ingredients. In the summer, many food ingredients have their own beautiful story to tell and when we appreciate how they've arrived on our plate, it's not only a lot more interesting to eat but it also makes us the conscious halal consumers we were intended to be in the first place.
I just loved Yvonne's take on a healthier Ramadan! It promotes eating mindfully and scoping out foods that nourish and hydrate the body. These are both essential if you want to experience Ramadan as it is meant to be, productive and beneficial.