Cauliflower Fried Rice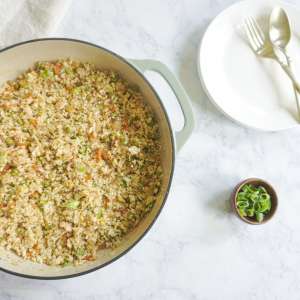 1 lb /3-4 cups riced cauliflower ( frozen would work really well)
2 tbsp avocado oil or any neutral oil.
½ onion diced
1 cup peas and carrots ( I get the frozen mix bag you can sub with any other veggies of choice )
½ teaspoon ginger
½ teaspoon garlic
1 teaspoon salt
1 teaspoon pepper
2 tablespoons coconut aminos (or sub with soy sauce if you're not on whole 30)
2 tablespoons white vinegar
2 eggs
½ teaspoon roasted sesame seed oil
Scallions from one green onion
Heat oil in a wok or pan on medium high heat.
Add onions and stir till translucent.
Add ginger and garlic and stir for another 30 seconds. You'll start to smell them.
Add peas and carrots and stir to coat.
Add soy sauce, vinegar, salt and pepper.
Stir for 30 seconds. you will see the sauce thicken.
Add eggs right into the pan and scramble.
Lastly add riced cauliflower, sesame seed oil and scallions. Stir for a minute on high heat switch the stove off and cover the pan.
Let the rice sit for a couple of minutes before enjoying.